Samsung's W2018 flip phone has a camera with an adjustable aperture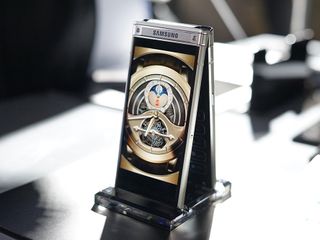 Flip phones are still quite popular in certain parts of the world, and in China, Samsung recently announced its new W2018 for the country. The phone will be an exclusive to China Telecom and likely sell for more than $1,500 USD, and although it'll never make its way to the United States or other parts of the world, there's something quite interesting going on with its rear camera.
The W2018 comes equipped with a 12MP sensor and an incredibly low f/1.5 aperture, and while that's impressive enough on its own, the kicker here is that the aperture can actually change to f/2.4.
We haven't seen this tech on a phone since 2009 with the Nokia N86 MP, and it means that you've got flexibility for capturing the best image possible whether you're in an area with low or ample lighting. The W2018 can only switch back and forth between f/1.5 and f/2.4 with no option to go to aperture ratings in between, but even with that being the case, this is still exciting. We've yet to see how this system actually performs in regards to image quality, and while we aren't certain if the Galaxy S9 will ship with a similar setup in 2018, we'd expect this to make its way to other Samsung handsets at some point down the road.
As for other specifications on the W2018, there are two 4.2-inch 1080p Super AMOLED displays, 5MP front-facing camera, Snapdragon 835, 6GB of RAM, USB-C, NFC, and a rear-mounted fingerprint sensor.
The variable aperture with the W2018's rear camera is easily the most exciting part of the phone, so be sure to let us know in the comments whether or not this is a feature you'd like to see in future Samsung devices.
Joe Maring was a Senior Editor for Android Central between 2017 and 2021. You can reach him on Twitter at @JoeMaring1.
I'd love to have adjustable aperture, but I'd want it to give me more choices than f/1.5 and f/2.4.

Just wait for the pixel 3 :p

If the Pixel 3 is a great phone, I'll consider it.

Hoping they incorporate this into future phones.

Wow never thought I see this day
A flip phone with 6GB of Ram

This phone would be a huge hit in the United States. Samsung should test the market. Us older gents would appreciate something like this.

Nice look price is on the high side

I always like my flips, don't have to have a case, and end the call with a flip.

oh, i thought i might buy one for my mom if it was available in europe - she loves flip phones. but the price - it's more than my note 8

I love the way Samsung experiments with different!

I would rather have this than my note 8. But dang that is spendy.
Android Central Newsletter
Get the best of Android Central in in your inbox, every day!
Thank you for signing up to Android Central. You will receive a verification email shortly.
There was a problem. Please refresh the page and try again.