Samsung's next foldable phone will reportedly be priced under $1,000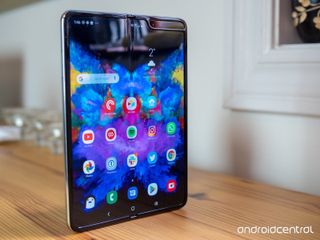 (Image credit: Android Central)
What you need to know
A report out of South Korea claims Samsung's next foldable smartphone is likely to be priced at around 1 million won ($845).
The device is expected to have a clamshell form-factor, similar to the Motorola's new RAZR.
Samsung plans to ship around 6 million foldable smartphones next year.
Samsung's first foldable smartphone, the Galaxy Fold finally went on sale in September this year, after numerous delays. Despite its exorbitant $2,000 price tag, Samsung has sold nearly half a million Galaxy Folds already. The company's next foldable smartphone, however, will reportedly be a lot more affordable.
A new report from The Korea Herald suggests the company's clamshell foldable phone, which is expected to be launched early next year, could be priced around 1 million won ($845) in South Korea, which would make it significantly more affordable than the Galaxy Fold as well as Motorola's new RAZR. Needless to say, a lower price tag should help ramp up sales.
As claimed by Korean publication The Bell a few weeks back, Samsung is planning to ship 6 million foldable smartphones in 2020. To help it achieve that target, the company is expected to have a wider lineup of foldable phones next year. At the same time, Samsung is focusing on expanding the availability of the Galaxy Fold to at least 60 countries by February next year.
Samsung compatriot LG is also tipped to enter the foldable phone market in 2020. According to recent patent applications filed by the company, its first foldable phone could have an outward-folding design, similar to the Huawei Mate X. No other details regarding the upcoming LG foldable phone are available currently.
Samsung Galaxy Fold
Samsung's Galaxy Fold is a premium Android smartphone unlike any other on the market right now. Featuring a foldable design, the Galaxy Fold has a 7.3-inch Infinity Flex Dynamic AMOLED main display and a 4.6-inch Super AMOLED cover display. It runs on the octa-core Snapdragon 855 processor, paired with 12GB RAM and 512GB UFS 3.0 storage. You also get a total of six cameras and a 4,380mAh battery.
Omg!!!! Guess I'll be buying 10! /S

If they couldn't get it right for $2000.00, I can't wait to see this catastrophe!

I'm content with the Galaxy Note phones. Waiting for the Note 11 (Plus?). The only advantage I presently see in foldable phones is the larger screen. The form factor is irrelevant to me.

Well Motorola isn't exactly giving theirs away at 1500. I like the idea of the razer and foldable phones like that but at that price my s9 will be with me a good while

Will it come with insurance? You know for when it explodes or catches on fire...

Did you fall into a Coma in 2016 while sleeping under a large rock and just wake up yesterday? Your comment is tired and used... as they usually are...

Too right. If they had their finger on the pulse they'd know the insurance should be for when it inevitably gets a piece of lint inside it and the screen fails.

Make it like the Galaxy Folder 2 with today's features (MST mostly) and I'm in. I love that little phone.

Back in the day, Samsung competed with the Motorola Razor with the Samsung Blade (which I had and really liked). I very well might buy a Folded Blade.

Back in the day Samsung didn't compete with Motorola, they just tried to. Kinda weird to think about given today's market.

Only true in the US; I hardly ever saw a Motorola back in the days of Nokia world dominance...

I'm not American, though. Nokia dominated for a time, but here in the UK the razr was ridiculously popular. No one gave a shirt about Samsung phones back then though. In fact, you probably would've been laughed at for owning one.

This newer foldable will be better than the OG Fold. That was a niche device not aimed at the masses and a rush job to be the first out with that technology. Now they can really master it, make it more affordable and change the game.
Android Central Newsletter
Thank you for signing up to Android Central. You will receive a verification email shortly.
There was a problem. Please refresh the page and try again.