Samsung sold, at best, a modest 500K units of the Galaxy Fold in 2019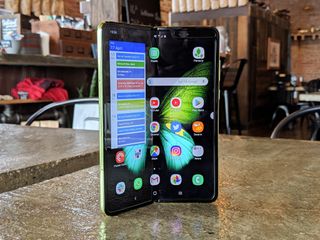 (Image credit: Android Central)
What you need to know
Samsung sold, at most, half a million units of its first foldable in 2019.
The number comes straight from the President and CEO of the company's IT & Mobile Communication division.
They follow a previously erroneous claim by Samsung Electronics' President, Sohn Young-kwon, that the company had sold 1 million units in the three months since the phone's release.
The mystery surrounding the success of Samsung's first foldable phone is no more. After some back-and-forth last month, we now know that the Korean giant sold anywhere between 400,000 and 500,000 units in 2019.
The saga started when Samsung Electronics President Sohn Young-kwon claimed that the company had already sold a million Galaxy Folds by December, just three months after the company started selling the one-of-its-kind phone in September. The exec's statement was quickly corrected by Samsung reps, who stated that Sohn had simply mixed up sales targets with actual sales figures.
While that told us how many units Samsung hadn't sold, it didn't do much to tell us just how many it had. Thanks to the President of the company's IT and Mobile Communications Division, we now have a much better idea of just how successful the Galaxy Fold was. In a statement to Yonhap News Agency at CES 2020, Koh Dong-jin clarified that the chaebol had managed a more modest half a million sales, at best.
That's still quite an impressive figure, given the numerous reliability issues plaguing the handset's initial release. It's made even more impressive when one considers the nearly $2,000 asking price for the phone. While Samsung may have missed its initial sales estimates for the foldable smartphone by almost 50%, the company is set to make a strong comeback with a successor that sports a far more appealing design and is expected to cost only half as much as its predecessor. And if a leaked promotional video is to be believed, we may see it for ourselves as soon as next month.
No BOGO or trade ins or carrier deals. Low volume for ANY device here in US not doing any of the above. Nobody is paying full boat for devices. They are simply too expensive.

That's still very impressive for a very expensive first generation product. One million units would have been phenomenal.

I don't think they even made 1 mio...

I am actually really happy and satisfied with my Fold. I was really hoping there'd another book shaped Fold V2. Excited to see the new one.

Not surprising for what really is just a technology demonstrator. A standard clamshell Fold 2 would sell much better. I wish the Motorola RAZR had better specs and was more realistically priced.

It was never designed for mass sales.

Said who? They missed their own internal sales target by about 50%. So this is still fewer than they intended to sell. I do think they want this line to be the next Note. If so, that means it is being designed for the masses.

Says Samsung and common sense. They sold over 16 Millions Galaxy S10 variants as of June and on track to sell 40 million for the year (best numbers I could find). Even if they missed their target by 50% their goal was only 1 Million which shows that they didn't design it (or price it) for the masses.

I'm shocked that they sold that many. Hopefully, the next generation will be cheaper.

Very happy with mine 3 months into purchase. No flaws, scratches or issues. Everywhere I go and they see, they want to ask questions. People at work and impressed and jealous. They love the pictures it takes.

I'm jealous as well.. .. ready to get onboard for gen2

That ain't bad at all cuzz

For a 1st Gen product that $2000, I'm impressed. Usually it's the 2nd or 3rd iteration of a newer product that shows if it has sticking power. Considering at least 4 other companies are either bringing or have brought folding screen phones out, I think this has its market.

4-500k units at 2-2.5k each is still a fair lump of dough though

About what I would have expected for a 1st Gen, new technology and high price. I'm interested in seeing how these improve quality wise and how the price lowers as time and production expenses decrease. This is the future of mobile technology and I'm excited to see what Samsung, Microsoft and others do with it.

More than 500K active influencers are operating just on Instagram, according to a study conducted by some media house - my best guess is that all 500K units were acquired by the "influencers" - IMHO - great business model for Samsung :D ;-)
Android Central Newsletter
Get the best of Android Central in in your inbox, every day!
Thank you for signing up to Android Central. You will receive a verification email shortly.
There was a problem. Please refresh the page and try again.