Samsung working on ultrasonic cover for the Galaxy Note 4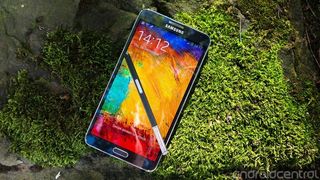 Samsung will likely be offering some new functionality in the Galaxy Note 4, which is set to be unveiled soon enough, but the company could well be looking to add unique covers to the list of accessories. It's reported that Samsung is developing an ultrasonic cover, specifically designed for those who are visually impaired and wish to use the device.
The cover would be able to detect nearby objects and provide appropriate feedback. According to SamMobile sources, three levels of sensitivity are to be available, covering short, medium and long ranges. This won't replace physical aids available today and isn't meant to be utilized without aid from a guide dog or other means, but it's a handy option nonetheless.
Samsung isn't shy when it comes to packing as many features and interesting advances in to products as possible, but sometimes it seems as though the company really has some great ideas, this ultrasonic cover being one of them. The cover is expected to be announced alongside the Galaxy Note 4, so we'll hopefully have more details at the start of next month.
Let us know what you'd like to see in the Galaxy Note 4.
Source: SamMobile
While this seems like a great accessory, hopefully it will be available close to launch. Their track record of releasing all the accessories with devices isn't that great, at least in the states.

I buy almost everything except food and clothing from online auctions most people aren't aware of the almost I unbelievable deals that they can get from online auction sites the site that has the best deals is
>>> http://blazeidea.com I checked with the BBB and was told that it is all legit. How they can sell gift cards, laptops, cameras, and all kinds of goodies that we all want for 50-90% off, I don't know I do know that I bought my son an ipad there for less than $100 and my husband a $250 Low gift cards for $48. Why would I even think about shopping anyþlace else ?

You know, I might be tempted if this didn't read like an advertisement.

This will be another great accessory for our Galaxy Note products. Yearly we always see something new for our Galaxy Note products. At the end of the day it's pretty Plain and simple nothing beats Samsung or the Galaxy Note products they are Android nothing else matters. From my Galaxy Note 3 on T-Mobile via Android Central App

I agree and I was hoping there Best Buy Experience shop would have fixed that issue.

If this is true, i have to say im very impressed. Kudos sammy Posted via Android Central App

As someone who deal with this sector indirectly I hope that it is not a hit or miss kinda thing (like smart whatever) and is close to launch. 'working on' does not bode too well for that last part though Posted via Android Central App

No, it doesn't bode well. This sounds like one of Samsung's bloaty "sounds great in theory but doesn't work well in practice" features. Posted via Android Central App

It's a cover that only really has one thing to do so I am hopeful, but alas you are more than likely right Posted via Android Central App

Plain and simple, PERIOD!

Where is Mr Yarrell? How else am I supposed to get my copypasta endorsement of Samsung and TMobile?? Posted via Android Central App

I think his supervisor told him to be more original Posted via Android Central App

Lol Posted via Nexus 7 2013 or Galaxy S5

He has been mixing it up lately. Less Samsung and T-Mobile and more asshole remarks. It's getting interesting.
Posted via Android Central App

Got him the ban hammer for awhile before.. Posted via Android Central App

I think a can opener would be a great feature that would not only be useful but practical to. Posted via Android Central App

Samsung Galaxy S Beer Posted via Android Central App

That's already a thing.
http://www.channelpronetwork.com/article/how_to_open_a_beer_with_your_sm... Posted via Android Central App

The 'my phone goes naked' crowd would never go for it. I have a USB drive/bottle opener combo that comes in handy more than I thought it would. Posted via Android Central App

Need Posted via Android Central App

It's pretty awesome... It was a give away to at some store Posted via Android Central App

When I read the original comment, I was thinking "this is the kind of thing that has to exist" - and there you go, nice find.

And a slide out reusable toothpick. Oh wait... already stuck to the wall.

That's not sanitary Posted via Android Central App

This DEFINITELY has more bloat in the software written allllll over it.. And of course the software needed to use it will be non removable Posted via Android Central App

It is a cover and an accessory. More than likely it is an optional app in the Samsung store. Lose the sand, it must itch Posted via Android Central App

Why would someone with the level of visual impairment who would get use from this technology get a Note in the first place? Surely they wouldn't be able to see the screen properly, even with it being as big as it is? Isn't that a waste of money...?! Posted via Android Central App

No, lots do. The accessibility features help alot Posted via Android Central App

Believe it or not, visually impaired persons do most things everyone else does albeit sometimes in a different manner. This would include talking, texting, listening to music/movies, and playing games. As for the size of the screen/device that's still just a preference. I'm sure Sammy would include the capability in other devices this may just be the first.

Quicker response with camera Posted via Android Central App

Somehow I do not think that will be incorporated into this featureset

Anyone else really just wanting the Note 4 to be a great phone/phablet? I really don't want a bunch of gimmicks. I want a powerful phone with great hardware and a large screen surrounded by small bezels. The crazy side features seem to have a way of distracting from that.

Agreed. That's why Moto needs to stop fiddling around and release a no-holds barred phablet (ahem, 5.7"-6" phone) pronto!

Not gonna happen. They're making a killing off their X and G line. Why waste money on something you don't know if it's going to sell. Posted via Android Central App

I love how you are saying that on a Samsung phone thread. The king of spinning off phone/tablet models without evidence of viability.

Samsung has the money to waste, Moto is kinda in between sugar daddies right now

So turn them off and forget them. Not to sound like Richard but right now the Note series is unbeatable in the pallet category Posted via Android Central App

My goal is not to start a flame war, and I, quite honestly, am seriously considering the note for my next phone, but I really think that Samsung could put out better devices if it didn't spend so much time messing with random features. And their software would certainly take up far less storage space.

That's a whole separate department. It's not like those same guys making those features would be good in another department working on phone specs... Posted via Android Central App

On some level, I agree. But at the end of the day (long term planning) everything in business is a cost benefit trade-off. Money spent on software additions (and marketing) is money that cannot be spent on other areas.

That's the problem. I don't see one group at Samsung taking all the other groups and actually integrating them correctly. They just throw them in randomly. There seems to be no 'one guy' with an overall vision. Posted via Android Central App

I totally agree. What good are all the fancy features if the radios suck and you can't use them. I'll wait to see what the N4 looks like. But I'm seriously considering switching to the LG G3.

Sounds like a job for Project Tango and Motorola with their earpiece solution. Posted via Android Central App

It does, looking forward to those Posted via Android Central App

I'd really like to see better radios. I was surprised that the reception on my N3 was significantly worse than on my S3. Even with the "improved" Sprint network, the reception is often spotty. The reception on my S3 was always very steady. Funny thing, too: I've dropped a lot of calls...but only to other Sprint devices.

It's like you are being punished to have a new Spark enabled phone on their network. The M8 was so bad that I left Sprint after one horrific customer service call. Posted via Android Central App

Huh... I have no issues with the radios... Posted via Android Central App

Samsung Galaxy Alpha is Going To be Launched soon
Read full Features Here http://www.techulator.com/resources/13249-Samsung-Galaxy-Alpha-Pics-and-...
Android Central Newsletter
Get the best of Android Central in in your inbox, every day!
Thank you for signing up to Android Central. You will receive a verification email shortly.
There was a problem. Please refresh the page and try again.