Samsung SmartThings Outlet vs. Amazon Smart Plug: Which should you buy?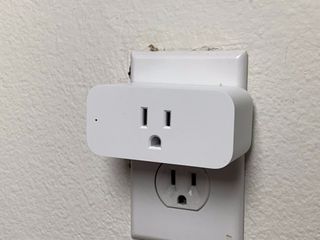 Samsung SmartThings Outlet
Invested in the SmartThings ecosystem? This is the smart plug to get. Not only do you get remote access to the plug and the ability to schedule it on/off, but it also serves as a range extender for ZigBee devices and can alert you if it's accidentally left on.
Samsung SmartThings Outlet
Connects to other SmartThings devices
Can be scheduled to turn on/off
Alerts if accidentally left on
ZigBee range extender
Must have a SmartThings Hub to use
More expensive
Amazon Smart Plug
The Amazon Smart Plug doesn't have as many bells and whistles as the SmartThings Outlet, but it's also cheaper and easier to set up and use. Getting it connected is as simple as plugging it in and talking to Alexa. Unfortunately, it doesn't work at all with the Google Assistant.
Amazon Smart Plug
Works beautifully with Alexa
Extremely easy setup process
Schedule on/off
No hub required
Doesn't work with Google Assistant
Both of these are excellent smart plugs that each work better in different households. If you have other SmartThings devices, the SmartThings Outlet will fit in nicely with all your other tech. Amazon's Smart Plug isn't quite as feature-rich, but it works ridiculously well with Alexa speakers and couldn't be easier to add to your home.
Which smart plug should you buy?
There's a lot that separates these two smart plugs, but before we get too far into that, let's talk about what's the same across both.
You can control these plugs remotely from your phone no matter where you are, schedule them to automatically turn on and off, and connect to your outlets using a three-prong design. Both are also only available in white, and that's something we'd like to see Samsung and Amazon change with future models. More colors are always more fun!
As for the differences, let's start first with the SmartThings Outlet.
Samsung's SmartThings platform is one of the most extensive smart home ecosystems around, and if you're already heavily invested in it, the SmartThings Outlet just makes sense (especially since you need a SmartThings Hub to even use the thing). One example that Samsung gives is having the Outlet turn on a fan when the SmartThings Multipurpose Sensor goes over a certain temperature. It's pretty neat stuff.
The SmartThings Outlet can also send you alerts if you've accidentally left the house with it on, and if you have smart home devices that use the ZigBee standard, it can act as a range extender for them.
How does the Amazon Smart Plug stack up to the SmartThings Outlet? Quite well, actually.
You'd expect the Smart Plug to work well with Alexa devices since it's made by Amazon, but the level of integration here is unlike anything else we've seen before. After plugging it in, you'll get a notification on your phone telling you that you can now control it by saying "Alexa, turn on First Plug." You will need to hop in the Alexa app if you don't have a second-gen Echo speaker or newer, but even then, this is world's easier than any other plug we've ever tried.
The Amazon Smart Plug is a dream come true if you've found home in Camp Alexa, but if you have Google Home speakers scattered throughout your home, you'll want to get the SmartThings Outlet or something else. At the time of publishing this article, the Amazon Smart Plug doesn't work with the Google Assistant. Like, at all. That's a bummer.
Powreful outlet
Samsung SmartThings Outlet
The best plug for SmartThings households.
Samsung's SmartThings platform is one of the best smart home ecosystems out there, and if you've already invested money into other SmartThings gadgets, this is the outlet to get. It is pricey, but it's also packed with features and works with both the Google Assistant and Alexa.
Alexa's best friend
Have Alexa speakers? Get this smart plug.
This is Amazon's first attempt at making a smart plug, and boy is it something. The setup process is pretty much handled for you by Alexa, and once it's connected, you get remote control over it and can create schedules to turn it on and off. Unfortunately, it doesn't work with Google Assistant.
Be an expert in 5 minutes
Get the latest news from Android Central, your trusted companion in the world of Android
Joe Maring was a Senior Editor for Android Central between 2017 and 2021. You can reach him on Twitter at @JoeMaring1.