Samsung smartphones will get One UI 2.0 along with the Android Q update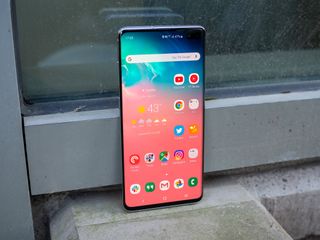 (Image credit: Android Central)
What you need to know
The Android Q update for Galaxy smartphones will bring One UI 2.0 as well.
One UI 2.0 is expected to integrate all the Digital Wellbeing improvements announced at I/O 2019.
Samsung Galaxy S11 series will reportedly come with One UI version 2.1 out of the box.
Samsung will roll out version 2.0 of its One UI interface for Galaxy smartphones along with the Android Q update, according to a report from SamMobile. The report also claims the company's next-generation Galaxy S11 series will debut with One UI 2.1. Needless to say, the information isn't surprising as most Android OEMs roll out the latest versions of their custom skins along with major OS upgrades.
As per the report, One UI 2.0 will come with all the Digital Wellbeing improvements that were showcased by Google at I/O 2019 this year, including Focus mode. Focus mode will allow users to silence apps that they find distracting until the feature is disabled. Apart from the Digital Wellbeing improvements, the Android Q update for Samsung Galaxy smartphones is expected to include all the core Android Q features as well. However, features like Live Captions will likely be made available only to 2019 Galaxy smartphones such as the Galaxy S10 series.
Bixby Routines is another feature that might become available for some of the older Samsung flagship such as the Galaxy S9 and Galaxy Note 9 with the Android Q update. Samsung had introduced the feature with One UI 1.1 on the Galaxy S10 series phones. As always, however, some of the more impressive features will remain exclusive to the Galaxy Note 10 series, at least for a few weeks.
Unfortunately, the report does not shed any light on when the Android Q update will be released for Samsung smartphones. Samsung was relatively quick in bringing Android Pie to its vast portfolio, so we can be hopeful of seeing the Android Q update rolling out to at least flagship Galaxy smartphones before the end of the year.
just when i was searching on how to downgrade from pie (one ui) to oreo 8.1 on note 9.

I am not excited at all, my S8+ won't be getting it. And I am not buying another Samsung.

Not sure how you figure that. My S8 came with 8, got 9. These things usually get 2 major updates.

Nope, the galaxy s8 came out with android 7 in januari/februari 2018, the oreo update came in march 2018..so the device had its first big update 1,5 month after release.

It's a shame that the S8 series won't get Android Q 🤷🏾‍♂️

It's a shame you still have the S8. Why would you want Android Q if you don't care to upgrade your phone?

Why upgrade the phone if there is hardly anything changing? Come out of your slave mentality of feeling its mandatory to change the phone every 2 years. My s8+ still runs robust with 50% battery left in the evening so no point in throwing it away and spending 1000 bucks on a similar brick..

Same reason my Pixel XL OG his running the Q Beta right now! People shouldn't have to update their hardware just to be on the latest software. Have you not learned anything from the only thing Apple got right?

I'm only seeing 5 hours of moderate use (not including standby) on my G S10+. I have most background apps off too. :( have Xfinity mobile (verizon's network) guessing my poor reception is eating my battery?
My work phone is the iphone max and that is a battery beast getting 7 hours moderate use, day and a half before i need to charge it :(
Android Central Newsletter
Thank you for signing up to Android Central. You will receive a verification email shortly.
There was a problem. Please refresh the page and try again.