Samsung reveals mid-range Galaxy A6 series with 18:9 Infinity Displays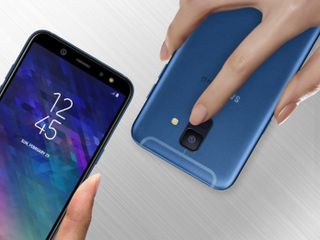 Samsung's Galaxy A series is well-known for offering quality phones at affordable price tags, and today Samsung's Indonesia website gave us a look at new two phones coming soon to this lineup — the Galaxy A6 and A6+.
Looking at the two phones, their overall designs are pretty similar to one another. Both phones have 18.5:9 Infinity Displays, resulting in a narrow screen with slim bezels. The regular A6 has a 5.6-inch screen with a resolution of 1480 x 720 whereas the larger A6+ has a 6-inch one set at 2200 x 1080.
Both the A6 and A6+ have rear-mounted fingerprint sensors, face recognition, Bixby Home, Vision, and Reminder (no Bixby Voice, here), 32GB of internal storage, mysterious octa-core processors, and "breathtaking surround sound."
Look inside the handsets, however, and you'll find some notable spec differences. The A6 has a single 16MP rear camera, 16MP front camera, expandable memory up to 256GB, 3GB of RAM, and a 3,000 mAh battery. On the other hand, the A6+ has dual 16MP + 5MP rear cameras, 24MP front camera, expandable memory up to 400GB, 4GB of RAM, and a 3,500 mAh battery.
Samsung's yet to announce pricing or availability for the Galaxy A6 and A6+, but since the phones are living loud and proud on the company's official website, it shouldn't be too much longer before this info is made available.
See at Samsung (opens in new tab)
Joe Maring was a Senior Editor for Android Central between 2017 and 2021. You can reach him on Twitter at @JoeMaring1.
I wonder how fast Samsung will update the fake security updates for this phone...

Fake security updates? Comment doesn't make sense. Listen to the Android Central podcast from a couple of weeks ago. Jerry explained it quite well.

Tell em lol Love the podcast

Not sure Jerry had any new evidence regarding the security updates.
It does appear some manufacturers didn't put out the full updates.
Most likely due to them being charged or not required.
But as far as I'm aware no-one has got all the facts on all the manufacturers.

Well not all updates are required for all phones. For example, security patches targeting the Mediatek processors are not required on Snapdragon or Exynos variants.

Agreed but it's not been proven this is the case with all the manufacturers updates.
Some manufacturers seem to have included all the update regardless and some heve not.
I think an explanation is required, with data to prove one way or another.

Actually Samsung does update the A series at least every other month.

Why did they go so high on the front facing cameras megapixel count?

It was probably simpler and cheaper to use two of the same modules. I don't think there will be a big emphasis on low light performance with these.

This phone is to counter vivo v9(24mp front cam) and Oppo f7 (25 front cam).

Interesting.... While many who appreciate flagship phones might snub their nose at the Samsung A6 or A6+... Reappraise the A6 as follows... In almost all respects, the specs crush the Samsung Galaxy Note 5 specs... the Note 5 was launched in August of 2015. In other words, the A6 is a great phone.

Agreed. Here in the US, the Galaxy S line is front and center every year. Carriers and Samsung would have consumers believe that the S9 or S9+ is the phone they NEED. Marketing captures most and drives subscribers to the latest feature phone. Shortly after visiting a carrier store, the device is in hand and out the door by simply paying the taxes. I'd like to see this device placed next to a S9 and Note 8 with their prices front and center followed by a spec sheet.

My only complaint of the "A" series phones I've owned in the past is they slow down and get stuttery very quickly.
I know they run the same UI and apps as the "S" series but I'm not sure if the RAM and processors are up to the job.

The "S" series phones I've had have done the same thing. Admittedly, it's been a few years since I've bought a Samsung phone.

Not true until we know more facts. Screen resolution? SOC? Camera sensor and software? Build quality? P.S I disliked the Note 5, choosing to stick with my Note 4

We actually have a know everything to be about the A6...it is true. Google Samsung A6 specs if ypu don't trust my link. Lol... Android central broke up the link.... But it is but yes, the A6 has great specs. https://www.google.ca/amp/s/m.gsmarena.com/samsung_galaxy_a6_(2018)-ampp-9155.php Your Note 4 is worth keeping until 5G lte arrives, since you made it this far. The 64GB max micro SD card in the Note 4 would not be bearable for me... The old Bluetooth standard in that phone would be be too slow. I've got 119GB of music on my Note 8. I agree the Note 5 was rediculous because of the it did not have micro SD storage. Thankfully Samsung owners lost their minds, and and Samsung brought back the storage.

Yeah, I have the last generation (A3 actually), and it's nice. It does have performance hiccups but I don't think those are present in the A5. Otherwise, I really like this phone a lot.
Sadly the A6 is too tall for me to want to use.

A flat screen with square corners!

Booo, hisss. Even their lower end phones are getting that annoying curved edge display now?

The one think i hate about non flagship samsung is that they don't have LED notification but they do have the fm radio app which i would gladly be happy to have on flagship phone

A6+ sounds perfect to me.

Odd number choice by Samsung... the A6. The Samsung A8 is available in Canada for $660 (about 30% cheaper in American dollars) on no contract, or no money down if a 2 year contract is chosen. You can see it offered at bell.ca
Android Central Newsletter
Thank you for signing up to Android Central. You will receive a verification email shortly.
There was a problem. Please refresh the page and try again.