Samsung is reportedly seeing 'very disappointing' sales of Galaxy S20 series phones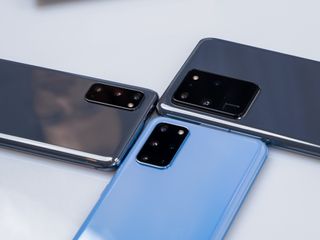 (Image credit: Android Central)
What you need to know
Samsung's Galaxy S20 series phones are not selling as well as the company had expected.
The Galaxy S20 series has only sold 60% of the number of units the Galaxy S10 series achieved within the same amount of time last year.
Official sales numbers for the Galaxy S20 series are expected to be announced by Samsung at the end of this quarter.
A report out of South Korea had claimed last month that initial sales of Samsung's Galaxy S20 series phones were significantly lower than the company had expected. Now, a new report by Seoul Economic Daily suggests the Galaxy S20 trio has only sold roughly 60% as much as the Galaxy S10 series in the same amount of time on the market last year.
While exact sales numbers are not yet available, Samsung is likely to reveal official numbers by the end of this quarter. The information certainly isn't shocking, as the coronavirus pandemic has hit the smartphone industry very hard. As per data from Strategy Analytics, global smartphone monthly shipments dropped by 38% YoY in February.
The only silver lining for Samsung right now is that the Galaxy S20 Ultra is proving to be more popular than the Galaxy S20 and S20+ among consumers. As per a recent report from The Elec, the S20 Ultra made up 50% of all S20 series pre-orders. Thanks to the high demand for the most expensive Galaxy S flagship, Samsung has reportedly ordered more 108MP camera sensors.
Samsung had sold around 36 million units of Galaxy S10 series phones last year. With sales off to a disappointing start, it now looks highly unlikely that the company will be able to achieve its 32 million sales target for the Galaxy S20 series. In addition to the coronavirus pandemic, the high pricing of the Galaxy S20 series phones and reduced subsidies from carriers have also impacted sales.
They need a good punch to the gut to curb the price hiking they do every year.

I have an s10e and have absolutely no desire to upgrade...too expensive and this phone is still shockingly good!

I have the S10+ and it's a year on and I got 9 half hours screen on time yesterday for the uk exynos version mighty impressive.
http://imgur.com/gallery/SPlu2YQ

The world is on shut down, what do you expect no shops open.

That, like I hope no one is really surprised about this considering the circumstances.

That isn't it man!!! Have you never heard of online shopping?? The real reason is they are too damn overpriced!!!

Online shopping when you don't have job to go back to? What planet are you living on?

And it's the same song and dance with Samsung. Nothing new and exciting. Their camera tech is garbage. They need to start making smaller phones. Every year is bigger bigger bigger. Soon gonna need hands like shaq in order to even hold a Samsung phone soon. Hey Samsung. Make an iPhone 8 sized flag ship with great camera tech and I may bite. Look at the 1020 for great camera imaging.

I still have my Lumia 1020. It was great in it's day, but if it were released today, it would get ridiculed. You have a lot of feelings about Samsung. I think emotion is clouding your assessment. The camera technology is FAR from "garbage". I have had the S8, S10+, and now the S20Ultra and they all deliver great image.

Samsung's camera software is garbage, and has had the same exact issues year after year since at least the Galaxy S4/Note 3. It's garbage. If you want it to improve, tell them its garbage and don't buy the phone. Don't delude yourself into seeing something that simply isn't there. Compare their pictures to Pixel and iPhone images, or even Huawei's phones. There are numerous areas where these cameras simply aren't delivering results deserving of these prices - when that's the primary marketing angle you're using to sell them.

Sales weren't good before the outbreak.

I guess they found out at what price-point the buyers start to drop off. Sooner or later the price will get to hefty and buyers start to keep their devises for longer. That and that buyers feel that the steps forward in technology is lesser and lesser for every year makes them hold on to their old devices. Finally my guess that Corona have not been good for any business.

Yeah the article tells a different story. The most expensive S20 Variant accounted for 50% of all S20 sales, equal to the two cheaper variants combined sales. Try again.

That can be interpreted in more than one way. The most expensive variant is selling the most...within overall disappointing sales numbers. That means that the early adopters, fans,and gadgeteers still did what they do. That the other variants lag behind, to me means that the masses aren't buying in.

Agreed. For all we know they only sold a thousand S20 Ultras which would only mean a total of 2k s20 devices sold. I make they've sold more than that, but you should get my point

Glad the Ultra is the one in demand. I personally like big screens.

I'm on the move too much to deal with a big phone. My Note9 became unbearable for that reason, and these phones are just as big (the Ultra probably a bit bigger, and definitely heavier). I guess if you're a large person (tall, whatever) it wouldn't be a bother. But I could not bear it longer. I got the small iPhone Pro, instead. Using a phone that small, and with battery life that good, feels like getting out of prison for me.

Most countries are dealing with the global pandemic. These are not ordinary times. I live in a US state with stay home orders and the carrier stores and Best Buy are ordered closed. Price may be a factor in the low sales but it is not the only consideration. Many people are focused on getting bare essentials for survival many others have lost their jobs.

I'm a huge Samsung fan but these prices are getting way too high. Covid-19 or not, I still think the S20 series would not sell well because the prices are absurd. Once my Note 10+ becomes obsolete, I will be spending my money with One+.

Well yeah everyone is gonna watch their money right now. Doubt a fancy phone is concidered essential for anyone right now. If anything they're lucky they still got to show off their phone in front of a croud lol

The phone shops are all closed and one, Carphonewarehouse, has permanently closed all its standalone stores. If you look at the big markets, especially in Asia, everyone is worried about other stuff at the moment.

For the price they're asking I better be getting a whole lot more than what I have with my current S10. For me, I didn't see it. Now, when there were rumors of them putting in a bigger/better fingerprint sensor I was about ready to give them my money...but nope, the S20 still has the crappy, only works half the time, sensor under the screen.

Two Android version updates is a deal breaker for me, especially for $2,000 what a joke

$2000???? Um, where did you see that price?

I'd rather have either of the 2 lite versions they launched.

Samsung should name next galaxy "Crona"! It will spread.

The main selling point... 5G phones, for a network bandwidth that has over promised and will never be as widespread as 4G... Doesn't penetrate walls well, etc... It can't ever be widespread. The S20 phones are too expensive. Nobody wants to add $35-$40 a month to their mobile plans in Canada, let alone buy the phones outright. I can't blame Samsung for trying to push the pricing higher... But they did, and it failed. On top of it all.. Maybe the worst timing for a new product release ever, on the eve on a pandemic. The 108 megapixel marketing is also pure BS. I own a mint condition Samsung Galaxy Note 8, and I have not one good, profound reason to upgrade my phone. Android OS? Lol, who cares what version you are using because it just doesn't matter or impact how I run the apps I use.

You do get that 5G is about a lot more than bandwidth? While yes the super fast MMWave stuff is more difficult, 5G can run on any frequency that 4G does. Even at the lower frequencies it still provides better speeds. TMO has turned 5G on for their 700Mhz spectrum in a lot of US cities already.

You don't have an S20 Ultra, do you? The 108 MP feature is definitely not BS. With pixel binning, you make use of all of those pixels in a very efficient way.

Lol, for 99% of the photos anyone takes, it just doesn't matter, and you can't see the difference.

Agree. If I'm going to pay $1,400 for a video camera, I'd be buying a Blackmagic Pocket Cinema Camera 4K. Entry Level Canon DSLRs will pump out better images if you add a decent budget lens... for half the price or less. Both of those are better than this phone at their respective tasks, and the video out of phones looks really bad once you've seen what a decent compact cinema camera pumps out. I'm over the camera wars. These phones are too big. I did get the Note9 in 2018, but have regretted not returning it for an iPhone Xs ever sense. The battery life was the only reason why I kept it, and even that became junk after the Android 9 update. I went with the iPhone 11 Pro this year. Better battery life than my Note 9 in a true "small flagship" form factor. Plus, I got tired of the [lower] Android app quality. I still have my Note 9. I use it as an PMP at the training facility, or when I go on walks... Because it isn't worth much and if some desperate soul mugs me, I'd want them to take that... not my expensive iPhone.

Coronavirus is kicking but. People are out of work and scared of getting sick. I picked up the S20 ultra and plus om 3/11 but Best Buy was empty when I made my purchase. Bad timing is all I have to say. We all at home now so who really is going to make purchase?

What were they thinking? With the world on shutdown and uncertainty over the future, we were just going to fork out money to buy yet another over-priced phone? Read the room Samsung, ain't nobody got time (or money) for that.

No surprise here...priced too high, and no-mo-money! People are dying right now..not too many are concerned about any phone except the one they already have...that it just keeps working!

Headphone jack, Samsung, can you read? You keep charging more for less. Bring me back the 3.5mm headphone jack!!! I am NOT upgrading to a phone without a jack!!! Keep reading to all the critics!!! And yes, those prices are way too much, $800 should be the maximum price. Dear Samsung, if you know what's good for you, you should release a S20e, similar to the S10e, same size, same fingerprint sensor on the power key, with the s20 features. That might help sales.
Android Central Newsletter
Thank you for signing up to Android Central. You will receive a verification email shortly.
There was a problem. Please refresh the page and try again.