Galaxy S20 sales reportedly off to 'dismal' start, Coronavirus to blame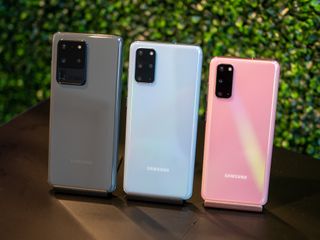 (Image credit: Andrew Martonik / Android Central)
What you need to know
A report out of Korea claims initial sales of Samsung's new Galaxy S20 series phones are significantly lower than expected.
Apart from the high prices of the new phones, Coronavirus infection fears may also have contributed to the lacklustre sales.
While Samsung had shifted 140,000 Galaxy S10 units on day one, it could only sell 70,800 Galaxy S20 units in South Korea on February 27.
Samsung's new Galaxy S20 trio went on sale in the company's home market of South Korea yesterday. Due to a variety of reasons, however, initial sales of the Galaxy S20 series in the country weren't as high as Samsung had expected.
As per The Korea Herald, Samsung sold 70,800 units of the Galaxy S20 series in Korea on Thursday, which is significantly lower than the first-day figures for the Galaxy S10 series last year. Samsung had sold 140,000 units of the Galaxy S10 series on its first day, while the Galaxy Note 10 series shifted 220,000 on day one.
Telecom companies in South Korea say that the sales were impacted due to coronavirus fears, as fewer people visited offline stores. The high pricing of the Galaxy S20 series and lower than expected subsidies were also blamed. Samsung's entry-level Galaxy S20 is priced at 1.248 million won ($1,044) in the country, while the high-end S20 Ultra costs 1.59 million won ($1,315).
In the U.S., the Galaxy S20 is priced at $1,000, while the highest-end Galaxy S20 Ultra costs a whopping $1,600.
Samsung Galaxy S20+ 5G
Samsung's Galaxy S20+ isn't quite as impressive as the S20 Ultra, but it happens to be slightly more affordable and still offers everything you would want from a 2020 Android flagship. It has a brilliant 6.7-inch 120Hz display, powerful Snapdragon 865 chipset, and a capable quad-camera setup at the back. You also get an impressive 4,500mAh battery with 25W wired charging and 15W wireless charging.
Good, poor sales are exactly what they should have with ridiculous pricing and a pathetic 2 years of software support.

True that...plus they removed the headphone jack. I have a Galaxy S8. There is NO WAY I would consider a 20. I will probably go back to Apple, as I really like headphone jack and since that's gone why would I buy an overpriced phone with only two years of updates?

I got an update on my S7 last week, and my S8+ got an update this week. 4 years of software support is great in my books. Yes, it's only the security updates, but for me that's more important than the major OS updates since Samsung typically pioneers Android's new features.

They don't want to support for more than two years partly because it would discourage owners from upgrading.

My 4 year old S7 got an update last week to the current security update. Looks like Samsung is doing better these days.

Then they should stop messing up their phones. I've got a year left on my Note 9 financing and, for the first time ever, I don't know what I will upgrade to. I wouldn't pay full price for anything that has been made in the last year by Samsung. I would be hard pressed to justify paying $1 for any of it.

I'm a Samsung fan but I hope the S20 series flop. Samsung has lost their damn mind with those high ass prices. The price is too &od damn high! (Flossy Carter's voice)

Make the screen bigger, 120 hz refresh that many are saying they want, bigger battery, improved cameras, and more, but ;et's have Samsung charge no more than $800 for the top tier version....There's always the S10 series if you want a budget friendly flagship device.

High price and low trade in prices on older phones are to blame for sure.

I got $200 for my 4 year old S7 which is higher than what I saw on eBay.

You have to pay to play. Who is to blame for high pricing? How do companies make money charging $500 on a device that cost just as much to make? Hoping a phone flops because of its high price won't make the OEM release the next phone at a cheaper price. Your old S8, S9 won't last that much longer. I'm of the mindset where if you can afford the phone and you want it then get it. If you can't afford it then don't do it. Blame 5G for higher prices more than anything. Just my 2 cents.

I'm not going to pay for a 5G phone!! It's like going out and buying a 8K TV when there's not enough content yet.
I would not spend that much money on the phone unless it came with a maid or Butler!!

Get the international version. They are only forcing 5G on the US while everyone else gets a choice.

They are a little price happy. Drop it 200 bucks and you might move a few more.

I'm ok with the lower sales. Maybe I'll get mine a little faster hahaha.

Forget the Galaxy S20 5G, I want the Galaxy S25G!

Corona virus. Yeah. Thats the problem.
Android Central Newsletter
Thank you for signing up to Android Central. You will receive a verification email shortly.
There was a problem. Please refresh the page and try again.