Samsung outs Galaxy Note 10.1 Android tablet in Barcelona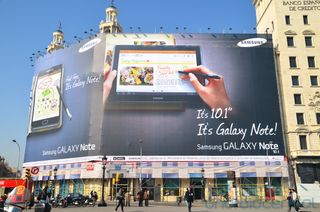 Behold, the Samsung Galaxy Note 10.1 Android tablet! We're at Plaça de Catalunya in Barcelona where Samsung has unviled its oversized version of the already oversized 5.3-inch Samsung Galaxy Note. No official announcement has been made last we looked, but this one just went up in the past 24 hours or so -- it wasn't here when we swung by the Plaça de Catalunya on Saturday morning.
It's pretty clear to see we've got a 10.1-inch tablet on our hands, with another version of the S Pen. We can't quite tell from the billboard itself whether the Galax Note 10.1 is sporting Honeycomb or Ice Cream Sandwich, but we'd be willing to bet on the latter. And you can see the telltale signs of Sammy's TouchWiz improvements, which we've loved on its previous tablets.
Stay tuned for the official announcement on this one.
The building without the Galaxy Note 10.1 on Saturday, Feb. 25.
Look forward to hearing about this, only hope it's not the tab 2 with pen support.

pretty cool... this makes more sense.

Yea I too hope its not a tab 2 with a pen. I want the Note but now that this tab is coming I can wait till Sprint gets the Note and Pick this up when it comes out. But I hope its in Quad-core form & sporting ICS. Wifely could care less but I do.

i find it a little odd that in spain they write the signs in english. but this does make me a little more interested in getting a tablet finally

Just great, got the Galaxy 10.1 for Christmas now this is coming. This hate/love relationship with electronics is exhausting. Still cant wait for this tablet. Hopefully they all get ICS soon.

Hurry! This is what I have been waiting for!

Same here! I hope it goes into an Artist's tablet, and Samsung doesn't F'Up with lesser updates. Though this will be my first tablet! :D
Android Central Newsletter
Get the best of Android Central in in your inbox, every day!
Thank you for signing up to Android Central. You will receive a verification email shortly.
There was a problem. Please refresh the page and try again.