Samsung officially announces the 18-inch Galaxy View, an absolute beast of a tablet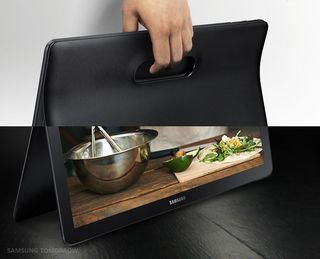 If you've been waiting for a new tablet to be launched by Samsung that features an 18-inch display, the new Galaxy View is the ideal product for you. This huge tablet has just been officially unveiled, following teasers and leaked renders.
So, what exactly makes the Galaxy View such a special tablet? We're talking an 18.4-inch Full-HD (1080p) display, 1.6GHz octa-core processor, 2.1MP front-facing shooter, LTE connectivity through NanoSIM, 2GB of RAM, 64GB of internal storage (with microSD expansion), and up to 8 hours of video playback with the onboard 5,700mAh power plant.
The Galaxy View is clearly designed for those who enjoy consuming a load of video content while on the move. If you're into light web browsing and checking the odd email, this particular product may feel slightly overkill for your requirements.
No word on pricing or availability, though we're sure it won't be long until Samsung spills the beans.
Learn more about the Samsung Galaxy View (opens in new tab)
18" screen but only 1080p resolution. Nothing wrong with that in and of itself. But people should be aware of that so they don't expect your typical Galaxy-quality screen on there.

I'll bet they went with the lower density for cost reasons on the 1st gen, there is literally no proven market for something this large. I'm sure the 2k or 4k models will come out soon should this product be successful.

For an 18" screen at arms length, 1080p means you'll be staring at the pixels. No thanks.

But are you really at arm's length with an 18" screen? More likely use case is it's sitting on a table and you're sharing with other people.

My 24" monitor is 1080p. Looks great to me. And it wasn't that long ago when people were raving over the quality of 40+" TVs at 1080p. I still wouldn't buy this tablet. I expect it to be way overpriced.

I do have a 40" 1080p television, and I don't feel like I'm looking at pixels, even up close. I agree with you.

These people above us have no clue how adequate 1080p is. Posted via the Android Central App

I never once said that 1080p is inadequate. It's quite the opposite. I was simply pointing out the resolution to everyone in case they were expecting the type of very high resolution normally found in a Galaxy device.

Yeah but your 24" monitor you are looking at it very close like you do on a tablet.

More like a portable television Posted via the Android Central App

That hinge looks so weird.. Posted via the Android Central App

That looks outstanding! Posted via the Android Central App on my Nexus 7

they couldn't get a bigger battery in there? my n10 had 9000 if im not mistaken

I read the title as obsolete beast of a tablet. I'm still not sure what the point of this thing is. Posted via the Android Central App

Yeah, I'm not seeing the use case myself. Only thing that I'd think to use it for is a screen to take the place of a small kitchen TV while I'm preparing or eating a meal Posted via the Android Central App

That's actually a great idea.

This seems like one of these devices you would like to have, but when it comes down to it, when you go out, you may leave it home do to its size. Before anything, I'd like to know the price, availablity and what it looks like.

I was agreeing that replacing a TV in the kitchen with one of these seems like a good idea. I don't think it would be a good every day take with you everywhere tablet.

I wonder if something like this with windows will come out. There was the dell XPS 18 but dell never updated it and it was pretty big and chunky Posted via Android Central App on 1+1

There are tons of them out there. They're called All-in-Ones with touch screens. just get one of those rechargeable battery packs to take it with you.

I'm going to hang this right from my ceiling over my bed so I can lay down and.....pass out and have it fall on my head as I do with my phones on a nightly basis....lol. Posted via the Android Central App

It's appropriate that the source link results in a 404 in a huge font.

Well, it's suitable for use as a kitchen device to look up recipes and all that. I still don't get the target market for this gigantic thing.

Large tablets are very desirable for presentations and lesson supplements for demonstrators and teachers. Especially where no local media is available. I love the 21" HP android tablet for this, but its getting long in the tooth
and its too heavy. I would like a replacement that is 21" or better, that is 3lb or less and easy to carry. Android is really great for this.

You should "correct" the stated battery capacity in the article. The unit mAh commonly used to describe the capacity in smartphones and tablets is only useful because their batteries are usually on 3.7 Volt. The Galaxy View's battery has a higher Volt value. mAh*Volt is the real amount of energy it can deliver.

What voltage is the battery?

And it will get updated once and forgotten...like all Samsung tablets...

The battery seems REALLY small for such a large device. I would have expected 15+ hours which such a large device and lower res screen.

There's going to be a lot of time this thing is static though, right? And when it's static it may as well be plugged in.

Good point there. I did not think about that. One is not likely to carry this around everywhere.

What a waste, they should be working on fixing the TW abomination and the slow software updates on their products, who in their right mind will buy this, seriously. Posted via the Android Central App

If the price is right on this then I could see it as a great kitchen and dorm room tablet. Think of it as an android all-in-one with battery that can last. I won't be buying one but could see the value for sure. Posted via my HTC One M9

Tw comments prove ignorance, be careful buddy Posted via the Android Central App

This is basically a portable smart TV. Add a bluetooth controller and it might could also be a portable gaming device for kids. At 18" this literally could not be used as a tablet and you will notice that Samsung never uses that word on their product page. Some people are complaining about the limited power and RAM but beyond gaming, you don't need excess power on this thing because decoding video is child's play at this point. It comes with 32GB at minimum which is sufficient for applications and can have a micro SD which would cover media.
At the end of the day, price will determine if this is a viable product. At $200-$300 this could be useful for many consumers. Any more than that and this will die on arrival. Even if it is cheap, they will have a pretty uphill battle.

Why..... because they can, doesn't have to be a reason for it, its just err.... Posted via the Android Central App

My future kitchen tab :) Posted via the Android Central App

If you can live without the touchscreen, it seems like you could accomplish this much more cheaply with a $150 24" monitor and $5 HDMI adapter.

This will work great in the back seat of my Tahoe. What does the ppi figure out to? Posted via Nexus 6

Samsung manage to build something you could land a helicopter on, yet still fail to put front facing speakers on it. I'm not even mad... I'm impressed.

So why not buy laptop? This is so huge that you would have hard time using it in a car or other tight places. Airplane etc

I got my hands on one the other day and did the 1st Official unboxing. Check out the video!
https://youtu.be/OZLM5FcL8_c Posted via the Android Central App
Android Central Newsletter
Thank you for signing up to Android Central. You will receive a verification email shortly.
There was a problem. Please refresh the page and try again.