Samsung may limit 120Hz to the larger Galaxy Note 20+ according to a new report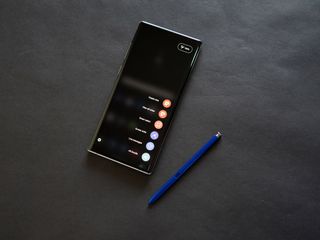 (Image credit: Harish Jonnalagadda/Android Central)
What you need to know
Samsung equipped all of its Galaxy S20 phones with a 120Hz display, but it may not do so with the Note 20.
A new report indicates the smaller Note 20 may not be equipped with a 120Hz display option.
It's possible this is done to preserve battery life and performance.
Samsung's Galaxy phones have been known for their good to great displays, and the company's newest flagships, the S20 line, all push the envelope in that regard. All of them have been equipped with 120Hz displays, and while it seemed likely for that to continue with the one line, reports indicate that Samsung isn't going to act as we would expect.
The 120Hz display will make a comeback, but that'll be reserved for the upcoming Galaxy Note 20+. Yup, the demarcation of the Note line that was introduced in the previous generation will continue going forward. So while the Note 20+ will get a 120Hz display, the regular Note 20 will probably be limited to regular old 60Hz, as per industry analyst Ross Young.
https://twitter.com/DSCCRoss/status/1260198203259006976?s=19
The 120Hz display was one of the best bits of the Galaxy S20, elevating its display far above even the Pixel 4 XL's smooth display. But it is a hit on the battery and a presumably larger phone with a presumably larger battery like the Note 20+ will be better equipped to handle it.
On the other hand, Samsung's Note line used to represent the best no-compromise phone Samsung had to offer. Starting with the Note 10, the company began to dilute that promise by offering a pared-down experience with the Note 10, and later a Note 10 Lite.
In our S20 review, we noted:
It would be a shame if Note 20 users weren't given the choice that even S20 users had.
Samsung Galaxy Note 10+ review, 4 months later: Even better with Android 10
Get the Android Central Newsletter
Instant access to breaking news, the hottest reviews, great deals and helpful tips.
"Samsung is not giving us all the features we want". Also:" Samsung phones are too expensive".

I'm fine with this. I don't think people notice the difference unless it's side by side. JUST MAKE SURE THE LOW END NOTE HAS A FLAT SCREEN, SAMSUNG!!! And the nice camera array.
Heck, give me a Note 7 with an SD 855, nicer camera, a battery that doesn't explode, a $500 price point, and I"m fine with that.

So, it will be Galaxy Note 20e and Note 20, no "+" in this line, just like last year... They just have to price it like an "e" model.

Note 9 was the last "no compromise" phone made by Samsung. It is also the last Samsung I'll be buying. They just keep raising prices, making everything bigger, and taking away features important to me.

blame Apple for the price increases

Er. Note 10 Plus and S20 Ultra

Agreed. This is complete BS. The Note 20 won't be cheaper than the S20 Ultra (or not by much), yet it will have a 60 Hz panel?
I was already irritated that Samsung gimped the Note 10 compared to the Note 10+, but I got the Note 10 anyway because I preferred the smaller size. People who prefer smaller phones shouldn't be penalized for that preference, especially when spending $1400+ for a phone. Samsung is making really dumb choices here.

"regular old 60hz"..its like android central gets paid to promote the newest phones no matter if the features are lack luster or not... Just coax their readers to spend more as phone prices go up up and away... Just sarcasm.. Of course I know that's one of their purposes. Anyway! How am I going to live with old 60hz... That's like having 1080p vs 4k on a 5inch screen or (720p vs 1080p)! Disgusting, I tell you. Throw out your note 10's, sell your kids and buy the 120hz new phone! You'll be glad you did. Not that you will notice the 120hz if at all, but you notice things are more quiet around home with your kids gone.

How dare you say that! There's a LIST of benefits to 120hz refresh rates!
1. It looks pretty!
2. Ummm... Okay, so it's a SHORT list, but think of it as a way for manufacturers to increase prices without providing any functional advantages whatsoever!

Have you actually compared 120 Hz to 60 Hz in person? The difference is noticeable to many people. I even notice the difference between 96 Hz and 60 Hz. You may be one of those individuals who can't see the difference, but a lot of people can. So it is not just a marketing gimmick.

For reasons only Samsung understands: Smallest S Series = Still a top end phone, just smaller
Smallest Note Series = A cut down Note Weird they're not copying the S approach with their Note series. It works.