Samsung Gear S3 Frontier and Gear S3 Classic specs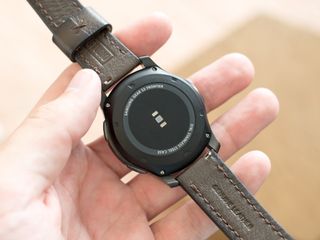 Samsung's Gear S3 Frontier and Classic are notably larger than their predecessors, but that means they hold improved specs, larger displays and perhaps most importantly a bigger battery. Though the specs aren't groundbreaking, the fact that they all fit in a smartwatch size is pretty impressive, and the Gear S3 Frontier and Classic make it look good as well. Here's the full spec list:
Swipe to scroll horizontally
Category
Gear S3 Frontier and Classic
Screen size
1.3-inch circular AMOLED
360x360 resolution, 278 ppi
Corning Gorilla Glass SR+
Processor
Dual-core 1GHz Samsung Exynos
RAM
768MB
Storage
4GB
Operating system
Tizen Wearable OS 2.3.2
Battery
380 mAh
Connectivity
Bluetooth, Wi-Fi, GPS, NFC, MST
LTE optional (Frontier)
Resistance
IP68
MIL-STD 810G (Frontier)
Case size
46 mm
Band size
22 mm
Dimensions
46 x 49 x 12.9 mm, 62 g (Frontier)
46 x 49 x 12.9 mm, 57 g (Classic)
Get the Android Central Newsletter
Instant access to breaking news, the hottest reviews, great deals and helpful tips.
Andrew was an Executive Editor, U.S. at Android Central between 2012 and 2020.
Great, but will they still assume I'm riding a bicycle while driving my truck? (Had 2 S2 Classic's do this)

Oooohhhh, MST is on there too. It's gonna look cool when you use your watch to pay for stuff.

Yup! Full-on Samsung Pay.

I can already sense the "Ooohhs" and "Ahhhhhs" from the crowd behind when you use a watch to pay for stuff.

Sir your apple watch isn't going to wor- oh.

Nice, might have to pick one of these up if the price is right, that Frontier looks real good. Amazing how much better Samsung is currently doing in the design department compared to Apple. The Apple Watch looks like a joke compared to these (please note I am strictly referring to design, not functionality).

I have a feeling that the Apple Watch 2 might have some substantial improvements over the first, like how much the iPad 2 was better than the first one. And honestly, it has to be. I used the Apple Watch and wasn't too impressed. It looked good (although it should've been round) and was nice to wear while also having a lot of band options, but the battery life wasn't good.

A lot of people aren't happy with the apple watch.

In essence, the Apple Watch is your typical first-generation tech product. One designed for early adopters as it is very expensive for what it is and also has limited functionality to justify said price. I remember that almost everyone panned the original Galaxy Gear when it came out 3 years ago. If Samsung could make nice improvements over time until the Gear S3, where they even made one of the best smartwatches you can buy, Apple could (and should) do the same. Especially the battery life. It's functionality is limited by that one factor.

No need to make a note. You are even more correct about functionality, the Gear S2 and S3 are so far ahead of Apple it is not funny. With standalone capability, LTE, full Samsung Pay and much better battery life (Tizen is so much more miserly using power than AW or iOS), it is no contest at all. Especially if the rumors about the minimal improvements to Apple Watch 2 are true

And also, the Gear S3 is both narrower and slimmer than the Gear S2 3g despite a bigger screen. Way to go Samsung!

Is there a speaker on the new non LTE variants?

I think they both have speakers

1.5 mm thicker than S2 gen? They've got to slim these down to 10mm or less for my tastes.

Hey there everyone, I have to say I'm liking the Samsung Gear S3 Frontier. esp. that it is 46mm.
When the Samsung Gear S2 first came out I was actually going to purchase that one but I did not like how small it was on my wrist so instead I went with the 46mm Moto360 2nd gen (stainless steel black). which I am very happy with. I'm glad that it came with two extra links because the band is way too small for the average wrist. I'm wondering if the Frontier will also have different band options besides leather bands. (preferably stainless steel)
Anyways, eventhough I already have a smartwatch, I am very interested and waiting for this Frontier to come out, which I'm guessing right before Christmas? I am just wondering what the Frontier has that the Moto 360 2nd gen doesn't have? I read somewhere that it has a speaker, does that mean it has a microphone as well to have phone conversations or does it just make phone calls and then you have to use your phone to carry the conversation? That's probably the only thing that I don't like about my Moto360 2nd gen. Thanks, A.J.