Samsung Gear S2 update brings new watch faces, apps and more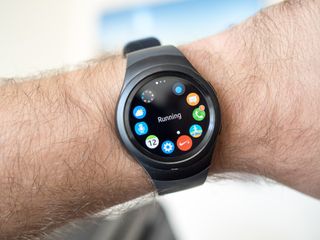 The Samsung Gear S2 has received a fresh update that includes new applications, watch faces and more. Perhaps the most notable additions are of the new applications, which include World Clock, ESPN and News Briefing apps. Of course, there are some more minor changes to the Contacts app and Settings to be aware of as well. Here's the full breakdown:
This update includes new features, performance improvements, and bug fixes.
Add new applications: World Clock, ESPN, News Briefing
Add new watch faces: Mendini watch faces
Add search function in the Contacts application
Add new screen time out Setting (Settings - Display - Screen timeout)
Show an unread notification indicator on the watch face
Alert shown when Bluetooth connection is disconnected
Enter emojis directly using the keyboard
You should upgrade the Samsung Gear application to the latest version for this update
Some changes may vary depending on countries
In total, the update weighs in at just over 91MB, so you may want to wait until you're on WiFi to start downloading once you're prompted.
Anyone know if this applies to T-Mobile's 3G version? If so, I haven't received it yet, but would like to. Thanks for any help!

The round circle interface looks very familiar. That's right Apple's watch interface which they came out first with. Here's another area I forgot that Samsung copied because they just can't come up with their own. Posted via Android Central App

But Apple's watch face isn't round? That's like saying hey apple copied Samsung because they made a fully functional smart watch because Samsung did it first. Posted via the Android Central App

Samsung did it first from chasing rumors about an Apple Watch for years before then!

Exactly! They only came out with the watch because they heard the rumors of Apple coming out with one so they rushed with theirs to be first. Posted via Android Central App

Yep, just like Apple jumped on the Force Touch bandwagon after they heard it was being developed by Samsung. :) Posted via the Android Central App

If that was true than how did the Apple watch have it first?
And since then why hasn't Samsung implemented it yet on any of their products. Apple releases it on their 6s and all of sudden rumors are going around that Samsung is supposedly coming out with their own Apple 3D touch version. Posted via Android Central App

For the same reason it took Apple so long to release a larger iPhone note like device. Posted via the Android Central App

Oh and... http://recode.net/2016/02/11/immersion-sues-apple-for-patent-infringemen... Posted via the Android Central App

According to IJKBB10 reasoning up there Apple rushed with theirs to be first. :P

trolls gotta troll Posted via the Android Central App

The Apple Watch isn't round though, so how can their interface be round? Posted via the Android Central App

I'm talking about software interface with the round icons. Posted via Android Central App

You're right, nobody else is allowed to do round icons or else they're just doing it to copy the other guys...not because it works well with the round face but because the other guy did it first. I think somebody did square icons too. Come on, guys! Can't someone come up with an original shaped icon with no prior art? Posted via the Android Central App

Yep. And it's still far better than the apple watch. Posted via the Android Central App

IJKBB10 - You mean like how Apple copied Androids Notification Center, rich text notifications, Samsungs split screen, Windows quick launch icons on the lick screen, Blackberry's BBM, HTC's visible antenna design, and so on?
We call your train of thought iHypocrisy.

The whole Android concept in general is a copy of iPhone/iOS. Look at Android phones before and after the iPhone. The original Android phones looked like Blackberries. And don't forget how Andy Rubin got started in the industry and stole from Apple then to start the subsystem of Android.

You want a cookie...? Posted via the Android Central App

And do you remember when Apple sued Microsoft, alleging that Windows was a ripoff of the Mac's GUI? And before you say that it was, during the course of the lawsuit, it came out that Steve Jobs copied the Mac's GUI from one he saw on a visit to XEROX's PARC.

Xerox wasn't going anywhere with its PC, mouse and GUI! Steve Jobs saw the future that every PC would look like that and that's why he also hired a lot of those programmers /engineers. Mac interface was totally different from Xerox's. MS just copied Apple's GUI version instead them being more creative. Same thing with iPhone and it's revolutionary all touch screen eliminating keyboard phones. Of course because of the iPhone Android changed its pace with copying iOS instead of BlackBerry /Palm and etc, Samsung releases it's almost identical iPhone clone Galaxy phone! Apple releases the iPad and of course all the other manufacturers release their tablets versions. Apple didn't invent the smartphone market or created the first tablet but they improved them to a whole new level instead of just copying like Samsung does! Posted via Android Central App

And if Apple hadn't done what it did there wouldn't be all touch phones that are starting to look more and more like iPhones (Samsung), iPad /tablets, and etc Posted via Android Central App

Where do theses apple trolls come from there like roaches . I heard the new iPhone C is on the way shouldn't you be standing in line are something Posted via the Android Central App

I'm not an iPhone /Apple user as my name my hint off! But, I do recognize how Samsung just copies one thing after another from Apple! Whatever Apple announces Samsung follows. They have no creativity or inspiration except what they get from Apple! Posted via Android Central App

So what? I don't understand why you care so much? You either like their products or you dont. They don't owe you an explanation for how they make money. Posted via the Android Central App

And by the way, you know Apple copies as well because you don't even deny it, so your grand standing is just wasted here. Posted via the Android Central App

Yeah Apple copies I'm not gonna deny it. But they don't make it so damn obvious! They at least improve on it and make it less obvious than Samsung. Samsung just copies. Besides the iPhone, iPad, home button, fingerprint sensor, watch, Apple Pay, releasing their phones in gold and silver options, and when they heard Apple was releasing 4.7 inch screen phone for the upcoming iPhone 6 Samsung releases the Alpha! Plus the regular Samsung s6 and 7s are looking more and more as an iPhone clone! And of course Samsung will release its own version of 3D Touch because Apple did it. Oh and I bet if the rumors are true that Apple is trying to remove the actual home button functionality with a software button version Samsung will do exactly the same! Posted via Android Central App

You are so delusional it's a wonder anyone bothers arguing with you. So many inaccuracies and poor logic it's astounding.

That makes no sense since samsung releases two phones a year and the s7 i supposed to be released sometime next month. The new iphone in September ish so that statement doesnt match the facts. Posted via the Android Central App

He's an apple fanboy. You know they bend the truth to fit they're narrative. Posted via the Android Central App

While Samsung has copied a lot, Apple is worse when it comes to watches. The Apple watch does not even have all of the functionality of the first Gear watch, whihchcame out a year and half before the iSheep watch. And the very features that iSheep made fun of then, like answering calls from your wrist, were exactly the features that Tim Cook raved about in his Watch presentation. The bottom line is that the very cheapest Watch has a base price of $350 and does relatively little. For the same money,the Gear S2 3g has a much better interface and can serve as a phone itself. It gets and allows you to respond to calls, messages, emails and notifications from your phone without having to have it with you. With the Apple Watch, it is virtually useless as a smartwatch without a Bluetooth or WiFi connection to your iPhone, something which Apple fans complain about, but accept and pay huge premiums for only because it is Apple.

People spend too much time arguing over Samsung vs. Apple. Sony coined the name Smartwatch, yet no one complains that others use that name. Motorola did a round smart watch, yet their users don't complain about Samsung's round watch. In fact, it's well noted that Apple took a look at what worked and what didn't in the watches that were out already before finalizing their watch. As they should. As everyone should. Eventually others will adopt Samsungs rotating bezel because once you try it you realize that it's the best UI experience. Not to say that the watch is the best. It's not without faults, but it's cool that each company continues to build off of other's ideas and make them better. Especially in a category like smartwatches (thank you sony) because that category has a LOOOONG way to go. It's still in it's infancy as far as functionality, battery life, power and design.

... and you're basing this on circular icons? Haha funny. Android Central App | S5 G900A kitkat root

I believe unfortunately it s just for the sport and classic version, not the 3G versions. The 3G version got a battery update a few weeks back but not this update. This update went live in Korea way back in Nov/Dec so it's about time it hit the states. Hopefully the 3G version will see it real soon.

I received this update when I bought my Gear S2 Classic, and that was in December...
Since then, there have been 2 major updates : one that increased battery life, and another one which brought new watchfaces (the ones from the special edition Gear S2 Classic in Rose Gold and Platinum) and improvement to the heart rate monitor...

I agree. These sound like the same updates that came weeks ago.

U guys must have gotten these early somehow, cuz they are all new to my watch. The notification icon is new for me and the screen timeout option and special watchfaces were never in my settings before. Posted via the Android Central App

I read a review about the bluetooth connection between the S2 and the phone becoming disconnected and being difficult to reestablish. Have you experienced this?
I've been holding out on this watch since I read that.

I've never had any issue of this kind - actually, the connection is even faster than with my previous smartwatch, the Galaxy Gear.
But I have a Galaxy S5, so I don't know if it works that well on non Samsung smartphones.

I had that problem when the watch first came out. I haven't had it since. I think an update fixed it.

Have the Verizon S2 3G. Been waiting for this update or the other December update that also brought the unread notification dot and other improvements. Got the battery improvement updates and one other. Really want this one with the screen timeout options, notification dot and additional apps. Still not showing up.

Is this "Unread" notification dot supposed to be on the Home screen? I too am on Vzw and have had only 1 update I think and it's not what the thread is about so I gather it's incoming at some point.

Not having auto sleep tracking killed my dreams of owning one if these. Posted via the Android Central App

You wear a watch to sleep..?

I wear a wearable to sleep that happens to be a watch. https://www.androidcentral.com/e?link=https2F2F...

I dont sleep much so i track it record it store it. I dont have sleep apnea but i would wear a watch to bed that does auto sleep tracking so i dont have to press a button before i pass out Posted via the Android Central App

I sleep with my smartwatches on, they are my alarms. Since I get up earlier than her, I dont want my phone alarm to wake her....I've actually always worn a watch to bed since I was like in grade-school. Not that odd for some people...

How about ncf for samsung pay. Where's that in this update?? Posted via the Android Central App

Still waiting for Sprint to get the 3G model, until... Guess I'll be waiting for the next Galaxy Gear model to debut, wherever that'll be Posted via the Android Central App

Wooohooooo my weather is updating appropriately now Posted via the Android Central App

I love the Snoopy watch face!! :) The Always On mode on this watch face is awesome, too.

When the heck are we getting samsung pay on the gear s2 Posted via the Android Central App

I really wish Android Central would do a better job of post checking and deleting irrelevant posts on stories. This is the only site I go to on the regular where the comment section is pretty much worthless. Just Apple trolls and who's better, who did what first and worthless arguments. Please help...

Can someone tell me what the max onscreen time is in the new setting? Posted via the Android Central App

Paisley, max onscreen timeout is 5 minutes.

Thanks. Posted via the Android Central App

Wonder if I have to wait 5 months before Verizon releases this update... Posted with my NOTE 5 on damn verizon!

It's watch not a phone.
No carrier bloatware to my knowledge

There shouldn't be, but we Verizon customers wll no doubt wait... and wait... and wait...

Still no good loyalty card solution, ;-(

Yay! New screen timeout option... Been waiting for this. Have a bunch of watch faces that hit Gear Apps and it can be a nightmare taking photos and videos of the faces on the watch when the screen keeps turning off so quickly. This dev is happy. Yin Yang Face on Gear Apps! Search it. :) Posted via the Android Central App

Where are u located? Because I still haven't received this update. Posted via the Android Central App

I like your yin yang face... going to buy it! keep up the good work my friend!

I've asked the same question! Posted via the Android Central App

This is only for the non 3g version so far. I wish they would hurry up with this update. I've been waiting since I got the watch for it to make the watch as functional as previous versions. Posted via the Android Central App

I read a review about the bluetooth connection between the S2 and the phone becoming disconnected and being difficult to reestablish. Has anyone experienced this? And has sammy come out with a fix?
I've been holding out on this since I read that.

Had the watch for a couple of months before I experienced Bluetooth issues once. Since that point I haven't had any concerns. May be related to this update though which I got weeks ago. Posted via the Android Central App

Yes they have addressed the issue. I have had mine 4 months and have not lost connection once.

These features are already available in gear s Posted via the Android Central App

I love my Apple watch / 6S+ combo. but when I come back to android (NOTE 6), I will have a gear S2 (or S3 if it's out by then)
I like switching between iOS and Android. Love both OSs. Each do some things the same, some different.
Don't care who copies who at this point. Just give me a good user experience.
I don't care who was first or last. Not sure why people make such a big deal about it. Phones have ran out of ideas at this point.
Specs are no longer a Reason to upgrade, they all launch apps within a half second. Use what you like and stop worrying about who had what first. who the hell cares?
WHY do you care? Is samsung or apple paying you to care?

+1 Posted via the Android Central App

Why do you guys keep reporting about this Tizen watch? Is it because it happens to work with Android devices? Shouldn't this be a Connectedly exclusive type of story? I'm really only interested in reading about Android Wear and other related Android devices here. I went less news about Tizen products showing up in my long news feed, not more.

http://m.androidcentral.com/samsung-gear-s2-other-android-phones Android Central App | S5 G900A kitkat root

OK first of all you can't even compare the S2 3G version to any android wear device as none of them are smart enough to be a stand alone. Think about it. Why have a (Dumb Watch) that needs to completely lean on a connected smart phone? I hear all these comparisons and to my knowledge NO ONE has made a stand alone but Samsung and Pine. All you people and your gimp android wear are seriously biased. Besides shouldn't criticism come from someone that could do a better job?
Android Central Newsletter
Get the best of Android Central in in your inbox, every day!
Thank you for signing up to Android Central. You will receive a verification email shortly.
There was a problem. Please refresh the page and try again.