Samsung Gear 360 (2017) vs. Gear 360 (2016): What's different, what's better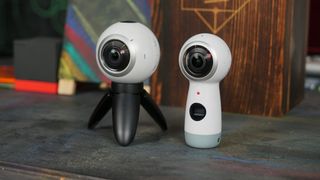 It doesn't take more than a passing glance to see there are some substantial differences between the new Gear 360 Samsung announced alongside the Galaxy S8 and the model from last year. The old one was built to have the processor and battery between the lenses so you could mount the camera just about anywhere, while the new one was built to be held like most of the other 360-degree cameras out in the world today. This difference is significant from a usability perspective, but what else is different about these two cameras?
Here's a quick look at how things have improved from one generation to the next in the Gear 360 lineup.
More than a specs sheet
Anyone familiar with the original Gear 360 will look at this new model and be a little suspicious that it's actually an upgrade, and that has a lot to do with the specs sheet. The older version of this camera has twice the number of megapixels to work with, captures in a wider aperture, and offers a slightly larger battery for recording video. Here's the whole breakdown.
Swipe to scroll horizontally
| Category | Gear 360 (2016) | Gear 360 (2017) |
| --- | --- | --- |
| Size | 60.1mm x 66.7mm | 100.6mm x 45.1mm |
| Weight | 152g | 130g |
| Aperture | f/2.0 | f/2.2 |
| Still image resolution | 30MP (2x 15MP sensors) | 15MP (2x 8.4MP sensors) |
| Video resolution (dual lens) | 3840 x 2160 (24fps) | 4096 x 2048 (24fps) |
| Video resolution (single lens) | 2560x1440 (24fps) | 1920 x 1080 (60fps) |
| External Storage | MicroSD (up to 200GB) | MicroSD (Up to 256GB) |
| Battery | 1350mAh | 1160mAh |
| Wireless | 802.11 a/b/g/n/ac (2.5GHz/5GHz), Bluetooth 4.1, NFC | 802.11 a/b/g/n/ac (2.5GHz/5GHz), Bluetooth 4.1 |
| Charging | MicroUSB (USB 2.0) | USB-C (USB 2.0) |
So this new camera has a smaller battery, no NFC, and takes photos with less detail and resolution? There's a lot more to it than that in practice. The biggest "feature" of this new Gear 360 is the more than 20mm it lost between the two sensors. That decrease makes stitching together images and video much easier, which means the camera itself can take more realistic 360-degree photos. Even with twice the pixels to capture with, the previous Gear 360 frequently appeared distorted where the two halves of the image were stitched together. This smaller body makes it easier to take better photos, and as we know from smartphones more megapixels does not mean a better image.
The lack of NFC in the new model is kind of a bummer if you frequently use that feature on your phone, but the truth is Samsung has already done a great job making it easy to connect to the Gear 360 from inside the app. It wasn't worth the extra space it took inside the body of this camera. Removing that feature likely also helped a little with battery life — not that you'll notice any huge difference in performance between these two products. The only thing you're likely to notice here is the USB-C port, which will let you connect a cable straight to your phone if your camera is in need little top-off.
It's not all negatives, either. Despite having smaller sensors, this new and appreciably lighter Gear 360 is capable of taking both higher resolution and higher frame rate video. You have the ability to take higher resolution videos to share with Facebook and YouTube, but the higher frame rate videos make this camera ideal for capturing a lot of intense motion for VR. Capturing a roller coaster ride at 120fps or a dashcam-style video at 60fps makes these videos much easier to watch with a headset on, which is a big deal when thinking about who you are recording video for.
New features are where it's at
Not only is the new Gear 360 easier to hold, there are some important new things you can do with it. New camera features that offer quite a bit of flexibility when it comes to how you use this camera and when you might think about carrying it around.
Landscape HDR - As the name suggests, this lets you capture multiple still photos back to back at different exposures so you can enjoy a photo with greater dynamic range. It's perfect for capturing a sunrise over the ocean or a wide open space at midday with the sun bearing down.
Looping Video - Instead of worrying about running out of storage, this mode will record over itself when the microSD card is full. It'll continue doing this until you tell it not to, so you can in theory record for an entire day while connected to power and be able to look back and the last couple of hours when you return to your camera.
Little Planet - It's not challenging to turn any 360-degree photo into a Little Planet, where the perspective is inverted and the horizon line is no longer the focal point, but the new Gear 360 lets you see a preview of this mode before taking the photo, and even letting you mess around a little with the sizing and proportions before taking a photo.
You can't do any of these things on the previous Gear 360 as native features, and they make a big difference in the day-to-day use of this camera if your goal is to wander around and explore 360-degree photography. These aren't likely to be features you use every day, but they are really nice to have around when you're experimenting.
Which should I buy?
What you're getting between these two cameras is a lot of small differences that really add up depending on how you decide to use your camera. If you want a Gear 360 you can mount somewhere and take great big photos, the original Gear 360 is still a great camera. If you want something you're more likely to want to carry around with you, and you're interested in exploring what is possible with a 360-degree camera, the new Gear 360 will be what you want to buy when it goes on sale.
Either way, you're going to have a lot of fun with this weird buy fun way of taking photos.
Get the Android Central Newsletter
Instant access to breaking news, the hottest reviews, great deals and helpful tips.