Samsung Galaxy Watch announced: OLED display, LTE connectivity, two sizes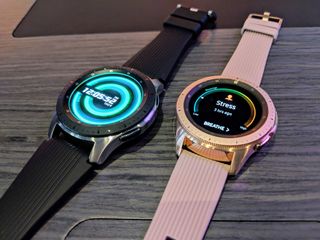 Samsung's new Galaxy Watch bears a striking resemblance to the Gear Sport from last year, but it's refined in a number of ways that, along with the rebranding to bring it closer to the company's line of Galaxy phones, could help it stand apart.
Available in two watch face sizes, 46mm and 42mm, the Galaxy Watch features an OLED display covered in Corning's new Gorilla Glass DX+ glass built specifically for wearables. So not only is the screen scratch-resistant, but the watch itself is both waterproof (up to 5 ATM) and sweatproof, something that will help it perform as a workout assistant. The 42mm screen is 1.2 inches, whereas the 46mm screen is 1.3 inches. Both have resolutions of 360x360 pixels. There's 768MB of RAM and 4GB of storage in both models (the LTE version has 1.5GB of RAM), but the 46mm has nearly double the battery: a 472mAh cell as opposed to the 42mm's 270mAh. Watch band sizes will be 22mm and 20mm respectively.
Samsung is enhancing its Tizen OS to integrate more closely with Samsung Health. The watch tracks heart rate all day, and can automatically detect workouts. Samsung's included 39 specific workouts on the watch, but six of them, like running, biking, and swimming, are detected automatically.
Battery life has also been tuned thanks to a new "optimized" dual-core Exynos 9110 processor, so Samsung is encouraging users to sleep with the Galaxy Watch to track sleep patterns. This is on top of the regular Gear functionality like notifications and up to 60,000 watch faces available through the phone app.
Samsung also plans to release a standalone LTE version that will allow users to stream music and check news while they work out, no phone required. Of course, being a Samsung device, there's Bixby functionality built in, too.
The 42mm version will sell for $329.99 and the 46mm option will be a slightly more expensive $349.99. The smaller version will be available in Midnight Black and Rose Gold color schemes, while the larger one will just be sold in Silver. The Galaxy Watch will be available starting August 24 in Korea and the U.S., with an LTE model launching later this year.
See at Samsung (opens in new tab)
Daniel Bader was a former Android Central Editor-in-Chief and Executive Editor for iMore and Windows Central.
New processor, does it support Bluetooth 5?

why? Want to stream to 2 different headphones?

The benefit would be improved range in Bluetooth 5, mostly.

Samsung Pay support in this is NFC only. They dropped MST...

Is this true! Noooooo! I really wanted to get this but without MST it's a no deal for me.

Same here, I forgot my wallet when I went out grocery shopping and when the cashier told me how much it was I realized that I didn't have my wallet. Fortunately I could use my Gear S3 just like any credit or debit card, just held it next to the place where you slide a CC or DB card.

No MST = no deal for me. Guess the S3 will be on my wrist for a bit longer.

It makes sense though if the market for previous gear watches was higher in Asia, Europe, Canada etc where we have modern payment systems.

Doesn't matter if it makes sense for that or not... Not 'every' place has that 'modern' payment system. Here in the U.S.... Just about every place you go, you see these new 'modern payment systems', but the functionality isn't enabled. They have the hardware, but the software/firmware is never there... Take Kmart for example... We've had these new hardware readers for nearly TWO YEARS... and the company that sold em to us never came back to us with the 'firmware update' needed to enable the NFC... Its just a load of bull... So no MST means NO DEAL for me... I use my watch almost exclusively to pay everywhere I go... I don't have to bring out a phone or a wallet at all... just wave the wrist, and presto paid... If I were to ditch this watch for the new one without MST, then I'd rather go with a normal android wear watch, as I HATE this bs OS Samsung forces us to use on these things... Its so slow and just total garbage... I could have a 3 page text typed out on my phone and have a 2 page text reply sent back to me in the time it takes the S3 to receive the original text, open up the 'reply' app, and type my first letter. over 40-80 SECONDS I gotta wait if I want this thing to do anything useful other than pay at a card reader... So its basically all I use it for. I don't run apps on it, I don't do anything but look at the time, check a notification that takes 20-30 seconds to display, and pay for my groceries/food/gas/whatever... If it wasn't for MST, I wouldn't even OWN this watch anymore... And I'd bet TONS of other people would say the same thing... Its just slow dirt... NOT worth the 300+ price tag we all paid for it... so something with the 'same specs' but a higher price, just doesn't compute...

Excellent post! When I heard the first rumours there was talk that it would use the Wear OS I was very interested. I have the S3 and it's great for shopping, OK for workouts and health measurement. But I can't get my Gmail, to dial a phone number is cumbersome, to listen to your voice mail very cumbersome.

Curious to see what the price will be.
On a market that's pretty much dead in the water, only an appealing price tag will likely make any difference here. If they ask 400€ or more for it, it'll stay in shelves for quite a while until the market forces the price down to at least 350€.

Which would be great IF those prices were properly converted to euros... Instead of the rip-off that they love to do where $1 = 1€ even though the Euro is worth more than the Dollar...

Is the Canadian version gonna support Samsung Pay this time?

I'm going to go with no, or maybe, in 5 years. It took about as long to bring Samsung Pay to Canada in any sort of functional form.

What is the waterproof rating?

Taken from the press release that was linked... 5ATM + IP68

Those OS enhancements have been around for a while. Nothing new. My Gear Fit 2 has been doing all day heart rate tracking for almost a year or so. Same with workout auto detections.

I want there to be compatibility with google play music

Why is it almost 2 months until availability? Surely they want to get a jump on the likes of LG & pixel watch

Uh, Aug 24th is 2 months away? Do you mean 2 weeks?

24 Aug is us and Korea only I believe. 14 Sept for the rest of the world. "Korea will get the Galaxy Watch on August 24 and then followed by a worldwide release on September 14." As quoted on this site.

debating getting something like a garmin fenix 5x with offline topo maps or something. my att s3 lte is cool and i like spotify on the wrist, but when numbersync keeps breaking when i go into my basement without my phone it is more like a gimic. also want something with accurate heart rate reading when i am holding the treadmill handles. using LTE for voice calls was fun but ive used it almost never in the past few months.

It really is a nice Smart Watch. Most likely the best looking of all but if you're serious about fitness and sports it's hard to go back to something like this after a proper fitness tracking watch like a Garmin etc.

Still Tizen? So the app store will still be the worst of any current smartwatch besides Sony Livewire... Oh and no mst, so it is essentially a high end version of something that Wish sells... My S3 Frontier has the best build quality, battery life, and UI of any smartwatch I have owned, but it needs a real app store.

Sucks that they're not releasing 46mm in black. I was really looking forward to it.

What a huge disappointment. Two years after the Gear S3 and this is it? This is the Gear S3 MINUS MST, which made Samsung Pay on the S3 work everywhere without needing your phone. And the 46mm version now comes in only one color/style. No specifics on battery life. Just more inaccurate health tracking garbage. What the hell has happened to Samsung innovation? They don't have the brand power to treat their customers like sh*t like Apple does. This really bums me out. Tizen 3.0 has killed my Gear S3. I have had a Gear since the original Gear S back in 2014 because of the standalone connectivity. This was the main reason I have stayed with Samsung phones. Not anymore. Guess it's time to wait to see the Pixel Watch and Apple Watch Series 4.

Specifics are on Samsung's website. 46mm gets 80 hours of typical use, 168 hours of low power usage.

Completely agree. Switching to a silver-colored housing isn't worth losing MST for. I was so disappointed in this I actually did a google search for "Apple watch". Sad times :-(

It's for the best tbh. MST is defunked old technology that needs to die in the US like it already did long ago in the rest of the world. Maybe Samsung dropping it from more devices will push more stores over there to get with the NFC program

Just ditched a faulty Gear S3 and returned for a Mobvoi Ticpro watch. Paired with a pixel 2 xl, the ticpro is far better.

Still has one fatal flaw that will keep me from ever purchasing Samsung SmartWatches... It's running Tizen. Most smartwatch apps that I use are not available for Tizen devices. And the few apps that do support Tizen, are rarely updated for their Tizen versions. IMHO, Samsung Smartwatches are for people who choose to limit or lock themselves into Samsung's ecosystem, which is Samsung's attempt to do the same as Apple (my singular argument for never falling in to the Apple ecosystem).

I'm only interested in a Pixel watch.

Most pointless comment ever...

I would never go back to Tizen now that I know what a healthy app store looks like on a watch (Wear OS) but just for the sake of full information: Samsung, again, opted for an eSIM versus a user removable sim card in their LTE models. Forget trying to put a cheap MVNO or prepaid sim card into it for when you are going to use LTE on the watch, forget having it work internationally when you travel without paying an arm and a leg IF your telco even allows it, forget trying to resell it on Ebay, as it will be near impossible for your buyer to register it on their plan. Source: the numerous threads about S2, S3 on here and XDA developers.

I pre-ordered the LTE t-mobile version from Samsung site. Supposed to be here 8/24.

Bummer. I was hoping for Android Wear OS.
Android Central Newsletter
Thank you for signing up to Android Central. You will receive a verification email shortly.
There was a problem. Please refresh the page and try again.