Samsung Galaxy Tab Pro and Note Pro review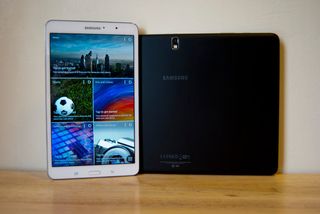 With its Pro line of tablets, Samsung adds yet another flagship brand, and bridges the gap between work and play
Introducing the Samsung "Pro" line, a sampling of the best tablet models Samsung has to offer complete with beefed-up specs, a shiny new coat of paint and the next iteration of TouchWiz. It's yet another tangent for Samsung's tablets tablets, and it complements the Galaxy Tab and Galaxy Note lines as the company's high-end brands for tablets.
All in all, there's four models to choose from – the Galaxy Tab Pro 8.4, Galaxy Tab Pro 10.1, Galaxy Tab Pro 12.2, and Galaxy Note Pro 12.2.
But what exactly makes a Pro a Pro?
We've spent nearly two weeks on opposite ends of the spectrum with the Tab Pro 8.4, a compact and lightweight competitor to the iPad mini and the Nexus 7, and the Note Pro 12.2, Samsung's largest Android tablet to date. Here, we'll be looking at the lineup holistically, and exploring what sets these "Pro" tablets apart.
Inside this review: Hardware | Software | Cameras | Bottom line | Galaxy Tab Pro 8.4 forums | Galaxy NotePRO 12.2 forums
Pro Hardware: What's on the outside
On the hardware side of things, the Pro line seems to have borrowed much of what made Samsung's most recent high-end tablet, the Note 10.1 2014 edition, so impressive.
Across all sizes you'll find the same faux leather backing, available in both black and white, along with a metallic trim. Each Pro model features two speakers near the microUSB port that, like most built-in Samsung speakers, are capable of producing high but sometimes tinny audio.
On the Tab Pro 8.4, there's an IR blaster on the right-hand side of the device; on the 10.1 and 12.2-inch models, you'll find the blaster on the top of the tablets.
Around front, Samsung is sticking with its physical home button but has switched things up with the two capacitive keys — here, you'll find that a multitasking button has replaced the standard menu key, while the back button remains. It takes some getting used to, no doubt, but once you get into the swing of things, you'll find multitasking on these tablets is far more fluid and intuitive thanks to the dedicated button.
The Pro line utilizes 2560x1600 panels in 8.4-, 10.1-, and 12.2-inch footprints. That's four million pixels coming together to produce rich colors, wide viewing angles, and incredibly sharp detail, without any of the common issues found on Samsung's previous AMOLED displays like inaccurate colors and washed out whites. These displays look absolutely incredible, and are by far the most gorgeous mobile displays ever to come out of Samsung's labs.
Though each display maintains the same resolution, the tablets' varying sizes cause differences in pixel density. On the Tab Pro 8.4 you'll see a whopping 359ppi, one of the highest pixel densities on any tablet on the market today. Move up to the 10.1- and 12.2-inch models and you'll find lower densities of 307ppi and 254ppi respectively.
Put all three side-by-side and you'll clearly see the difference in density: at 8.4 inches ,things remain unbelievably sharp and vivid, while at 12.2 you'll find slight degradation, especially when it comes to text that can at times appear jagged and fuzzy. That said, much of the differences can only be seen in a direct comparison, and even at 12.2 inches, these are still some of the best displays in the business.
The main differentiator when it comes to the Pro's hardware is the varying sizes and footprints of each model, which could have a major impact on how, when, and where you use the tablets.
The 8.4-inch Tab Pro, weighing in at at a mere 331 grams, is ideal for one handed usage, thanks in part to its native portrait orientation — it's ideal for reading books and magazines, and it's light and compact enough to be completely portable.
The 12.2 inch Note Pro, on the other hand, serves a much different purpose — at a whopping 753 grams, you may want to keep it at home rather than take it with you on the road. While the massive display is great for watching movies and playing games — aided in part by its native landscape orientation — its sheer size limits just how portable the tablet can be.
What's on the inside
The Pro line comes jam-packed with some seriously impressive internals, and despite slight variations between models, all combinations maintain the premium standard that Samsung has set for this lineup.
On the 10.1 and 12.2-inch Wifi models you'll find a beefy Exynos 5420 octa-core processor clocked at 1.9 GHz, while the 8.4 inch and LTE models sport Snapdragon 800QC processors clocked at 2.3 GHz. The 8.4 and 10.1-inch Tab Pros sport 2GB of RAM and 16 GB of internal flash, while the 12.2-inch Tab Pro is bumped up to 3GB and 32 gigs of storage. The Note Pro 12.2 will have a 64 GB storage option in addition to the standard 32 GBs.
I found performance on both the Tab Pro 8.4 and Note Pro 12.2 to be relatively similar: speedy, fluid, and highly capable of just about anything you can throw at it. Both models handled processor-intensive tasks like gaming and complex multitasking with ease, and I wasn't able to find anything that stumped the Exynos 5 processor. I did notice, however, several stutters and slowdowns in the tablets' heavy TouchWiz UI — more on that below.
In terms of battery life, each model was able to deliver similar awake times despite some variations in capacity: the Tab Pro 8.4 sports a 4,800 mAh battery, while the Tab Pro 10.1 and Tab Pro 10.1 use an 8,220 mAH battery. At the high end, on the Note Pro 12.2, Samsung has included a whopping 9,000 mAh pack. Each battery was able to sustain its model throughout a full 24 hours of usage, give or take a few hours depending on your settings and usage patterns. One fact worth noting: these devices perform remarkably well in standby.
Pro software
In my initial impressions of the Pro line's software, I referred to this latest round of Samsung's UI as "TouchWiz S", falling somewhere between what we saw on the Galaxy S4 and what we expected to see on the Galaxy S5. Last week week we saw Samsung unveil a new, somewhat minimalist take on TouchWiz for its 2014 flagship, and as predicted the "Magazine UX" on its Pro tablets fall somewhere between the new and old design language.
Here on the Pro tablets, Samsung's software is running atop Android 4.4.2 KitKat, the latest version of the OS.
At first glance, you'll notice the fresh coat of paint that Samsung has given TouchWiz – in its most recent form, the UI has taken on a slightly more conservative tone with more muted colors, scaled back graphic elements, and an overall less "cartoony" feel.
Take the lock screen, for example, which foregoes the water ripples and Samsung-synonymous "bloop" effects for a more muted accordion effect; or the notification bar, which now consists of green and grey circular icons for the various adjustable settings. Then there's the menu, which is now divided into categories like Connections, Device, Controls and General, lending itself to a slightly more intuitive navigation process. It's hard to put your finger on why these slight changes catch your eye, but there's no denying that TouchWiz has matured ever so slightly on the Samsung Pro tablets.
Most TouchWiz features have come along for the ride, including things like AirView, Smart Stay, Smart Motion. S-Pen specific functionalities like Air Command and Pen Window have also made their way onto the Note Pro 12.2, which utilizes these stylus features beautifully on its huge display.
What makes the Pro line special isn't just the facelift, but also the suite of powerful tools that Samsung is using to bridge the gap between work and play. While we won't know how long the following features will remain Pro exclusives, but for right now they're what make the tablets stand apart from the rest of Samsung's portfolio.
Dubbed a "desktop-like" experience, the software keyboard on the 10.1 and 12.2-inch models is fun, but probably not a game-changer. The keyboard features Ctrl, Shift, Tab and Caps Lock keys that act just as they do on physical keyboards, making for some handy and quick shortcuts. I found typing to be a breeze, though I'm not sure whether to attribute that to the 12.2 inch display I was working with or to the keyboard itself. The larger models also support input from Samsung's S-Action mouse, adding to the desktop-like experience. If you're going to be using the 10.1 and 12.2-inch models for document creation and other work-related activities, you'll likely want to connect the mouse and perhaps even a Bluetooth keyboard for full productivity.
Multi window is the same setup we've grown to love, and here on the Pro tablets it works just as well as we've come to expect. On the Tab Pro 8.4 you can have two apps running simultaneously; on the 10.1 inch and 12.2 inch models, Samsung ups the ante with support for four apps running simultaneously. PopUp Window is another means to the same end. In this mode, the selected app will hover over the screen, and you'll be able to adjust its transparency and size to your liking. It works quite well and I found it extremely handy for tasks that didn't require a full half or quarter of the screen, even if it's something of a throwback to traditional desktop computing.
For the Pro's productivity suite, Samsung partnered with fellow Korean developer Hancom for a lineup of highly useful and office-friendly apps. Here we've got HShow, Hcell, Hword, alternatives to Powerpoint, Excel and Word respectively. All work fairly well, and even those born in Microsoft Office's fires won't have too much trouble adjusting to Hancom's products.
Samsung's own Remote PC is relatively simple and straightforward way to control your Windows-powered computer remotely. You'll first need to set up the client on your desktop — from there, simply connect the Pro tablet using a simple passcode. Remote PC works like just about every other remote client, and thanks to the Pro tablet's beefy processors things run relatively smoothly.
One of the cooler apps to come out of Samsung's labs in recent memory is E-Meeting, a handy little tool for anyone using their tablet in the office. Here's the gist: the meeting organizer will use e-Meeting to set up the collaboration session. Then attendees will be able to join the meeting by hopping on the host's network. Once connected, collaborators will be able to share documents, notes and even doodles in real time. Samsung is billing e-Meeting as the next generation of meetings, allowing an office to work from their tablets rather than from numerous copies of the same document. Like most Samsung apps, though, you'll need to convince your co-workers to invest in Samsung's ecosystem to get the most out of this.
Perhaps the most notable addition to TouchWiz' arsenal is Magazine Home, a new user experience that Samsung previously tinkered with on the Galaxy Note 3. Here on the Pro tablets it has found a more prominent place, baked directly into the UI rather than tacked on as a standalone app. For a full walkthrough of Magazine Home, check out our full review.
All in all, it's nice to see TouchWiz striking a better balance between work and play, especially considering how many will be using the Pro line of tablets for both. I do wish Samsung would place a little more focus on tightening up TouchWiz' performance — here, even with the mighty Exynos and no shortage of RAM, it tends to stutter and hesitate way too often for our liking. There's really no rhyme or reason to it, as you can be juggling ten tasks at once or simply navigating through the UI, but it's hard to ignore TouchWiz's enduring wonkiness. Call me a dreamer, but I'm still looking forward to the day when Samsung finally decides to shave a few pounds off its bloated interface.
Cameras
Cameras tend to be the weak points of most if not all Android tablets, and while I was generally underwhelmed by the Pro line's optics, things weren't all that bad.
For starters, Samsung has given each of the Pro tablets an 8MP rear shooter, complemented by a 2MP front-facer — down from the 13MP shooter we saw on the S4 and Note 3. So those looking for quality similar to what the company's flagships are capable of will be sorely disappointed. But overall, shots and video taken with the Pro tablets weren't all that bad — I noticed some washed-out colors and soft edges, but the results were more than sufficient for everyday usage. You'll want to stick with ample lighting though, as things get pretty hairy in low-light situations despite the inclusion of Samsung's software stabilization feature.
Image 1 of 6
One holdover from Samsung's flagship smartphones is the camera UI, which is just as chock-full of features as ever. Samsung phone owners will find all their favorite goodies, including Drama Shot, Beauty Face, Best Face, Best Photo and more.
Shooting with the Pro tablets was an enjoyable experience, though I did notice some unavoidable lag when processing shots. This almost always caused a blurry shot initially, at least until I got used to how long it takes these tablets to process the shots. For buyers who will be using the Pro line for productivity, the camera foibles won't be a deal breaker, but they're definitely something to keep in mind.
The bottom line
It's nice to see Samsung streamlining its tabs, and the Pro line adds a touch of class to the company's tablet portfolio. The Pro tablets exemplify superb build quality, a fantastic user experience, and top-notch specs that will easily last you until the next refresh.
Despite the similar spec sheets and setups, the various models are quite different in terms of usability and purpose. The Tab Pro 8.4 is lightweight and portable, lending itself to mobile (and one-handed) use. It's a near-perfect reading tool, and for those looking to replace their Kindle with a far more capable tablet, the Tab Pro 8.4 might just be the best Android option on the market today. Those who prefer a pure Android experience will still want to stick with the slightly-smaller Nexus 7, and those looking for a slightly more premium design will want to look at LG's G Pad 8.3. Nevertheless, Samsung offers a more feature-packed experience.
The Note Pro 12.2, on the other hand, was designed to be stationary, and if it's replacing anything, it's replacing your laptop. Its massive size is alluring, and it's hard to deny that at 12.2 inches just about everything looks better and feels more comfortable on the Note Pro. It's a workhorse, ideal for producing content in addition to consuming it, and those who use tablets for work will find its S-Pen functionality, along with its suite of productivity apps, to be ideal for the office.
But that sheer size has its drawbacks — don't even consider traveling regularly with the Note Pro 12.2, nor will you want to use it for everyday tasks like social media, reading, or even gameplay (without a controller, at least). It's simply too big to do the things that "normal" tablets do well. Whether or not that's a deal-breaker will depend on your own individual needs.
Simply put, you'll want to think long and hard about why you're buying a new tablet before taking the Pro plunge. Stick with the smaller models if you're used to using tablets for play – be adventurous and grab a Note Pro 12.2 if you want a powerful tool to add to your workstation. Whichever you choose, you probably won't be disappointed.
Pros
High quality professional design
Sizes and shapes designed for varying tastes
Gorgeous high-resolution displays that look great even at a whopping 12.2 inches
Stellar software custom tailored for both work and play
Cons
The Note Pro 12.2 is far too bulky and unwieldy to be portable, while the Tab Pro 8.4 offers a more cramped user experience
TouchWiz is still relatively bloated and can be sluggish at times
Camera quality is lacking, especially in low light
The tablets are expensive compared to the competition
Get the Android Central Newsletter
Instant access to breaking news, the hottest reviews, great deals and helpful tips.
I tried these and both Galaxy PROs are laggy as hell. I thought KitKat and 3GB of RAM would do the trick. Looks like the UI was heavier than we thought. I was addicted to the 4-way multi-window feature though.

That's pathetic.. Samsung still doesn't get it right. Posted via Android Central App

you 'tried'? As in you bought the tablets and returned them, or did you try them out at the store?

ive owned 2 8.4`s and 2 10.1 `s and never had any lag at all, you can get a SLIGHT hesitation in the transition from icons to the magazine UX but no lag

Right. Note 10.1 2014 owner here, and zero lag. I don't know what it is... but the in-store demos are generally not a true representation of the performance of these things.

I was disappointed with the 8.4 and how Samsung went with the low end for components. I have the Note 3 with 3GB of Ram and the 8.4 with a higher resolution display only has 2GB of Ram and the CPU was lack luster also. I was getting slow downs on apps. I am going to wait for the next version which probably comes out in 4 to 6 months, knowing Samsung release schedule.

What is low end about it? It has the same processor as the Note 3, less RAM but the TabPro doesn't have all the SPen stuff, and a better screen. It's a great device and I think they did a wonderful job on it. By the way, I own a Note 3, TabPro 8.4, and a Note 10.1 2014 Edition. Not being a troll. Honest question. Posted via Android Central App

Can you read magazines on the 8.4 without zooming and scrolling? Nobody ever includes this in a damn review.

Yes! Thankfully there are people who can still write truth. It seems like every reviewer on earth got paid handsomely. Speedy, fluid, lag-free? Are these attributes true for a fantastically great hardware but worst software implementation on earth? Nope! The tablet reminds me of crapware loaded Windows PCs and laptops. I don't understand why Samsung does not get that they are incredibly good at putting a good piece of hardware together... but software is not their cup of tea.... that is why they drag others too in their getting accused for "slavishly" copying appearance, look, and feel but can't do justice with a product as a whole. Not as fluke, but every time my wife makes a hangout call to me, something does not work. At one time, no sound, on other occasion video, yet another everything would hang. With not much knowledge beyond usage, she also recognizes these patterns and would suggest that I make a call and it will work... and voila... it happens..... Why they can't offer stock Android experience with their customization as an app based option. That will serve them better. Otherwise throwing money and propaganda as they and Apple does might make them successful in the short-term... eventually people get that... However, if they operate on the idea that by the time it comes out, things move. Agreed! But it still leaves such companies dishonest to their customers and that is unethical.

I owned the Pro 8.4 and it sucked because the resolution was too high for the Screen size... The Pro 12.2 seemed noticeably quicker while playing with it in the store and I'm seriously thinking about making the jump. So far, reviews have all been high 4s out of 5.

I miss in this reviews a line about the screen form factor. Is the 8.4" model 4:3 or 16:9 or other aspect ratio?

Definitely not 4:3. Looks close to 16:9.

4:3 is the ipad ratio, these are 16:10 i think maybe 16:9

unless explicitly stated otherwise, android tablets are 16:10

"On all of the Wifi models you'll find a beefy Exynos 5420 octa-core processor clocked at 1.9 GHz, while the LTE models sport Snapdragon 800 processors clocked at 2.3 GHz. The 8.4 inch Tab Pro sports 2GB of RAM and 16 or 32 GB of internal flash, while the rest are bumped up to 3GB and either 32 or 64 gigs of storage. This is incorrect, only the Note/tab pro 12.2 has 3gb of ram, the others have 2gb, and also the tab pro 10.1 and 8.4 are 16gb at the moment. https://www.androidcentral.com/e?link=https2F2Flink...

+10 Posted via Android Central App

I wish I could read this story but your stupid "DELL" ad runs down the sides of the story cutting off the first word of each line. Ads are fine but get rid of this crap one that ruins the reader experience.

+1 Sent from my Nexus 7 (2013)

What DELL ad? And no, I don't block ads for AC.

I had the same issue until I refreshed the page. It was terrible.

Good reviews! I have the 8.4 Pro and I really love it. I find no lag whatsoever unless I swipe into the Magazine UI page. The screen is just so good.

i loved my 8.4, best small tablet out today, but i got a note 3 last week and was just to close in size so i returned it and kept hold of the 10.1. I dont think anyone will be disappointed with what they get in any size, im tempted now to go with the 12.2

I'm about to get a new tablet and I've narrowed down my choices to the Tab Pro 8.4 or 10.1. I'd love to hear any thoughts you have (or anyone has) comparing the two sizes. I've reached paralysis by analysis mode on this. I've read all the reviews and watched all the videos I can. I played with them a little at Best Buy (kind of hard since they are tied down to a table and you can't hold them in your hand to get a true feel). But I can't decide... Pros and cons for each size? Any opinions? I have a Nexus 7 (2012) currently. I want a bigger tablet but don't know what the best size is for me right now. Will be browsing, playing some games, watching videos, reading the occasional book/magazine. The tablet will probably stay home 95% of the time.

Agreed, the 8.4 is a great device. Having multi window is well worth the trade off for a slight lag in transition to the Magazine UX page.

Its also worth adding that if you get a Tab Pro 10.1 then look at case`s for the Note 2014 edition as they tend to be almost half the price and fit perfectly, i have a note 2014 poetic case on mine right now and its exact fit, and was $10 instead of $20 for the one with tab pro in the title

+10 I have the note2014ed and my better half have the tab pro 10.1 and yes you can use the same for both of them.... And she loves her tablet, it's her first one... Posted via Android Central App

8 Letters B
U
L
L
S
H
I
T

Funny~
English you had a G-Pad 8.3.. what happened?

I got a trade on a Nexus 5 i couldnt say no to on swappa

Im not getting any lag on the 12.2. I find portability not really an issue when compared to the 10.1 2014. Also enjoy typing portrait with thumbs, or normally in landscape. 3 weeks in and im used to the size already. Kinda like making the jump to the note 2 when it came out. The pic with the keyboard showing- it has symbols on the keys. Which tablet is that pic from Andrew? I swore mine had it too.....then I rooted and installed xposed and they werent there. Thought I hallucinated the whole thing lol. I even watched Alex's report from ces and that one didnt either. Cant seem to get them back.....to the forums!

Both the 8.4 and the Tab 10.1 have the symbols

Thanks.....I knew I borked it somehow!

Did you have any troubling rooting with Knox on it? what method did you use?
Thanks

No prob rooting. CF auto root from chainfire on xda. I think it stole my symbols on the keyboard though....baffled by them not being there.

If T-Mobile come out with a 32gb LTE 8.4 or 10.1 ill be all over that, fingers crossed

The key on the on screen keyboard looked like the older macbook pro from the 2007 Posted via Android Central App

Staying away from Lagwiz
Posted via Android Central App on Google Nexus 7 2013

I would too. Is that something like a Chinese Samsung ripoff? -------------------------------------------
You really should see the crap I don't post. Sorry if honesty offends you

Yeah didn't you know.
Lagwiz is what runs on the Samsnug Galaxie Knote 3.

Haha hilarious +1 Posted from my "Gift from God" Note 3, my "God-Given" iPad Mini 2, or my "Risen" Samsung Chromebook.

+2 -------------------------------------------
You really should see the crap I don't post. Sorry if honesty offends you

+1 Posted via Android Central App

I would say that Anndrew's review is comprehensive, fair and complete. However, Having had this tablet for two weeks now, I would argue against it not being portable. I use this in a corporate work environment and move from meeting to meeting. The size is not limiting as well. Additionally, I have flown and it fits perfectly on the tray table or comfortably on lap. As far as lag...I've seen very little. However, that may be the result of side loading the Google Experience launcher, which looks / works very well on this tab. Overall, I'm enjoying this tablet.

Nursedad, is this the TabPro 12 you're talking about? I seriously consider buying it, but Andrew makes it sound almost like a stationary pc!

What am I missing here the Samsung Galaxy Note 10.1 2014 Edition vs Samsung Galaxy Tab Pro 10.1 Tablet, the Note 10.1 2014 looks like a better deal, more RAM(3GB) 32GB Internal available & S Pen. screen size & processor is the same.The Tab Pro no S Pen, only 2GB RAM, so far only 16GB internal.

Once 4.4.2 is released on the Note 2014 im hoping the horrible lag goes away and i will then go back to it, 4.3 is horribly optimized on the note 2014

In an earlier post, you said there was no lag. Now, you say the opposite? Posted via Android Central App

With that said I do have the Tab Pro 8.4 and I love it so far, I'm waiting for the 12.2 64GB to be released.

You should have just written a separate article for the pro 10.1 that said "Want a galaxy Note 2014 without the Note (wacom) digitizer? This tablets for you!" Posted via Android Central App

Definitely interested in the 12.2 tab pro or note. I for one and looking forward to a bigger tablet. Not sure if my wallet is though

When is the new Note 8 coming with these specs? Especially the International version with true telephony calling? That's what I'm waiting for.

I've had the 12.2 for a couple of weeks and I love it. I'm not seeing the lag that other users talk about at all. Even with multiple windows open, the tablet move pretty smooth. Coupled with my Bluetooth keyboard and mouse, this tablet is great. Also the comment about portability kind of depends on the person, I'm a 6'4 2??lbs man and it finds comfortably in one so i can use the other hand to navigate the UI. I agree that the tablet is expensive, it was tough handing over that much cash, but I'm definitely enjoying the tablet and don't regret the purchase

Expect much better review from a site like Androidcentral. Especially considering the way they reviewed nexus devices. Whether the devices are good or bad is for readers to decide, but the review should be decent and not look like a so-so review done just for the sake of review.
Nothing in this review sounds convincing, and the author clearly lacks any interest. It's possible the author is clearly not interested in the product (not saying he dislikes, but is indifferent). It's not a good sign for the product as well as the site's credibility. The forums provide better information on this product rather than this review. I have to look into the products to judge them, but the quality of review was pathetic IMHO.

Hey, your ads are messing up the page formatting and I can't read all the text.

When speaking about tablet size in a review, I wish someone would mention what the magazine reading experience is like. Everyone keeps saying the smaller tablets are great for reading and they are for...books. On the Nexus 7 it's too small to read magazines without a bunch of zooming and scrolling or having to use text mode (removing half the reason we read magazines in the first place). Does the 8.4 allow full screen viewing of magazine pages with legible text and no zooming and scrolling? Or do you need to step up to at least a 10 inch for that?

Is the Note 10.1 2014 getting the 4 apps multiwindow support or will it be left out?

I wasn't surprised to read about some lag in touchwiz, hopefully Samsung fixes it as fast as they did on Note 3. The third update came in about a month after release and the Note 3 has been lag free after that.
The lag in Android is mostly due to the Dalvik loading of apps and widgets(like magazine ux) has anyone compared running the pro tablets on the Android runtime (ART) instead?

I was really torn between the Samsung Pro 8.4 and Kindle 8.9 HDX so I decide to purchase them both with the intention of just returning the one that I didn't like. Build quality; the Kindle has this in the bag, it's built like a tank but is still thin and lightweight, the Samsung is very lightweight but looks and feels cheap which isn't surprising as this seems to be an ongoing Samsung trademark. Display; this goes to the Samsung but only by a hair, their both very comparable. Performance; defiantly the Kindle, the first thing I did was install, "HDX Utility" on the Kindle, it's a rooting software that also customizes the framework. I removed a lot of the Kindle software and ads which left the device very responsive. The Samsung unfortunately didn't have any custom ROM's available, which is a real shame because I disliked TouchWiz, alot. I've read the comments above and between the, "no it's not", "it is" laggy banter, I have to say I'm defiantly with the, "it is" crowd. The fact that TouchWiz takes up almost 800MB of system memory before an app is even started is absolutely ridiculous, Samsung is in desperate need of a Google Play version or they just need to dump TouchWiz all together. The magazine UI is interesting for all of about 5 min before it becomes a complete nuisance. Needless to say I returned the Samsung in the end, I really wanted 32GB of storage and an LTE capable tablet anyway so the Samsung's shortcomings just helped the decision even more. I went into this completely open minded, nor was I biased of one machine or the other. Samsung, please, dump TouchWiz, because it's just awful.