Is the Samsung Galaxy Tab S4 worth it?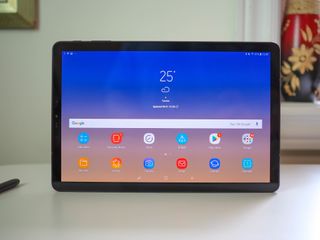 (Image credit: Android Central)
There isn't a lot to choose from in the Android tablet space right now, but one option that clearly sticks out among the rest is Samsung's Galaxy Tab S4.
Announced this past August, the Tab S4 is equipped with a 10.5-inch Super AMOLED display, powerful Snapdragon 835 processor, comes with an included S Pen, and can be used with an optional keyboard dock that triggers the Samsung DeX UI for a real desktop-like experience.
There's a lot to like about the Tab S4, but with a retail price of $650, is it really worth it?
Here's what our Android Central forum members have to say:
What about you? Do you think the Galaxy Tab S4 is worth it?
Joe Maring was a Senior Editor for Android Central between 2017 and 2021. You can reach him on Twitter at @JoeMaring1.
I can assure you it's typically not worth full price for what it is. It's an incredible tablet that should honestly be closer to $449-99 instead. It works well for a lot of people, but only a handful consider it at that price point. For an awesome tablet, there's the iPad, and for something that can do all your work, there's the Surface Go.

Subject question.......I have one and like it, so it's worth it too me....most people praise the iPad as good sent , but I don't want one.....so it's not worth it to me to buy one

I'd have to use iOS if I bought an ipad and enter apple's walled garden. Those reasons are enough to keep my buying high end samsung tablets. I just buy them a year late. Just bought a tab s3. I love it.

I bought the s3 last year and love mine too. I use it alot in the kitchen for when I am making meals. My wife originally mocked me slightly for getting one for that reason but now she uses it for that too. Didn't pay full price because the store came out a month or 2 later.

There's no way in hell I would pay that much for a tablet. I could get a nice gaming laptop for that price.

There's not that many places that sell it still for $650. Most places take $150-200
And that's worth it.

at that price it is worth it.

I bought myself one for Christmas. I have an S3 and it has been slowing down lately despite a reset. I am loving the S4 but if you have a functional S3 it's not worth the upgrade.

Got myself one for Xmas and gave my Tab S 2 to my daughter. I'm loving the S4!

I'm all in for $450 - $500. Where do I get this price?

I have the smaller (8") S2. If they made it in that form factor I'd be ALL IN.

It's the only Android tablet like that. So in the current environment yes its worth it because the alternative is the ipad or Surface Go. If there were other androids tablet like it then it wouldn't be worth it.

I wish they would ditch the glass. My old Nexus 9 is significantly slower than my Tab S3, but it stays in the rotation because of the weight difference. I really wish that Google hadn't left the tablet market- I know that the high end has shrunk, but I'd love a tech refresh of the Nexus 9.

It's not worth it when open box Surface Gos are $400, and that's what I upgraded to myself. I have a Surface pro 4 for my traditional laptop and added the Go thus dumping my Android tab altogether. It didn't even have the plastic peeled off the model it was that clean.

Nah. Last gen flagship specs in a tablet like that for $600 isnt enough justification when you can buy a Note 8 for about $300 now.

You are better off getting a Fire HD10 tablet and sideloading Google play store on it. Less than $100 if you catch a good sale.

Huawei MediaPad M5 10 5 serves me well 💪

Agree with you. Have the same Huawei MediaPad5, but in the 8.4 inch format. Caught it on sale in December for less than $300 including shipping. 4 gig memory, 64 gigs storage and a micro SD slot for additional storage. Plenty fast with no lag. Came with Oreo and I understand an upgrade to Pie is coming soon.

I like my Tab S4 but I have complaints. I bought it to replace my MacBook for work and it works for what I need it for. My MacBook is now a 1500 dollar dust collector. However, I also have a Note 9 and I'm terribly spoiled. After using 8 GB of RAM, 512 of storage, always on display, a fingerprint reader, and themes, what the Tab S4 offers, which is none of these, has become a pain point. My tablet reset itself twice yesterday because it couldn't handle all the open apps. It slowed down to a crawl then just restarted. The price is steep but I'm willing to pay more if it meant more RAM. I would've also liked a slot to slide in the Pen especially seeing how my Note 9's pen works with the Tab S4

I'll keep my Surface Pro that I paid about the same price for and it included the keyboard.

Can't speak to the tab 4, but I really enjoy my tab 3. Have had it for almost a year now and it's great.

I got one to replace my awfully laggy shield tablet and love it! I paid £499 just after it came out which hurt my wallet a little, but for me I think it's worth it.

I prefer the Huawei MediaPad 5. It is just smooth and fast with a better price to boot. There a version with a pen but I don't need one either way. I bought one from Wal Mart and that one is good enough for my needs (never use it because I don't have a use for it)
Android Central Newsletter
Get the best of Android Central in in your inbox, every day!
Thank you for signing up to Android Central. You will receive a verification email shortly.
There was a problem. Please refresh the page and try again.