Samsung Galaxy Tab S3 specs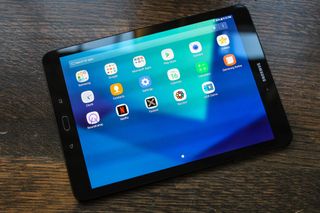 Like the Galaxy S7 edge and Galaxy Note 7 before it, the Galaxy Tab S3 is essentially repurposed smartphone parts shoved into a 9.7-inch chassis. And that's not bad at all -- the Snapdragon 820 helped introduce Vulkan API to Galaxy S7 users and it's on the Tab S3, too. Charge those Bluetooth-connected gamepads and get ready to play with your new mobile entertainment system.
Swipe to scroll horizontally
Category
Spec
Operating System
Android 7.0 Nougat
Display
9.7-inch Super AMOLED, 2048x1536
Processor
Snapdragon 820
Quad Core 2.15GHz + 1.6GHz
Storage
32GB (U.S.)
Expandable
microSD card
RAM
4GB
Rear Camera
13MP, Auto-focus, Flash
Front Camera
5MP
Connectivity
Wi-Fi 802.11ac dual-band, Wi-Fi Direct, USB Type-C 3.1, GPS
LTE (optional)
Charging
USB-C
Battery
6000mAh
Fast charging
Water resistance
No
Input
S Pen
4096-levcel pressure sensitivity
Security
One-touch fingerprint sensor
Dimensions
237.3 x 169 x 6 mm
Weight
429g (Wi-Fi)
434g (LTE)
Colors
Silver, black
Android Central Newsletter
Get instant access to breaking news, the hottest reviews, great deals and helpful tips
Florence Ion was formerly an editor and columnist at Android Central. She writes about Android-powered devices of all types and explores their usefulness in her everyday life. You can follow her on Twitter or watch her Tuesday nights on All About Android.
Still not sure why anyone will pay iPad prices to crappy Samsung tablets which will never get software updates from Samsung and inferior to iPad tablet experience.

Probably because they don't want to be bricked in by the Apple walled garden.

Well you do get a better display, and a device more capable than an iPad. It's all personal preference.

Maybe cause not everyone is a sucker for apple just saying . And by all accounts this is a better tablet then the iPad with a pen that you don't have to charge are pay extra for haha . Win win us and Samsung

I prefer my gf's Tab S2 than my iPad Air 2. I've already replaced my iPad Air 2 once due to the strange glitches it was having after installing updates. iPads aren't as great as as they used to be.

My Tab S2 is on the January security update while not the newest it hasn't been left behind.

My Tab S2 works WAY better than my iPad air ever did.

32 GB is the only option? Still holding out hope for a second-gen Pixel-C. Running out of room on my 32 GB tablet and would like to have larger on-board storage. I've had my eye on the Pixel-C but I can't justify the cost on a year-old device.

I just picked up the pixel C a month ago. The keyboard stand is awesome. It has larger space 64gb and larger battery but no spen. Faster updates for Android as well..Made of metal so it can take a drop or two

Looks like a solid upgrade for me and my needs. Wish there was a way to embed the pen but I can deal with it.

Sadly, no 8" model with LTE.

They purchase discounted internals and then turn around and sell it to us at full price, put latest and greatest, why not the snapdragon 821 or 835 or even the latest Exynos 9 series SoC. Why not fm radio? It's like these companies collude in not given us a product that has all the latest technology avaiable. The S2 is fantastic tablet mostly because I got off eBay for less than $200 with Bluetooth keyboard case, I would tell everyone don't waste money on S3, save some scratch and find S2 used.

Yeah idk why tablets always seem to have subpar internals compared to smartphones

Any word on a cellular version?

I'm still rocking my Nexus 10. Yeah, the battery is completely shot, and basically the thing is constantly on a charger of some sort. But, running CM13, it still runs smooth. It's my main casting device.

I wonder what the Storage of "32GB (U.S.)" means? Is the US GB smaller than an imperial GB much like gallons....lol 😂
Android Central Newsletter
Get instant access to breaking news, the hottest reviews, great deals and helpful tips
Thank you for signing up to Android Central. You will receive a verification email shortly.
There was a problem. Please refresh the page and try again.