Samsung Galaxy Tab Pro 12.2 available from March 9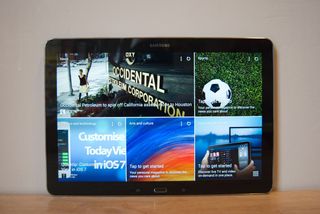 12.2-inch tablet available this Sunday in the U.S. for $649.99
Samsung has announced that its enormous new Galaxy Tab Pro 12.2 tablet will be hitting the U.S. from this Sunday, March 9. The 12.2-inch slate, which packs a 2560x1600-resolution display and Android 4.4 KitKat topped with Samsung's Magazine UX, will sell for $649.99 with 32GB of storage.
Launch outlets include Samsung's own online store, Best Buy, Walmart, Amazon, Tiger Direct, PC Richard and Sons, Fry's, and Newegg, and the manufacturer says it'll come with more than $800 worth of bundled goodies through its "Galaxy Perks" program. For more on Samsung's full range of "Pro" tablets, check out our full review, linked below.
More: Samsung Galaxy Tab Pro review
Get the Android Central Newsletter
Instant access to breaking news, the hottest reviews, great deals and helpful tips.
Alex was with Android Central for over a decade, producing written and video content for the site, and served as global Executive Editor from 2016 to 2022.
In before "with only a gb of free space" Glad to see it rolling out -------------------------------------------
You really should see the crap I don't post. Sorry if honesty offends you

Yeah, I'm just sad the price is to high for me :/ Maybe someday I'll be able to get one. Posted via Android Central App

I am going with the painful note pro 12.2 but work is buying it. -------------------------------------------
You really should see the crap I don't post. Sorry if honesty offends you

Why is it painful? I picked up the logictech keyboard case today, used it all day for work. Best of both worlds now. Laptop can stay on desk or at home.....

I actually think it's well priced for the market. I bought a 9.7" 32gb ipad air for $599. I would have considered this greatly if it had been introduced sooner.

With only a gb of free...dammit nonexus! Posted from my newly Kit Katted Droid Ultra

Neener -------------------------------------------
You really should see the crap I don't post. Sorry if honesty offends you

Love this tablet as a work station, will be picking it up soon! Posted via Android Central App

Samsung's pricing is crazy. They're just saturating the market with a gillion tablets to compete with Apple. I wouldn't mind having the Note 12.2, but not at that price. Looks like I'll be moving to a Windows 8.1 tablet. A couple of commenters about this at Engadget said the Note 12.2 was having some problems for some owners, like performance and screen issues, and lags when browsing and light bleed, which if true is pretty bad.

It's a nice tablet, not perfect but it is nice. If you think a Windows 8.1 tablet is the ticket good luck! The app selection is absolutely pathetic and if you are looking at a Pro tablet with full Windows you will realize full Windows on a 10-11 inch tablet is not as functional as you thought after a couple weeks and wish you got an Android or iPad. As for the Note 12.2 performance it's really good but Chrome scrolling is not so great, although page download speeds are really good. The built in browser is screaming fast but i prefer Chrome syncing so I continue to use it despite some chopping scrolling here and there. Actually Chrome scrolling is about the only negative about the entire tablet other then price tag and Google has committed to improving Chrome performance drastically this year so it will get better as time goes on. As for light bleed I have not checked it with a light bleed tool because I figure it you don't notice it in daily normal use what is the point of using a tool to test it. I don't watch movies on a tablet and a dark movie is about the only time I would notice any light bleed so in my case it's irrelevant. I can understand wanting to bad month this tablet because of the price tab but I will say it's easily without any doubt the best tablet on the market right now...

I would rather use a Win RT tablet than any iOS tablet. Only Samsungs tablets with multiview even comes close.
It's not even about the apps but the multiview modes that makes Win RT and Samdroid usable for working with data.
1 app at a time tablets is just a toy. If you're also talking about full x86 win 8.1 tablets , then the app selection explodes to include standard x86 windows.
Secondly, Chrome on Android is rubbish, use Opera Mobile (not mini), it is the best browser for Android. I would even use Dolphin or Maxthon before Chrome. Tab syncing is overated.

Would love to get this but not at that ticket, overpriced damn

I used this on display at my best buys Samsung display 2 days ago. They had them for sale... Posted via Android Central App

I love my laptop which I got in December because I needed it. I was talked into yhe ipad and am unhappy. Luckily I gave a buyer and not losing a dime. I purchased on ebay the Samsung 8.0 Note tablet and am happy again. We use the opad at work but on a personal level can't use apps am familiar with and like. It has a nice screen but that is all.
Samsung has the best product lineup. Just wish the pto was less expensive. Posted via Android Central App

Yeh I love my Note 8 very much and is my goto tablet. Saw Samsungs new Tab Pro 8.3 and can't wait for the Note version to get the hires screen.
People just don't understand how to take advantage of a Note tablet because they are used to finger stabbing ipads.
I've had people watch me use my Note 8 and then they look at their iPad Air and tell me they paid double for the ipad and would kill to have the active stylus and multiview.

Stop using the adjective "whopping" in reviews. Android Central is a tech site for tech users. This should not be a watered down CNN.com review meant for people who only use a tablet to watch their favorite YouTube video.
Posted via Android Central App

woke up with the wrong wHopping leg? ... ( 0ppo F5) ...

He didn't even mention that word in this article. Posted via Android Central App

available here in sweden - 9o4$