Samsung Galaxy Tab 2 10.1 review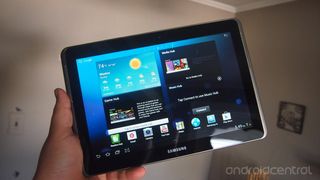 Samsung Galaxy Tab 2 10.1, the tablet of all tablets, or just another tablet swimming in the sea? Read the review to find out!
While we aim to find the perfect Android handset to accompany our daily lives, the struggle continues far beyond that. With Android tablets ranging from low end to high end with various price points and feature sets, figuring out which tablet is right for you is no simple task. Last year we saw Samsung introduce the original Samsung Galaxy Tab 10.1, at the time it was a flagship device and people could not get enough. A year later we are introduced to the Samsung Galaxy Tab 2 10.1, the new dog in town.
Could Samsung out do what they brought to the table last year, and have a knock out device to put in our hands? Let's hit the break and check out how the Samsung Galaxy 2 10.1 tablet compares in the world of Android tablets, and see if this may just end up being your very next tablet.
Pros
While packing a 10.1 inch display, the overall device is very lightweight and extremely thin. The layout allows for easy access to buttons, and it can be charged while still in use without affecting your grip.
Cons
Samsung has chosen to lay their TouchWiz over top of a mostly stock ICS, The cameras are far from ideal, and while the speakers are well placed, they could use some improvement as well.
The Bottom Line
For the price point and features you will receive, the Samsung Tab 2 10.1 brings the best of a middle range pricing to high end specs. The 10.1 inch display is a beauty, and Ice Cream Sandwich performs very well on the device.
Hands-on
Hardware
It is rather obvious at this point, if you have a 10.1 inch tablet you can expect a large slab of glass on the front with a minimal bezel around it, but the way in which this is presented is what makes the difference. Samsung has gone for a rather classy approach with their Galaxy Tab 2 line, and they have incorporated their media-centric style into the design as well.
On the front you have the large 10.1 inch display with a rather standard bezel around it, but built into the bezel on the left and right is a stereo set of speakers. These speakers sit at the top of the device, out of the way when holding, and they don't look out of place. Up at the top is the front facing camera, and down the bottom the nice Samsung logo.
Up at the top you have all of the buttons, which is a plus since they are out of your way, but can also be a negative in that they aren't the easiest to reach depending how it is being held. Starting at the left you have the power button, volume rocker, micro-SD card slot, IR sensor and finally towards the right is the 3.5mm headphone jack.
Down the bottom you have the charging port, and the design of the port is a bit bothersome. Not only has Samsung deviated from the some-what standard micro-USB port on this device, but they have chosen to utilize an Apple-like dock connector which is far from ideal. This means yet another cable that has to travel in your arsenal daily, and in all honesty it looks like a cheap shot at Apple.
Flipping the device over you have a nice silver back that is rather plain with the exception of the Samsung logo and a couple of other markings. Up at the top of the device you also have a camera, nothing earth shattering but it is there, and there is no flash to accompany it. More on that later.
The sides of the device are just flush bezel, no buttons or ports to be found here which is great for holding the device in landscape, but not as ideal once flipped to portrait.
Specs
Processor: 1 GHz Dual-Core Processor
Display: 10.1" WXGA(1280x800) PLS TFT
OS: Android 4.0(Ice Cream Sandwich)
Camera: Main(Rear): 3 Megapixel Camera Sub(Front): VGA for Video Call
Music Player with SoundAlive
3.5mm Ear Jack
A-GPS, Glonass
Bluetooth technology v 3.0
USB 2.0 Host
Wi-Fi 802.11 b/g/n, Wi-Fi Direct
7,000mAh battery
Software
Being a Samsung device it should be a given at this point to expect TouchWiz to be included, and it is -- in some ways. Luckily Samsung has opted to keep a lot of elements of stock ICS available to users, and just interfaced some of their changes along with it, instead of completely going on top of it. You will notice right off the bat that the icons are themed, the widgets are all the Samsung TouchWiz ones, and there are a few other changes as well.
Starting at the lock screen you will notice a pretty standard lock screen, simply place your finger somewhere on the screen and move it around to unlock the device. Nothing new, and no extra features, but sometimes simplicity is key.
Once the device is unlocked you are presented with Samsung's infamous widgets and a row of quick access icons. Down the bottom in the menu bar they have added an extra button which is utilized to take screen shots. The standard ICS method of holding volume down and power will still work, but the on screen button will allow you to take the screen shot one handed, and then edit if you wish.
Much like on the Samsung Galaxy Note, using this to take a screen shot will open an editor so you can quick and easily highlight something, crop it or any other minor change you may wish to make.
In addition they have also added an arrow in the center of the bottom menu that brings up their Mini Apps drawer. These mini apps can actually be quite useful as once they are opened they open on top of the application you are using, not in front of it. This means if you want to check your calendar while browsing the web, or do some math while in a text message you can do so without ever leaving the application.
Samsung has also included a few "hubs" which are aimed at making finding content easier. They have included a Game Hub, Media Hub and Music Hub pre-installed, all in addition to the Google Play suite of applications. Making use of the included IR port, Samsung has bundled the Smart Remote which is extremely powerful once set up. After walking through the set up of the application you are able to control your media components right from your tablet, no more juggling your remotes and tablet at the same time.
Beyond these applications Samsung has also bundled Dropbox (which is giving users 50GB free for one year), Netflix, Amazon Kindle, Samsung Chat-on, S Suggestion (their application suggestions guide), Next Issue (magazine app) along with their Media Hub on the device. If you hop into the market you can remove most of these, which is a definite plus for those who find no value in them.
Camera
By now we should all know that tablets are probably not the best means for capturing your favorite memories on the go, but they still tend to come with cameras. Since you never really know when life may bring you that next best moment, the ability to capture them with the tablet can be a plus for many.
If you are looking to replace your point and shoot needs with a tablet, think again. Featuring a 3MP camera on the back that lacks flash, and a VGA front facing camera on the front, the quality is far less than professional. While the 3MP camera on the back does the job, it takes photos and allows you to remember things, it doesn't do so with any exceptional quality. Due to the lack of flash you can pretty much kiss the indoor shots and low light images out the window, but with proper lighting the Samsung Galaxy Tab 2 10.1 can take some decent shots for you.
The front facing camera, like many other is really low in quality, and honestly we would have expected more. With Samsung showing they want the device to be a consumption of media device, the camera could have been improved. Knowing people use their tablets more so for video chat than for capturing images, you would think by now tablet manufacturers would be improving these front facing units a bit.
Conclusion
Is the Samsung Galaxy Tab 2 10.1 worth the $399 price point that it was assigned? With a solid construction, 16GB of on board storage (and an additional 50GB for the first year through Dropbox), the offer is very tempting. While keeping a slim profile, Samsung was able to pack a 7,000mAh battery inside to hopefully help prevent battery woes from coming about. The speakers in the front bezel are a great addition, though we would have liked to see speakers with just a bit more size to add a wider range of sounds, but the ones inside are able to suffice.
Coming in at a rather competitive price point compared to the competition and launching with Ice Cream Sandwich is a big benefit to this model. Sure, other devices will support it, and some have began rolling it out as well, that is still not the same as having your product launch with it. All things considered the Samsung Tab 2 10.1 offers a great user experience in a well designed package, and does all of this at a rather reasonable cost. You would be silly to not at least head to a local store to check it out, and let it do the talking whether this is your next tablet or not.
Sign up for Black Friday email alerts!
Get the hottest deals available in your inbox plus news, reviews, opinion, analysis and more from the Android Central team.
Jared started off writing about mobile phones back when BlackBerry ruled the market, and Windows Mobile was kinda cool. Now, with a family, mortgage and other responsibilities he has no choice but to look for the best deals, and he's here to share them with you.