If your Android phone is suffering from frequent app crashes, you should update this now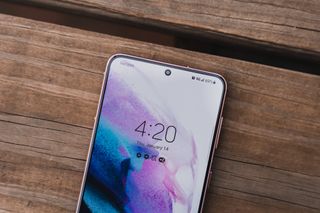 (Image credit: Hayato Huseman / Android Central)
Update, Mar 23 (11 am ET): Google issues a permanent fix with an update
What you need to know
Android users are reporting frequent app crashes, particularly owners of Samsung Galaxy smartphones.
The problem has been traced back to the Android System WebView.
Uninstalling updates from the System WebView should fix the problem.
Android smartphones are apparently dealing with an annoying bug that seems to cause their apps to crash frequently. According to a Reddit post, the problem seems to affect mainly some of the best Samsung phones like the Samsung Galaxy S21. The problem seems to be related to the Android System WebView, which comes preinstalled on Android phones and is what apps use to display web content such as in-app web browsers.
According to a Google spokesperson (via 9to5Google), the company is working to address the problem:
Meanwhile, anyone experiencing the problem, whether on a Samsung Galaxy smartphone or otherwise, is encouraged to uninstall Android System WebView updates. You can do this by searching for it in the Play Store (opens in new tab) (or clicking the link), and selecting "uninstall," which should fix the problem. If that option is unavailable for some reason, you can perform the same action in your device settings.
If you're on a Samsung Galaxy smartphone, navigate to Settings > Apps > Android System WebView, then click the three-dot menu near the top of the page and select uninstall updates, confirm, and reboot your device. The process is more or less the same on any other Android smartphone. If you can't find the Android System Webview on your first try, make sure you're viewing "all apps," and it should appear.
It should be noted that you're just uninstalling the updates, and you should not disable Android System WebView, as that could end up causing problems for other apps. If this does not work, you may need to uninstall updates to the Chrome browser on your device since the apps are updated together, but this may only apply to devices below Android 10.
Update, Mar 23 (11 am ET) ― Google updates Android System WebView with a fix
A new update to Android System Webview has been issued to the Play Store, which should bring it to version 89.0.4389.105 and should fix the app crashing problem. You can search for it in the Play Store or follow the link to it in the main article to update it. Users are also encouraged to update the Chrome browser as well.
Derrek is a long-time Nokia and LG fanboy who loves astronomy, videography, and sci-fi movies. When he's not working, he's most likely working out or smoldering at the camera.
My Pixel 4a 5G started exhibiting this behavior a few minutes ago; some apps wouldn't launch at all, others would crash as soon as certain functions were accessed. It happened immediately after installing an update to the Contacts app, so at first I tried uninstalling that to no effect. Uninstalled WebView and sure enough, problem solved! If this is as widespread as it seems, this could be a PR nightmare for Google. Hopefully they're able to get it quashed quick for the millions of users who aren't going to have the savvy to find this workaround on their own.

Get an Apple phone. Apple products are 9000000% flawless.

LOL You spelled Flawed wrong!

Apple products are overpriced and lacking in features, customisation and freedom to use your phone however you want.

Problem is it's still an Apple product

Wasn't it the iPhone that couldn't get Daylight Savings time right for several years in a row?

I had this problem on my Nokia 8.3, what you said to do fixed it.

This did it! Thank you! I was going crazy and pulling my hair what to do next. Can't be without my cell phone. Sammie Note 9

Thanks for this post. I got a new router and installed a bunch of wifi apps to check which channel to use. I figured it was one of those apps. Removed those and phone kept acting up. Guess it wasn't those... Unrooted stock OnePlus 8 Pro on Android 11 was getting GMail FC despite clear storage/data and a few other apps too.

just posted a comment about this in the pixel forum, for some reason this article hadn't shown up yet :(

I have a Samsung Note8 and Samsung's suggestion shown above doesn't work for me as it is shown "Disabled" in my app listing and does not offer me the ability to uninstall it.

Keep it disbled. Make sure you've run the latest Chrome update, and if that doesn't work uninstall and reinstall Chrome.

I Have LG-G6 and since yesterday I started to see many of my apps keep crashing(Google Play services, Instagram(Only when I go in direct), Yahoo mail app, my phone game, Evernote). I was planning to fully reset my phone... I think I have to wait until web view gets a fix soon hopefully. its Strange that it is disabled in my Device and un-enable able!!

Just Updated Chrome. and every thing got Fixed 😍

Updating Chrome fixed it for me too.

I haven't had any of these issues on my S21 ultra, I just had 2 updates in the Play Store for Chrome (version 89.0.4389.105) and Android System WebView (version 89.0.4389.105)

Wish I read this earlier. Coincidentally Tmobile updated my Galaxy S20 today to OneUi 3.1 So I just assumed that was the issue and performed a factory reset on my phone lol

This morning I can't get into emails or messenger on my phone. Outlook opens but i can't open emails. Following your advice i have found android system webview in settings but it already says disabled. the only option accessible is "force Stop". Is this what i need to do??

I've not had this app crashing issue on my S20 FE 5G.

"It's unclear what caused the Android app crashing problem, but the culprit is clear." I mean...I know what they were trying to say, but that is just a poorly written and seemingly contradictory sentence. BTW, I have not had any issues with my S21. Why would some folks have the problem but not others?

S21 Ultra here and was having issues. Thanks for the article.

I read somewhere to update Chrome so I did and my Motorola Droid was fixed. I actually updated all my apps. Hopefully this works for you.

My Nokia 5.3 went crazy last night but my Samsung A70 didn't have a problem? I've done a full reset on the Nokia. It took a long time but the phone is running better for it. Smartphones are great, aren't they...... Until something goes wrong.

Last night my S20 was crashing quite a few of my apps.
Turned my phone off when I went to bed. This morning it worked perfectly.

Everything was crashing and the fix everyone was giving involved uninstalling Android System WebView. It didn't help me. But I found this a few minutes ago on this site. Updated Chrome and everything started working again. Thanks
Android Central Newsletter
Get the best of Android Central in in your inbox, every day!
Thank you for signing up to Android Central. You will receive a verification email shortly.
There was a problem. Please refresh the page and try again.