Samsung Galaxy S8+ vs. Galaxy S7 edge: Should you upgrade?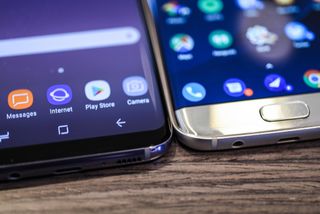 It's that time of year again. Spring has sprung and so has Samsung unearthed its new flagship smartphones. This year, the Galaxy S8+ was announced as the larger sibling of the Galaxy S8 for those who like to wield bigger smartphones. It's also the follow-up to last year's Galaxy S7 edge.
You might be wondering: Is it worth upgrading to the Galaxy S8+ if the Galaxy S7 edge is already on sale everywhere else? Well, that depends entirely on how big you like your display.
Hardware, specs and features
Image 1 of 5
The Galaxy S8+ will undoubtedly remind of you the fabled Galaxy Note 7. But after you've shed a couple of tears for what could have been, wipe them away with your shirt sleeve and give the Galaxy S8+ a good once over. Notice its smooth edges, stunning chassis color, and recessed camera lens. This is an improved smartphone, and although the S7 edge is a looker in its own right, there's something inherently more polished about the design of the Galaxy S8+.
The real question here is how big do you like the screen? The Galaxy S7 edge's Quad HD display is certainly large at 5.5-inches, but the Galaxy S8+'s 6.2-inch Quad HD Super AMOLED display offers significantly more screen space for watching movies, editing documents, and taking part in brawls on social media. It also supports HDR, which Netflix and Amazon are supporting.
If you're looking for a pocket dweller, however, you might feel better suited with a Galaxy S7 edge. The Galaxy S8+ is certainly packs plenty of screen space into a thin chassis, but its tall, narrow body requires a bit of space to burrow inside a pair of pants.
Now, let's talk about specifications. The Galaxy S8+ doesn't offer anything particularly groundbreaking when pitted against its predecessor. Despite the larger screen, it is not equipped with a larger battery, nor does it offer more RAM — though you do get a faster processor and an extra 32GB of internal storage. And like the Galaxy S7 edge, it offers wireless charging, an SD card slot, and waterproofing, as well as all the other marketable bells and whistles, including Samsung Pay. Regardless of which one you choose, you're not getting too much of a difference in terms of marquee Samsung features.
Software and experience
The Galaxy S7 edge is turning into the trusty old steed that's adopting what it can to remain as capable as the fawns who've since been introduced into the barn. It has Android 7.0 Nougat now, which is great if you're considering a smartphone at a discount but are hoping to avoid regressing on software updates.
When it comes to the day-to-day, there's not much difference between the software on the Galaxy S8+ and Galaxy S7 edge, and especially not if the latter is updated to Nougat. You'll get access to Samsung's lighter layout if the latter is on Android 7.0, though the Galaxy S8+ will have a couple of additions that have carried over from the Note 7's short-lived heyday.
Also, while the camera hardware may not have advanced much, the camera application did receive a bit of an interface trim and some silly feature additions. There's nothing particularly revolutionary that you're missing out on.
You are missing out on one software feature, however, that's possible only because of the hardware inside the Galaxy S8+. The phone features iris scanning and facial recognition to secure your files and folders. You won't get that on the Galaxy S7 edge because it's not equipped with the right hardware.
The Galaxy S8+ comes with Bixby, Samsung's new on-device voice assistant, which promises to help you navigate your new smartphone and keep you privy to your town's weather forecast. The chances are slim that Bixby will make it to the elder Galaxy smartphones, so if you're keen on living in the future with your favorite device maker, you'll want to get the phone with the hardware button dedicated to this feature.
The Galaxy S8+ positions itself as a better productivity machine by way of the fact that it's equipped with Samsung DeX capabilities. DeX is the Galaxy S8's hidden desktop interface, and you can unlock it by plopping the phone into the sold-separately dock. The DeX dock is a USB-C peripheral, so it's not inherently meant to work with the Galaxy S7 edge. Even if you inserted a Micro-USB to USB Type-C adapter, it's unlikely Samsung would spend much time optimizing DeX to make it compatible with older hardware.
Bottom line
New things are really nice to have, and shiny things can help attract new friends. But if it's the latest technology you're looking for, the Galaxy S8+ isn't too much of a leap forward to consider trading in a perfectly capable Galaxy S7 edge. The Galaxy S8+'s performance will be slightly better in the longer run by virtue of the fact that it's running a newer Snapdragon 835 chip, but its battery life will remain relatively the same, and the photos you take with it won't look too much different.
You aren't skimping out on any essential software features, either. Samsung DeX and Bixby are certainly interesting new offerings, but they're still in their first generation, and it'll take some time to see how each evolves.
Ultimately, whether you're looking to switch from a Galaxy S7 edge or are deciding whether to upgrade to the Galaxy S8+, consider your stance on wielding a taller phone. Smaller hands might find difficulty wielding the device one-handed, particularly if they plan to use the oddly located fingerprint sensor. The tradeoff is the Galaxy S8+'s bigger screen, which will net you more multitasking abilities in the long term.
But if you simply don't care for a larger display, consider saving your money and adopting the Galaxy S7 edge.
Be an expert in 5 minutes
Get the latest news from Android Central, your trusted companion in the world of Android
Florence Ion was formerly an editor and columnist at Android Central. She writes about Android-powered devices of all types and explores their usefulness in her everyday life. You can follow her on Twitter or watch her Tuesday nights on All About Android.