Samsung Galaxy S8 'Microsoft Edition:' Everything you need to know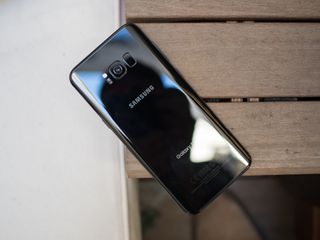 Last week, Microsoft quietly (and somewhat curiously) said that it will sell a version of Samsung's new flagship smartphone in its U.S. retail stores. The phone, The GS8 "Microsoft Edition," immediately grabbed online headlines, and in the process created some confusion.
Microsoft still hasn't made an official announcement or issued a press release for the GS8 Microsoft Edition. So a number of questions still remain ... or at least, they did. Read on for everything you need to know about the GS8 Microsoft Edition.
What Windows users need to know about the Samsung Galaxy S8
What the hell is the Samsung Galaxy S8 Microsoft Edition?
The GS8 Microsoft Edition is exactly the same as the regular GS8 you'd buy from a wireless carrier or other retail, with a few very minor differences. The Microsoft Edition is available directly (and only) at physical Microsoft Stores in the U.S. Also, Microsoft reps in stores selling the device will help new owners install a wider variety of Microsoft Android apps on the devices before they actually leave with their new phones.
Is there anything that's different about the GS8 Microsoft Edition, other than apps?
Nope. It's all about the apps and the in-store purchase experience.
From Microsoft:
Why buy a GS8 through Microsoft?
Why would you want to buy a Samsung phone from Microsoft, as opposed to, say, AT&T?
Um. Well ... we're not really sure. It's not exactly hard to search Google Play for the word "Microsoft" and then install any and all apps of interest. And there aren't any apps that are exclusive to the Microsoft Edition of the GS8, at least not according to a Microsoft employee named Ivan, who helped us pre-order a GS8 Microsoft Edition at the Microsoft Store in Boston.
Microsoft presumably gets a cut of the profits for each phone it sells or some sort of comparable compensation for its efforts. So you could buy the phone from Microsoft simply to support the company. If you live very close to a Microsoft Store, you could do it for convenience. Or, if for some reason you feel as though you'd have trouble finding all of the available Android apps from Microsoft, you could want a Store staffer to help you navigate Google Play. (But honestly, that would be kind of sad.)
Samsung DeX may beat Microsoft's Continuum, but it's still no slam dunk
Is the GS8 Microsoft Edition available for the 'Big Four' U.S. carriers?
No, it's not.
The GS8 Microsoft Edition is only currently available for pre-order for AT&T customers. Ivan at the Microsoft Store Boston also told us that the plan is to offer Verizon Wireless versions of the GS8 Microsoft Edition, but the Boston store wasn't offering Verizon preorders when we placed our AT&T order.
Ivan told us that Microsoft currently has no plans to offer Sprint or T-Mobile versions of the GS8 Microsoft Edition. (Microsoft didn't confirm or deny this information.) So unless you're an AT&T customer, the GS8 Microsoft Edition might not be for you, at least not for now. (You could unlock the phone and hope for the best on your carrier of choice, but that's not ideal.)
From Microsoft:
Does the GS8 Microsoft Edition come in both smaller and larger "+" sizes?
Yep. You can get the GS8 Microsoft Edition in both sizes. Again, it's the same as the regular GS8 phones, except for all the Microsoft Android apps and the Microsoft Store availability.
Does it come in different colors?
No, it doesn't. Right now the GS8 Microsoft Edition is only available in black, according to Microsoft.
Will it be available via online Microsoft Stores?
No. The whole idea is for customers to pick up the device physically, so the store reps can help them install the full array of Microsoft software.
From Microsoft:
Is the GS8 Microsoft Edition cheaper or more expensive than the regular version?
The Microsoft version of the AT&T GS8 costs the same amount as the one you'd buy from AT&T: $749.99 for the 64GB GS8 Microsoft Edition and $849.99 for the 64GB GS8+ Microsoft Edition.
When will the GS8 Microsoft Edition be released?
Right now, Microsoft expects the phones to be available for pick up at its stores on the official GS8 launch day: April 21, 2017. The sooner you order yours, the more likely you'll be able to get it that day. AT&T also says it will ship its GS8s so that they arrive "by April 21."
From Microsoft:
Will Microsoft have GS8s on display in its retail stores?
Yes, at least according to Ivan from the Boston store. That's notable because there is little or no Windows phone presence in Microsoft Stores today, and its endorsement of a Samsung Android phone could have significant implications on the future of Windows Mobile. (It's also just weird, right?)
Do Microsoft Office apps come pre-installed on the GS8?
We've heard conflicting reports on this one, and though past versions of the Samsung Galaxy phones came with Office apps installed, the GS8 will apparently be different and will not ship with preloaded Microsoft apps, according to the company.
From Microsoft:
Has Microsoft ever sold an Android phone in its stores before?
No way, no how. The GS8 Microsoft Edition is the first Android phone ever sold in a Microsoft Store.
From Microsoft:
Hit Samsung's website for details on the new phones (opens in new tab).
And for more in-depth GS8 coverage and expert analysis, read:
Samsung Galaxy S8 and S8+: Everything you need to know
Al Sacco is content director of Future PLC's Mobile Technology Vertical, which includes AndroidCentral.com, iMore.com and WindowsCentral.com. He is a veteran reporter, writer, reviewer and editor who has professionally covered and evaluated IT and mobile technology, and countless associated gadgets and accessories, for more than a decade. You can keep up with Al on Twitter and Instagram.
You forgot to add "Why would I want to buy a Microsoft Edition"? :) I would say that most Android users know how to install software and customize their devices. I don't see the added "value" of going to a MS Store and having them setup my device. Heck, when I get a new device, I install my sim card and enter my Google credentials and the phones "just work".

Didn't read the article, eh?

"Why buy a GS8 through Microsoft?" Not forgotten. This is even in bold. It is only worded a bit differently and answered.

most android users are just as ignorant as any iderp user. dont kid yourself.

The only advantage is if you live near a MSFT store and something goes wrong, it probably will offer support similar to how Apple Stores support and service iPhones. Like or hate iOS devices, it is pretty damned good. Downside is it will be locked to AT&T (which is easily resolved if paid in full and an AT&T customer) and the numerous useless carrier apps that I'm almost certain will be installed.
If one is dead set on getting on of the S8's, better off waiting till May 9th when the unlocked and uncarrier branded S8 is going to be offered for sale, it's slightly cheaper, unlocked, supports all carrier LTE bands, and it will be offered at Best Buy and probably Amazon and Samsung.

We thought they couldn't cream in any more bloatware, but nature finds a way. Nature... finds... a way...

Tech bloggers: "There is just no way that more crap could find its way pre-loaded onto a Galaxy phone."
Microsoft: "Hold my beer and watch this."

I guess you missed the past in the article were none of the Microsoft apps are preloaded but will be add to the phone in the store by customer service?

Yeah, I read the article. If it's installed by store staff before you walk out the door with your purchase, I'd consider that "preloaded."

They want the foot traffic in their stores. Makes sense.

I agree. Most likely they want to show off the Windows powered devices they offer. And show how a Windows powered phone can actually manage your contacts from your Outlook account. As opposed to Google Contacts, which cannot view, edit, create contacts on your outlook account. Go Android! (I mean, just leave :p ) Seriously, as a computer tweaker I get the appeal of being able to hack your own device and then customize all. But basically I want my devices to just work well with the basics. They did with WP8.1 (Samsung ATIV S) but now they don't with Android 6 (Moto X Gen.2).

i want a phone that looks like this but runs actual windows 10. it cant be that hard to implement right.

True. If this came with Windows 10 and continuum, I think Microsoft fans would be all over it. With android, I am not so sure.

I assumed it would run windows when docked. Missed opportunity from Microsoft I think.

Okay, since it's going to be for the AT&T and VZW networks, will it be free of carrier bloat since you're buying it from Microsoft? The other "Microsoft Edition" hardware follows this model, so I'm curious if they're doing this here and if updates will reflect that attitude of not installing crap.

Wouldn't it make more sense to make an S8 that runs Windows 10M? I know Windows Mobile is dead, but I don't think a lot of people are gonna buy an S8 from Microsoft anyway,

I bet you there will be more people buying an S8 from Microsoft than any Windows Phone. Even if it was a WP version of the S8. Besides... If I go to a Microsoft store I can always buy a couple more cool gadgets along with the S8.

"Microsoft Edition" Samsung Galaxy S8 could have meant it includes a dual boot menu so after each time you restart the phone you can choose to boot into Android 7.0 or W10M. Of course this was tried with a few handsets in early years with earlier versions of Android (like Lollipop) and Windows (like WP 8.1) but they didn't sell very well.

MS know there's no market for Windows Phone so are basically selling a device with a different OS

So I would just be buying an AT&T s8 except the employees will install Microsoft apps for me?
I could buy unlocked and install them myself....

So if I do a factory reset, am I getting those MS apps reinstalled...which means they are on the factory image....and if so...then wouldn't the phone need a different set of OTA updates? Or maybe MS just loads their apps on a normal samsung clean install?

Samsung phones already come with a bunch of Microsoft apps baked into the system. This Edition only adds the ones that aren't there like Cortana.

Watch The Launch Video of Samsung Galaxy S8 and S8+ at - https://youtu.be/WVchnSUO0cg

"Why would you want to buy a Samsung phone from Microsoft, as opposed to, say, AT&T?
Um. Well ... we're not really sure. It's not exactly hard to search Google Play for the word "Microsoft" and then install any and all apps of interest." --Exactly! It doesn't even come with any Microsoft apps pre-loaded, nor anything unique/exclusive to this model that would draw people in to purchase it instead of the regular S8 they can buy from their carrier or online anywhere else...and I can't even buy it from Microsoft's online store? This is all adding up to be a prolonged April Fools joke, to me.

This makes a lot of sense. Think about it: - Windows Phone is dead. - The majority of WP users are on old Nokia Lumia devices (the ones running WP8.1 which just saw Facebook and Messenger drop support along with a ton of other apps), - The few remaining WP users are embedded in the Microsoft ecosystem, - Most of those WP users aren't stupid to jump from a sinking ship to a prison iShip. They'll choose Android, - Microsoft has no interest in those people moving to Google services. - By selling Android phones in their stores they'll help those people make a smooth transition from their WPs to Androids whilst keeping all the Microsoft ecosystem intact.

That makes sense, except that you can't buy it online, only at a MS store, which most people aren't near.

The Galaxy S8 Microsoft Edition - it installs OS updates whether you want it to or not.

I can just see it now. A customer walks into a Microsoft store, sees the GS8 MS Edition display, and says "Oh cool, I didn't know that Microsoft sold phones." [sound of Windows Central staff weeping gently in the distance]

When I saw "Microsoft Edition" I initially thought it meant a Galaxy S8 with Microsoft apps for Android (Word, Excel, PowerPoint, Outlook, Skype, Onenote, Cortana, Onedrive) pre-installed and without their Google counterparts. But as far as I can tell Google's Docs, Sheets, Slides, Email, Hangouts, Keep, Assistant, and Drive are still included (plus Samsung bloatware). Thanks but no thanks!

Getting mine direct from Samsung with Ebates cash back.

I didn't read all of the comments to see if this has been covered but this just feels like the start of Microsoft softening the blow when they say they are leaving the consumer market behind permanently. I hope I'm wrong.
Android Central Newsletter
Get the best of Android Central in in your inbox, every day!
Thank you for signing up to Android Central. You will receive a verification email shortly.
There was a problem. Please refresh the page and try again.