Samsung Galaxy S8 'Microsoft Edition:' Everything you need to know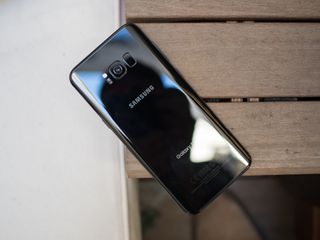 Last week, Microsoft quietly (and somewhat curiously) said that it will sell a version of Samsung's new flagship smartphone in its U.S. retail stores. The phone, The GS8 "Microsoft Edition," immediately grabbed online headlines, and in the process created some confusion.
Microsoft still hasn't made an official announcement or issued a press release for the GS8 Microsoft Edition. So a number of questions still remain ... or at least, they did. Read on for everything you need to know about the GS8 Microsoft Edition.
What Windows users need to know about the Samsung Galaxy S8
What the hell is the Samsung Galaxy S8 Microsoft Edition?
The GS8 Microsoft Edition is exactly the same as the regular GS8 you'd buy from a wireless carrier or other retail, with a few very minor differences. The Microsoft Edition is available directly (and only) at physical Microsoft Stores in the U.S. Also, Microsoft reps in stores selling the device will help new owners install a wider variety of Microsoft Android apps on the devices before they actually leave with their new phones.
Is there anything that's different about the GS8 Microsoft Edition, other than apps?
Nope. It's all about the apps and the in-store purchase experience.
From Microsoft:
Why buy a GS8 through Microsoft?
Why would you want to buy a Samsung phone from Microsoft, as opposed to, say, AT&T?
Um. Well ... we're not really sure. It's not exactly hard to search Google Play for the word "Microsoft" and then install any and all apps of interest. And there aren't any apps that are exclusive to the Microsoft Edition of the GS8, at least not according to a Microsoft employee named Ivan, who helped us pre-order a GS8 Microsoft Edition at the Microsoft Store in Boston.
Microsoft presumably gets a cut of the profits for each phone it sells or some sort of comparable compensation for its efforts. So you could buy the phone from Microsoft simply to support the company. If you live very close to a Microsoft Store, you could do it for convenience. Or, if for some reason you feel as though you'd have trouble finding all of the available Android apps from Microsoft, you could want a Store staffer to help you navigate Google Play. (But honestly, that would be kind of sad.)
Samsung DeX may beat Microsoft's Continuum, but it's still no slam dunk
Is the GS8 Microsoft Edition available for the 'Big Four' U.S. carriers?
No, it's not.
The GS8 Microsoft Edition is only currently available for pre-order for AT&T customers. Ivan at the Microsoft Store Boston also told us that the plan is to offer Verizon Wireless versions of the GS8 Microsoft Edition, but the Boston store wasn't offering Verizon preorders when we placed our AT&T order.
Ivan told us that Microsoft currently has no plans to offer Sprint or T-Mobile versions of the GS8 Microsoft Edition. (Microsoft didn't confirm or deny this information.) So unless you're an AT&T customer, the GS8 Microsoft Edition might not be for you, at least not for now. (You could unlock the phone and hope for the best on your carrier of choice, but that's not ideal.)
From Microsoft:
Does the GS8 Microsoft Edition come in both smaller and larger "+" sizes?
Yep. You can get the GS8 Microsoft Edition in both sizes. Again, it's the same as the regular GS8 phones, except for all the Microsoft Android apps and the Microsoft Store availability.
Does it come in different colors?
No, it doesn't. Right now the GS8 Microsoft Edition is only available in black, according to Microsoft.
Will it be available via online Microsoft Stores?
No. The whole idea is for customers to pick up the device physically, so the store reps can help them install the full array of Microsoft software.
From Microsoft:
Is the GS8 Microsoft Edition cheaper or more expensive than the regular version?
The Microsoft version of the AT&T GS8 costs the same amount as the one you'd buy from AT&T: $749.99 for the 64GB GS8 Microsoft Edition and $849.99 for the 64GB GS8+ Microsoft Edition.
When will the GS8 Microsoft Edition be released?
Right now, Microsoft expects the phones to be available for pick up at its stores on the official GS8 launch day: April 21, 2017. The sooner you order yours, the more likely you'll be able to get it that day. AT&T also says it will ship its GS8s so that they arrive "by April 21."
From Microsoft:
Will Microsoft have GS8s on display in its retail stores?
Yes, at least according to Ivan from the Boston store. That's notable because there is little or no Windows phone presence in Microsoft Stores today, and its endorsement of a Samsung Android phone could have significant implications on the future of Windows Mobile. (It's also just weird, right?)
Do Microsoft Office apps come pre-installed on the GS8?
We've heard conflicting reports on this one, and though past versions of the Samsung Galaxy phones came with Office apps installed, the GS8 will apparently be different and will not ship with preloaded Microsoft apps, according to the company.
From Microsoft:
Has Microsoft ever sold an Android phone in its stores before?
No way, no how. The GS8 Microsoft Edition is the first Android phone ever sold in a Microsoft Store.
From Microsoft:
Hit Samsung's website for details on the new phones.
And for more in-depth GS8 coverage and expert analysis, read:
Samsung Galaxy S8 and S8+: Everything you need to know
Get the Android Central Newsletter
Instant access to breaking news, the hottest reviews, great deals and helpful tips.
Al Sacco is content director of Future PLC's Mobile Technology Vertical, which includes AndroidCentral.com, iMore.com and WindowsCentral.com. He is a veteran reporter, writer, reviewer and editor who has professionally covered and evaluated IT and mobile technology, and countless associated gadgets and accessories, for more than a decade. You can keep up with Al on Twitter and Instagram.