Everything you need to know about the Galaxy S8's cameras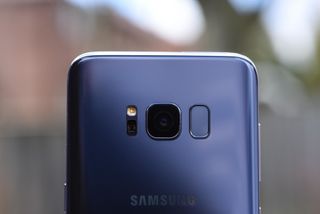 Samsung doesn't seem to be making too much of a spectacle of the Galaxy S8 and Galaxy S8+'s main camera, and that's likely because it hasn't changed the hardware. The flagship duo come equipped with the same camera hardware as their predecessors: a 12-megapixel "Dual Pixel" sensor that was often heralded as the best before the Google Pixel.
But regardless of the reprise, there are some new camera features to check out in Samsung's new smartphones. Let's take a look at the new additions, including new photo processing, a better front-facing camera, Snapchat-like features, and a slightly tweaked camera interface that makes it easier to multitask between camera modes.
Rear camera
The Galaxy S8 and S8+ feature a 12-megapixel "Dual Pixel" rear-facing camera with a f/1.7 lens, which is similar to the Galaxy S7, though it's not the same image sensor. It's equipped with OIS (optical image stabilization) and PDAF (phase-detect auto focus), as well as auto HDR and a manual mode that enables you to shoot in RAW.
There are no new camera modes to the Galaxy S8, but you'll see all the usual suspects in the interface, including a Panorama mode, Selective focus mode (akin to the iPhone 7's Portrait mode), and Hyperlapse mode. The same live colored filters made popular in older Samsung phones are included here, too, and there's also a new feature that brings Snapchat-like augmented reality filters to the viewfinder. You can use them as you're recording video or while snapping photos. I'm not sure if the filters will work with multiple people in the shot (like some of Snapchat's filters do), but they did work on Mr. Mobile.
Image 1 of 3
The camera app interface also remains relatively unchanged. It's simple to use; a quick swipe to the left starts up the video recording mode, and a swipe to the right brings you to the different camera modes. There is a slight tweak this time around in that you can slide the shutter key up and down to digitally zoom — way quicker than pinching on the viewfinder to zoom.
We obviously haven't used the camera in any sort of extended period where we can evaluate its quality, but this will, of course, be the biggest question: How much has Samsung improved its software to make a step up over last year's quality? Though the Galaxy S7's camera was really good, in this industry if you're standing still you're falling behind — new camera firmware and improved processing from the new ISP (image signal processor) should improve things, but we don't know how much yet.
Front camera
The Galaxy S8 and S8+'s front-facing camera is a complete revamp: 8 megapixels with auto focus and an f/1.7 lens. You'll get decent low light photos just as you would with the rear-facing camera, and the Galaxy S8 will have a simpler time attempting to keep your face in focus — most phones today, even in the high end, still don't have auto focus on the front-facer. You can use the silly Snapchat-like features here, too, and there is a beauty mode that buffs out your imperfections and makes you look like the freshly airbrushed model you wish you could be. The filter also works on your friends in group selfies.
There's so much more to the Samsung Galaxy S8 and S8+ than just its cameras. Be sure to read our full rundown of the devices and breakdowns of the various features from Samsung's latest flagship family!
Get the Android Central Newsletter
Instant access to breaking news, the hottest reviews, great deals and helpful tips.
Florence Ion was formerly an editor and columnist at Android Central. She writes about Android-powered devices of all types and explores their usefulness in her everyday life. You can follow her on Twitter or watch her Tuesday nights on All About Android.