Everything you need to know about the Galaxy S8's cameras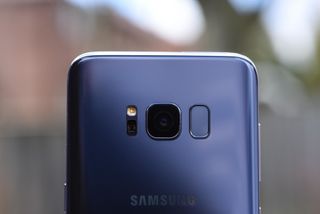 Samsung doesn't seem to be making too much of a spectacle of the Galaxy S8 and Galaxy S8+'s main camera, and that's likely because it hasn't changed the hardware. The flagship duo come equipped with the same camera hardware as their predecessors: a 12-megapixel "Dual Pixel" sensor that was often heralded as the best before the Google Pixel.
But regardless of the reprise, there are some new camera features to check out in Samsung's new smartphones. Let's take a look at the new additions, including new photo processing, a better front-facing camera, Snapchat-like features, and a slightly tweaked camera interface that makes it easier to multitask between camera modes.
Rear camera
The Galaxy S8 and S8+ feature a 12-megapixel "Dual Pixel" rear-facing camera with a f/1.7 lens, which is similar to the Galaxy S7, though it's not the same image sensor. It's equipped with OIS (optical image stabilization) and PDAF (phase-detect auto focus), as well as auto HDR and a manual mode that enables you to shoot in RAW.
There are no new camera modes to the Galaxy S8, but you'll see all the usual suspects in the interface, including a Panorama mode, Selective focus mode (akin to the iPhone 7's Portrait mode), and Hyperlapse mode. The same live colored filters made popular in older Samsung phones are included here, too, and there's also a new feature that brings Snapchat-like augmented reality filters to the viewfinder. You can use them as you're recording video or while snapping photos. I'm not sure if the filters will work with multiple people in the shot (like some of Snapchat's filters do), but they did work on Mr. Mobile.
Image 1 of 3
Image 2 of 3
Image 3 of 3
The camera app interface also remains relatively unchanged. It's simple to use; a quick swipe to the left starts up the video recording mode, and a swipe to the right brings you to the different camera modes. There is a slight tweak this time around in that you can slide the shutter key up and down to digitally zoom — way quicker than pinching on the viewfinder to zoom.
We obviously haven't used the camera in any sort of extended period where we can evaluate its quality, but this will, of course, be the biggest question: How much has Samsung improved its software to make a step up over last year's quality? Though the Galaxy S7's camera was really good, in this industry if you're standing still you're falling behind — new camera firmware and improved processing from the new ISP (image signal processor) should improve things, but we don't know how much yet.
Front camera
The Galaxy S8 and S8+'s front-facing camera is a complete revamp: 8 megapixels with auto focus and an f/1.7 lens. You'll get decent low light photos just as you would with the rear-facing camera, and the Galaxy S8 will have a simpler time attempting to keep your face in focus — most phones today, even in the high end, still don't have auto focus on the front-facer. You can use the silly Snapchat-like features here, too, and there is a beauty mode that buffs out your imperfections and makes you look like the freshly airbrushed model you wish you could be. The filter also works on your friends in group selfies.
There's so much more to the Samsung Galaxy S8 and S8+ than just its cameras. Be sure to read our full rundown of the devices and breakdowns of the various features from Samsung's latest flagship family!
Florence Ion is an editor and columnist at Android Central. She writes about Android-powered devices of all types and explores their usefulness in her everyday life. You can follow her on Twitter or watch her Tuesday nights on All About Android.
I buy phones based on their cameras so this is disappointing. There's no new attraction for me this time around, too bad.

No test, comparison , photos, etc.. I know it's basically the same as last year. They've had a year to work with what wasn't right (which wasn't too much, as phones go). If you're looking for some new magical tech, buy a dlsr, and tape a phone to it. A lot of flagship phones cameras, are a nit-pick away from each other, so what phones are worlds better, either out already, or coming out, that are that magical.

couldn't have said this any better. the camera on the s7 was amazing, the only complaints I had were that they looked over-sharpened and sometimes images looked a little too saturated (whites looked yellow, for example). since they updated the post processing on the S8 I'm sure the camera will be near perfect, for a phone camera anyway.

Agree, as I look over at my Nokia 1020. I now carry the 950XL, faster, but not the quality of my 1020, I was hoping for something fantastic to make me jump to Android. Waiting for the Surface Phone.

You thought about giving the LG g6 a go. I have the G5 and ok it's not quite as good as my 950xl but very close and the wide angle camera has changed everything for me and at this moment in time the gy is my next phone come sept as long as ms don't throw a spanner in the works

I owned a plethora of Windows Phones including the 950XL, 1520, 920 etc etc. And trust me, these Samsung Phones have a much better camera. There's no Surface phone in sight for a long time to come.

I have a 920, 1020, 950. My Galaxy is older of the S5 variety, but I have friends with the S7 and I still think the 1020 is the best of the lot. I'll find out soon though, as I'm jumpin on the GS8 train. :)

And the Huawei Mate 9? What do you think about it on his camera?

Nah I disagree. I had a Galaxy s7 edge and an s7 and my lumia 950 xl camera captures better detail than them. I've pre-orefered the s8 plus and I hope the camera has improved. The photos look nice until you zoom in at all or try and crop them. I've owned Lumia 800, 920,925, 1020, 1320, 1520, 950 and 950xl. The 1020 is the best camera phone I've ever owned. That lossless zoom is simply amazing.
Don't wait for the Surface Phone either my friend. It's still vapourware for now. Get something else in the meantime and if it ever appears then jump on board but don't do yourself out of a good phone while you wait

what was the attraction last time around? What is it that you're disappointed in? There still hasn't been any in-depth review of the S8's camera so there's nothing to base any judgement on.

They're using the same camera from the S7. Again, I buy phones based on the cameras image quality, and if I were to upgrade from any phone and pay a good sum, the camera better be upgraded. Attraction for the S7 was the camera and UI improvements.

Wrong. They are using an unannounced new Sony.

It is the same sensor found in the new sony phones with very stupid names that never come to the states. The Xperia XZ premium I believe? Well which ever one that has the 4K hdr screen.

Can you quick launch into the camera with a double press of the virtual home button? That was one of the best features of the S6 and S7.

U can launch by pressing the power button twice

You can also launch by double tapping the home button. Did this myself in TMobile

This was not everything I need to know >.> What's the recording FPS? my Note 5 has 1080p @60 is this equivalent or better?

I looked at a display phone at my local Sam's Club, it has 1080 @ 60 fps.

With the s7 already having one of if not the best camera. Why reinvent the wheel. Samsung camera just works and works well . My note 7 had a few newer tricks that made it slightly better then my 7 edge . So I'm good with this shooter . All you selfy lovers will like the 8 mag front shooter though

If you're going to shell out some good $$, wouldn't you want a better sensor than the last?

Who said it isn't a better sensor?

It's literally in the article that it is the same sensor. Same = not better.

Same statistical hardware doesn't equal the same hardware.

technically it does have a newer sensor, the IMX333 vs the IMX260 on the S7. they just have similar specs which is probably why the article said they were the same

The article is wrong. It is not the same sensor. The S7 has the IMX260. The S8 has the IMX333.

If I understand correctly from other reading, the sensors are sourced from both ISOCELL and Sony. The Sony sensor has a different model number than it did in the S7, but the ISOCELL is the same. If that is the case, one would assume that the newer Sony sensor wouldn't be much of an improvement over the last one because that would elevate it above the ISOCELL too much.

Except it isn't the same sensor....

Can't wait to hear Samsung fans justify using the same sensor from last year with software enhancements.

What exactly where you expecting, DSLR camera specs, LMAO. What exactly is wrong with the camera, it's a real nice cellphone camera, which does the job and does it nicely.

with the exception of phase detection af, that's literally all that happened between the nexus 6p and google pixel, and look how incredible the camera on the pixel is.

Nobody needs to justify anything. It's a different sensor and way better than S7. Read the internet, it's free.

But they're not...
It's using a new sensor that just so happens to be similar.

It is not the same sensor. The S7 has the IMX260. The S8 has the IMX333. Get educated, fool.

What about 2160p@60fps? And can bitrate, framerate, resolution, exposure, light sensivity, codec be now specified independently from each other? I have not watched the event yet, because of ceasing internet connection. However, I hope, that Hyun Yeul Lee did not mess up more than she did at UnPacked 2015, where the real dreads of users get true: removed features.

Did the framerates improve at all? 1080p@120fps? 720p@240fps without any stuttering? 720p@120fps and 720p@60fps for space storage saving? Or better: adjustable bitrate like LG V10? How about sensor metadata? That are the features I am waiting for many years. But there is a consolation: Galaxy S7 users feel less outdated .
The old phones are not bad yet. That's because they do not get any worse, if a new device gets released. Did you know that already?
But the rounded screen corners of the S7 are a bit odd.

So that pre-reveal rumor of 1000fps was just junk I guess? I didn't hear/read Samsung confirm this anywhere.

The display model I looked at had a Slow Motion shooting mode, but didn't​ specially mention 1,000fps anywhere that I could see on the camera interface. That lead me to believe that it's probably much less than 1,000fp. I could be wrong though, didn't actually test it.

But the rear camera hardware isn't the exact same; it's a new sensor.

You say the sensor is changed from the S7 but don't list the model number. Might want to edit the title of the article.

I thought it would be better in order to compete with last years pixel and iphone at least an optical zoom

It's not the same hardware!
It's a NEW SENSOR in the main camera
It's a Sony made imx333

"Nothing new here" yet it is a new sensor. Come on AC you're better than that..

TITLE: Everything you need to know about the Galaxy S8's cameras
CONCLUSION: We obviously haven't used the camera in any sort of extended period where we can evaluate its quality, but this will, of course, be the biggest question: How much has Samsung improved its software to make a step up over last year's quality?
COMMON MAN!!! LURE US INTO THIS "ARTICLE" TO SAY NOTHING!!!

du·al /ˈd(y)o͞oəl/ - consisting of two parts, elements, or aspects.

Thanks for being unhelpful.

dual pixel autofocus is an upgraded version of phase detection autofocus. most phone camera sensors only use about 5 to 10% of the available pixels to focus, whereas dual pixel autofocus uses all of the available pixels to focus, making it faster and more accurate

I'm wondering what the score is going to like at DXO MARK.
Android Central Newsletter
Get the best of Android Central in in your inbox, every day!
Thank you for signing up to Android Central. You will receive a verification email shortly.
There was a problem. Please refresh the page and try again.