Top 5 rugged cases for Samsung Galaxy S6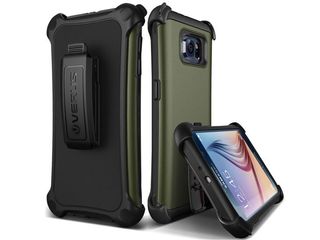 Whether you have a plan for protecting your Samsung Galaxy S6 or not, it's always a good idea to weigh your options before pulling out your wallet. There are a number of OtterBox-style cases for the Galaxy S6 already available, but which ones are truly worth the investment?
We've selected a handful of rugged cases for the Galaxy S6 that have proven themselves with previous devices in withstanding against the rigors of an outdoor lifestyle and a strenuous work environment. Jump past the break to get the complete rundown and let us know some of your personal favorites.
READ MORE: Top 5 OtterBox-style cases for Samsung Galaxy S6
Ballistic Tough Jacket MAXX Case for Galaxy S6
Comparable to the OtterBox Defender, the Ballistic Tough Jacket MAXX Case for Galaxy S6 rocks multiple layers of protection including reinforced "Ballistic corners" that shield the main impact points of your device. There's even a built-in screen protector that's easily replaceable if it gets too scuffed up over time.
This Galaxy S6 Ballistic MAXX Case has been impact-tested up to 7ft and includes a heavy duty holster to clip the monster into. Having used Ballistic cases in the past, this rugged Galaxy S6 case is definitely worth considering for ultimate protection.
Check out the Ballistic Tough Jacket MAXX Case
Verus Crucial Bumper Case for Galaxy S6
A tad on the slimmer side, the Verus Crucial Case for Galaxy S6 features a tough polycarbonate frame around the edges while a rugged cover encompasses the rest of the device. Similar to the OtterBox Commuter, this rugged cover doesn't take the extra step in bulk, leaving out the holster and built-in screen protector.
The air spaced corners that the Crucial case has allows a significant buffer between your Galaxy S6 and the point of impact. It's a great case for those in the rugged-cover market that don't want their device to become overly bulky.
Check out the Verus Crucial Bumper Case
Urban Armor Gear Composite Case for Galaxy S6
This one's all about the looks as much as it is about the level of protection it provides. The UAG Composite Case for Galaxy S6 sports a unique and rugged construction that doubles up on layers but keeps it together real nice-like. The shock absorbing bumpers on each edge gives you extra security and the rigid polycarbonate framing together make it a Bear Grylls dream case.
You'll find a hexagonal pattern on the inside and around the edges of the Composite Case, which are designed to enhance your grip for greasy, sweaty hands. And, you get a custom screen protector included inside!
Check out the Urban Armor Gear Composite Case
Trident Kraken A.M.S. Case for Galaxy S6
There's a lot to love about the Kraken A.M.S. Case for Galaxy S6. Not only does it provide the multiple layers of protection you need to stand up against jaw-dropping impacts, but it's also one of the most eco-friendly cases you'll ever encounter.
Made from hardened bio-enhanced plastic that's recyclable, degradable and compostable, the Kraken A.M.S. Case is even resistant against drops of up to 4ft, vibrations, rain, dust and sand. And, for you kickstand lovers out there, you won't be disappointed. The ports are covered with silicone plugs that keep out debris when not in use and yes — you get a holster with this beast as well.
Check out the Trident Kraken A.M.S. Case
Verus Thor Active Case for Samsung Galaxy S6
This is our second time visiting the Verus Thor Active for Galaxy S6, simply because it's an amazingly built cover and for the price, it's a no-brainer. You get solid protection with each layer and a durable holster to back it all up.
The rubberized coated surface with anti-slip edges makes the Thor Active comfortable in the hand, enhancing grip from front to back. The holster clip can even be folded into a kickstand when you want to watch a movie on the go. A true contender with the OtterBox Defender.
Get the Android Central Newsletter
Instant access to breaking news, the hottest reviews, great deals and helpful tips.