Top 5 rugged cases for Samsung Galaxy S6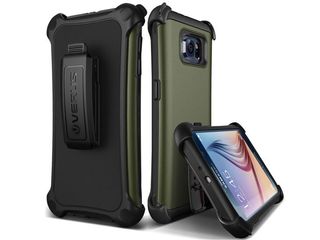 Whether you have a plan for protecting your Samsung Galaxy S6 or not, it's always a good idea to weigh your options before pulling out your wallet. There are a number of OtterBox-style cases for the Galaxy S6 already available, but which ones are truly worth the investment?
We've selected a handful of rugged cases for the Galaxy S6 that have proven themselves with previous devices in withstanding against the rigors of an outdoor lifestyle and a strenuous work environment. Jump past the break to get the complete rundown and let us know some of your personal favorites.
READ MORE: Top 5 OtterBox-style cases for Samsung Galaxy S6
Ballistic Tough Jacket MAXX Case for Galaxy S6
Comparable to the OtterBox Defender, the Ballistic Tough Jacket MAXX Case (opens in new tab) for Galaxy S6 rocks multiple layers of protection including reinforced "Ballistic corners" that shield the main impact points of your device. There's even a built-in screen protector that's easily replaceable if it gets too scuffed up over time.
This Galaxy S6 Ballistic MAXX Case has been impact-tested up to 7ft and includes a heavy duty holster to clip the monster into. Having used Ballistic cases in the past, this rugged Galaxy S6 case is definitely worth considering for ultimate protection.
Check out the Ballistic Tough Jacket MAXX Case (opens in new tab)
Verus Crucial Bumper Case for Galaxy S6
A tad on the slimmer side, the Verus Crucial Case for Galaxy S6 (opens in new tab) features a tough polycarbonate frame around the edges while a rugged cover encompasses the rest of the device. Similar to the OtterBox Commuter, this rugged cover doesn't take the extra step in bulk, leaving out the holster and built-in screen protector.
The air spaced corners that the Crucial case has allows a significant buffer between your Galaxy S6 and the point of impact. It's a great case for those in the rugged-cover market that don't want their device to become overly bulky.
Check out the Verus Crucial Bumper Case (opens in new tab)
Urban Armor Gear Composite Case for Galaxy S6
This one's all about the looks as much as it is about the level of protection it provides. The UAG Composite Case for Galaxy S6 (opens in new tab) sports a unique and rugged construction that doubles up on layers but keeps it together real nice-like. The shock absorbing bumpers on each edge gives you extra security and the rigid polycarbonate framing together make it a Bear Grylls dream case.
You'll find a hexagonal pattern on the inside and around the edges of the Composite Case, which are designed to enhance your grip for greasy, sweaty hands. And, you get a custom screen protector included inside!
Check out the Urban Armor Gear Composite Case (opens in new tab)
Trident Kraken A.M.S. Case for Galaxy S6
There's a lot to love about the Kraken A.M.S. Case for Galaxy S6 (opens in new tab). Not only does it provide the multiple layers of protection you need to stand up against jaw-dropping impacts, but it's also one of the most eco-friendly cases you'll ever encounter.
Made from hardened bio-enhanced plastic that's recyclable, degradable and compostable, the Kraken A.M.S. Case is even resistant against drops of up to 4ft, vibrations, rain, dust and sand. And, for you kickstand lovers out there, you won't be disappointed. The ports are covered with silicone plugs that keep out debris when not in use and yes — you get a holster with this beast as well.
Check out the Trident Kraken A.M.S. Case (opens in new tab)
Verus Thor Active Case for Samsung Galaxy S6
This is our second time visiting the Verus Thor Active for Galaxy S6 (opens in new tab), simply because it's an amazingly built cover and for the price, it's a no-brainer. You get solid protection with each layer and a durable holster to back it all up.
The rubberized coated surface with anti-slip edges makes the Thor Active comfortable in the hand, enhancing grip from front to back. The holster clip can even be folded into a kickstand when you want to watch a movie on the go. A true contender with the OtterBox Defender.
Check out the Verus Thor Active Case (opens in new tab)
While I always appreciate these types of reviews, it would certainly be a major help if you could tell us if any of these cases will allow for wireless charging. That would likely be a major point for those of us considering an S6. Thanks.

I can't speak for the S6 but a family member of mine that owns the Droid Turbo can still wirelessly charge her phone on one of the TYLT chargers with the Otterbox case still on.

Absolutely! Until we have hands-on time with some of these, it's difficult to say (for sure) which ones may be too thick to kick-on wireless charging. These posts are more designed to give you an idea of what's currently available for heavy duty protection. We'll definitely be taking closer looks very soon, though - with wireless charging compatibility at the top of the list :)

Thanks, Brent! As it apples to any phone with wireless charging or NFC capabilities, the case's ability to take advantage of those technologies may be a deal-breaker for many of us...me included.

Watch the "smash test" of the gs6. I was shocked via the beastly note 4

Spigen slim armor for me! Posted via the Android Central App

I'm so I glad I don't work in an environment that would require me to put one of those monstrosities on such a beautiful phone. It's almost like driving around with a hideous car cover on your new Lamborghini. But some people work in some crazy destructive places so I'm sure these will keep the phone safe. But hopefully they let the phone walk around the house naked on weekends!! Posted via the Android Central App

I work around heavy machines, trucks, and thousands of tons of wet, stinking, putrid smelling garbage... I've done more damage to my phones by dropping them while answering a call, or leaving it on the roof of my car, than around all that equipment at work. My kids have destroyed phones just by dropping them. These cases are meant for life occurrences, I believe. Besides, if a truck or a backhoe ever ran over my phone, a titanium case wouldn't even help.. Its gonna be smattered and destroyed. Posted via the Android Central App

Haha true it's a good looking phone that's why I have a clear case for mine Posted via the Android Central App

I believe these cases were designed with sole intention of making the phone look horrible. GREAT JOB!

Just waiting for "shatter-gate". Google+ All Day Everyday

Any thoughts on the Spigen Neo Hybrid series case? I think it looks great and was planning on buying it. Never had a Spigen though.
http://www.amazon.com/Galaxy-Spigen-METALLIZED-BUTTONS-Samsung/dp/B00QU4...

LOVE the Neo Hybrid. The ones we have here at the store for the S5 and Note 4 are excellent quality and super thin. I have no doubt the S6 model is any different. Definitely not rugged like some of these, but Spigen cases are generally choice. You'll be happy!

When seeing cases online, I'm always concerned that the thickness of the more rugged cases make them incompatible with Samsung's docking station. Since it's not normally discussed, I tend to (physically) look at the cases in a store before making a purchase. Posted via Android Central App

Yeah that's a tough one. In most cases, these bulkier options aren't going to be very docking friendly. But if your local carrier shop has a decent case selection, that's a great place to start for getting a better visual.

the headline should've read "Top 5 of the ugliest phones you'll ever see ... ever" Posted via the Android Central App

Hum not sure what you don't like about the Verus case I have one on my note 4 edge love it and I ordered a clear one foe my gs6 in gold Posted via the Android Central App

How about a Top 5 OtterBox-style cases for Samsung Galaxy S6 Edge article
Android Central Newsletter
Get the best of Android Central in in your inbox, every day!
Thank you for signing up to Android Central. You will receive a verification email shortly.
There was a problem. Please refresh the page and try again.