Best Battery Cases for Samsung Galaxy S6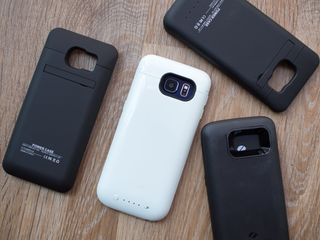 Updated April, 2017: Added Alpatronix's BX410. The other battery cases are still the best around for your Galaxy S6.
The Galaxy S8 is upon us, but if you're not ready to let go of your Galaxy S6, you may want to look for ways to extend battery life. Hell, you may have been looking for that from the start. If you're not ready to upgrade, check out one of these stellar external battery cases to help keep you charged up on the go.
Mophie Juice Pack (3,300 mAh)
Mophie is sort of the gold standard when it comes to battery cases, and while that started with iPhone battery cases, it has smoothly transitioned to models for popular Android phones as well. There are two distinct Juice Pack models to fit the Galaxy S6 or S6 edge (and different color choices), but in either configuration they offer full device protection with a single case that also integrates a battery.
The Juice Pack is dramatically better made than any of the offerings here, as you'd expect for the increased price. It has a hard plastic shell that's rigid and tough, and on the inside has a soft touch coating to hold the phone tightly.
The Galaxy S6 fits in it with amazing precision, with just a very small lip over the front of the phone. It's just as large as any other battery case, and while the hard plastic coating is slicker it does have some grip to it. There's a standard "chin" at the bottom where the USB port joins up with the phone, and because of its thickness there's a headphone extension jack to use if you don't have headphones with a small jack on them.
The 3,300 mAh capacity lands between the other cases in this roundup, and Mophie gives it the claim of "up to 100 percent" additional battery for your GS6. Just like your phone's internal battery, it's rated for 500 full recharges, and you choose when to have it powering your phone with a convenient hardware switch on the back.
We tested the Juice Pack's capacity just the same as the others and found it added 90% battery to the phone in just under three hours, even while the phone was in use on mobile data. That's not bad — it charged more and faster than the other cases, despite having a smaller overall capacity. That just shows what you can get from the higher quality components in the Juice Pack.
It's pretty clear that if money is no object, the Mophie is the best choice, simply due to its fantastic build quality, slick design and highly-rated battery. Of course price is a factor for most picking up a battery case, and $99.95 is a steep asking price for something you may not want to use all of the time.
PowerBear Extended rechargeable battery juice pack (3,500 mAh)
PowerBear's 3,500 mAh juice pack is a one-piece case that allows you to charge it and your Galaxy S6 simultaneously, all in a sleek and slim package that won't add a ton of weight to your pocket, which is really what you want out of a battery case, since they're supposed to be "power on the go".
PowerBear claims that you get an extra 130% charge out of this case, but it's more like the ZeroLemon case in this roundup – you're more likely to get about 50%, taking anywhere from three to four hours to charge.
This case has a handy on/off switch, so that you're not wasting power when you don't need to, which makes it a great everyday case or an excellent emergency case.
The PowerBear's design is pretty typical, but it's still fairly thin for a battery case and it fits quite seamlessly, so if you like your Galaxy S6 to be in a case but not feel that way, then the PowerBear is likely the best choice for you.
If you regularly kill your phone before day's end and want a battery case that will last you a while, then check this one out, since PowerBear offers a 2-year warranty, which should get you through the lifespan of your Galaxy S6 until you upgrade.
ZeroLemon Slim Power battery case (3,500 mAh)
The ZeroLemon Slim Power Battery isn't quite the same setup as the others, as its battery and case are actually separate. The 3,500 mAh battery is a self-contained slab that has two USB ports on it — one for input, the other output — and a removable U-shaped USB connector so that it nestles up against the back of a Galaxy S6. The case is just a basic rubber affair, but it's designed so that the battery and phone can be held together inside comfortably while charging.
The battery is fully operational with other cables and can be used without the case, though the implication is that you'll be using the whole thing together most of the time. The case itself wraps the whole phone for a bit more protection than others, but the design means that the ZeroLemon setup is larger than others and offers a lower capacity. It also ships with a headphone jack extension cable due to its size, which is burdensome to say the least.
It has similar charge rates to the others, and when combined with the simple 3,500 mAh cell it was only able to charge up the Galaxy S6 by 50% — and that took about 3 hours and 45 minutes to do it. That's not very fast, and for a battery case that's bigger (and more expensive) than some of the others we expected to get a little more out of it.
The one benefit ZeroLemon has going for it is an explicit 180-day warranty — how much value you actually put in that is up to you.
Alpatronix BX410 (3,500 mAh)
Alpatronix's case is relatively similar to the other options here, but it's still one of the best battery cases you can get for your Galaxy S6. Alpatronix doesn't make any bold claims of charging your phone "130%", but instead says that you'll be able to charge your phone up to 100%, which is fairly accurate, considering its 3,500 mAh battery. Your results may vary, depending on your usage.
As far as battery cases go, this one is pretty slim, adding minimal bulk and weight to your Galaxy S6. The camera cutout on the back is ample so as not to obstruct the lens, and you'll also find LED indicators on the back to let you know when the case itself if charged or losing power.
Alpatronix provides a lifetime warranty, so if there are any defects during the life of this case, you can let Alpatronix know and it'll be replaced.
How do you stay juiced?
Got a favorite battery case that's still keeping your Galaxy S6 going? Let us know in the comments below.
Get the Android Central Newsletter
Instant access to breaking news, the hottest reviews, great deals and helpful tips.
Andrew was an Executive Editor, U.S. at Android Central between 2012 and 2020.