Best Battery Cases for Samsung Galaxy S6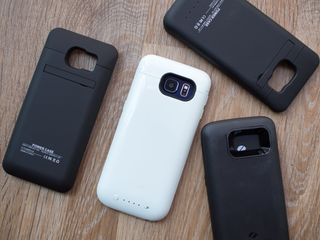 Updated April, 2017: Added Alpatronix's BX410. The other battery cases are still the best around for your Galaxy S6.
The Galaxy S8 is upon us, but if you're not ready to let go of your Galaxy S6, you may want to look for ways to extend battery life. Hell, you may have been looking for that from the start. If you're not ready to upgrade, check out one of these stellar external battery cases to help keep you charged up on the go.
Mophie Juice Pack (3,300 mAh)
Mophie is sort of the gold standard when it comes to battery cases, and while that started with iPhone battery cases, it has smoothly transitioned to models for popular Android phones as well. There are two distinct Juice Pack models to fit the Galaxy S6 or S6 edge (and different color choices), but in either configuration they offer full device protection with a single case that also integrates a battery.
The Juice Pack is dramatically better made than any of the offerings here, as you'd expect for the increased price. It has a hard plastic shell that's rigid and tough, and on the inside has a soft touch coating to hold the phone tightly.
The Galaxy S6 fits in it with amazing precision, with just a very small lip over the front of the phone. It's just as large as any other battery case, and while the hard plastic coating is slicker it does have some grip to it. There's a standard "chin" at the bottom where the USB port joins up with the phone, and because of its thickness there's a headphone extension jack to use if you don't have headphones with a small jack on them.
The 3,300 mAh capacity lands between the other cases in this roundup, and Mophie gives it the claim of "up to 100 percent" additional battery for your GS6. Just like your phone's internal battery, it's rated for 500 full recharges, and you choose when to have it powering your phone with a convenient hardware switch on the back.
We tested the Juice Pack's capacity just the same as the others and found it added 90% battery to the phone in just under three hours, even while the phone was in use on mobile data. That's not bad — it charged more and faster than the other cases, despite having a smaller overall capacity. That just shows what you can get from the higher quality components in the Juice Pack.
It's pretty clear that if money is no object, the Mophie is the best choice, simply due to its fantastic build quality, slick design and highly-rated battery. Of course price is a factor for most picking up a battery case, and $99.95 is a steep asking price for something you may not want to use all of the time.
See at Amazon (opens in new tab)
PowerBear Extended rechargeable battery juice pack (3,500 mAh)
PowerBear's 3,500 mAh juice pack is a one-piece case that allows you to charge it and your Galaxy S6 simultaneously, all in a sleek and slim package that won't add a ton of weight to your pocket, which is really what you want out of a battery case, since they're supposed to be "power on the go".
PowerBear claims that you get an extra 130% charge out of this case, but it's more like the ZeroLemon case in this roundup – you're more likely to get about 50%, taking anywhere from three to four hours to charge.
This case has a handy on/off switch, so that you're not wasting power when you don't need to, which makes it a great everyday case or an excellent emergency case.
The PowerBear's design is pretty typical, but it's still fairly thin for a battery case and it fits quite seamlessly, so if you like your Galaxy S6 to be in a case but not feel that way, then the PowerBear is likely the best choice for you.
If you regularly kill your phone before day's end and want a battery case that will last you a while, then check this one out, since PowerBear offers a 2-year warranty, which should get you through the lifespan of your Galaxy S6 until you upgrade.
See at Amazon (opens in new tab)
ZeroLemon Slim Power battery case (3,500 mAh)
The ZeroLemon Slim Power Battery isn't quite the same setup as the others, as its battery and case are actually separate. The 3,500 mAh battery is a self-contained slab that has two USB ports on it — one for input, the other output — and a removable U-shaped USB connector so that it nestles up against the back of a Galaxy S6. The case is just a basic rubber affair, but it's designed so that the battery and phone can be held together inside comfortably while charging.
The battery is fully operational with other cables and can be used without the case, though the implication is that you'll be using the whole thing together most of the time. The case itself wraps the whole phone for a bit more protection than others, but the design means that the ZeroLemon setup is larger than others and offers a lower capacity. It also ships with a headphone jack extension cable due to its size, which is burdensome to say the least.
It has similar charge rates to the others, and when combined with the simple 3,500 mAh cell it was only able to charge up the Galaxy S6 by 50% — and that took about 3 hours and 45 minutes to do it. That's not very fast, and for a battery case that's bigger (and more expensive) than some of the others we expected to get a little more out of it.
The one benefit ZeroLemon has going for it is an explicit 180-day warranty — how much value you actually put in that is up to you.
See at Amazon (opens in new tab)
Alpatronix BX410 (3,500 mAh)
Alpatronix's case is relatively similar to the other options here, but it's still one of the best battery cases you can get for your Galaxy S6. Alpatronix doesn't make any bold claims of charging your phone "130%", but instead says that you'll be able to charge your phone up to 100%, which is fairly accurate, considering its 3,500 mAh battery. Your results may vary, depending on your usage.
As far as battery cases go, this one is pretty slim, adding minimal bulk and weight to your Galaxy S6. The camera cutout on the back is ample so as not to obstruct the lens, and you'll also find LED indicators on the back to let you know when the case itself if charged or losing power.
Alpatronix provides a lifetime warranty, so if there are any defects during the life of this case, you can let Alpatronix know and it'll be replaced.
See at Amazon (opens in new tab)
How do you stay juiced?
Got a favorite battery case that's still keeping your Galaxy S6 going? Let us know in the comments below.
Android Central Newsletter
Get instant access to breaking news, the hottest reviews, great deals and helpful tips
Andrew was an Executive Editor, U.S. at Android Central between 2012 and 2020.
I wish you would've recommended an external charger that you hinted to at the end of the article. I think I'd prefer that option, but not sure what's a good model to go with. Also, if any provide quick charging. Posted via the Android Central App

I agree. I'd really like to know about any car chargers specifically which are compatible with the quick charging feature. Though I have S5 Active and none of these battery issues concern me much :-) #SlightTrolling

As I linked to in the article, we've talked about Quick Charge chargers for all sorts of situations — including car chargers — right here: http://www.androidcentral.com/quick-charge

http://bfy.tw/e0r Google is your friend. Posted via the Android Central App

BEAUTIFUL... !!! Still using the Sprint GSIII on FreedomPop Unlimited for $19.99

Well this is still a post about battery cases, and there's hardly a "best" or one-size-fits-all battery charger out there. We cover a ton of these, and it's tough to recommend just one. We've rounded up a few before but still it's tough to recommend just one in this context. Also, here's a quick charging external battery we've covered before: http://www.androidcentral.com/hands-aukey-10000mah-external-battery-quick-charger

http://www.amazon.com/gp/product/B00UBDI7EC?psc=1&redirect=true&ref_=oh_... $30 for a QC 2.0 External battery; works like a charm on my GS6.

I have the S6 Edge and while I would love to get a battery case I despise how large they make your phone. I recently purchased the external battery pack below. Really enjoy it so far, it's not a quick charger but charges at 2.1A which still charges pretty quick. Best part is if I know I won't be around a charger all day, I'll just bring the blue 4,500 mah part of the charger with me and it's thin enough where it doesn't add much bulk to my pocket. Icicing on the cake is that you can easily make it a 9,000 mah charger for those days I'll need to bring it to charge one of my tablets. Little pricey but it's almost like getting 2 chargers in 1. http://www.amazon.com/gp/product/B00I67TZ3C?psc=1&redirect=true&ref_=oh_...

Buying a very slim phone with a non removable (small) battery and then spending $100 on a bulky battery case is clearly a great choice in life. Posted via my Note 4...(AC App)

Most sensible post on this thread :-) Posted via the Android Central App

I don't have this problem with my removable batteries.
Just pop on my Zerolemon 7000 mAh extended battery on my GSIII or my 10,000 mAh extended battery on my Galaxy Note 4. And the logical conclusion is,,, Removable for the World. And yes both of these cases are thick. Still using the Sprint GSIII on FreedomPop Unlimited for $19.99

Agreed. Either put a humongous non removable battery, or make it removable so I can carry spare batteries. My phone is a business partner, not a trophy wife. Form must follow function. Posted via the Android Central App

See this is where i disagree. My S6 last me all day, form and function are perfect in my eyes. Your a different user, so the S6 is not for you. To say that it has flaw in function, or a lack of function, is just something perceived by you.

You probably have your device completely disabled as well LoL Posted via Morse Code

Something I've noticed about the AC crowd is that any time there's even a whisper of criticism or a short coming of any device, ridiculious exaggerations are sure to follow. Im not saying that your comment is, just generally. Like the S6' battery life for instance. I guess that's just something gadget nerds do

LOL, I keep reading these posts that essentially say something like: "Hey, I turn everything on my phone off and put it in airplane mode and my battery life is great! "

Nothing disabled here. Avg approx 4hr 30min screen on time, and over 18hrs Avg battery life. We're all different users, and that is what's great about android. There's a device for everyone.

It lets you have the best of both worlds. If you know there will be certain periods where you'll be out for 12 hours or more and will need to use the phone a lot, you're covered. If you're at work and you know it will just sit in your pocket all day, you can be more comfortable with a slimmer phone. I also use the phone for field work with GPS & maps, our company discount is not with AT&T so the active is not an option.

If Samsung made a thicker phone with a better battery I would buy that. But nobody is making that at the moment. A Samsung Galaxy 6+ or something would be nice. I see no reason why they can't give a batter 25% more power without changing the size much.

This makes me glad I have the S6 active. Posted via the Android Central App on the Galaxy S6 Active

Not seeing the Mophie for the Edge on Amazon but I do on Mophie's site (http://www.mophie.com/shop/samsung-devices/juice-pack-galaxy-s6-edge). I don't think either choice (black/gold) looks good with my blue edge.

Oh interesting. I linked to both in the article on Amazon because previously there were separate listings for the GS6 and edge. Oh, it's still there. "Temporarily out of stock" as of today: http://www.amazon.com/mophie-juice-Samsung-Galaxy-300mAh/dp/B00WSPKTBU

I have a QC 2 external battery pack and that's the best solution for me. It was $20 on Amazon and works just as well as Sammy's QC 2.0 wall wart.

Got mine on the way will report back on the extra juice I for one can't wait Posted via the Android Central App

Would be cool if one of these battery cases could add an SD card slot. Posted via the Android Central App

LOL .. Buy "premium" glass phone.. Install huge plastic case and a 5 pound battery that makes it look straight out of 1998... Genius!!

Yeah, it's not like you can REMOVE the case if there are times when you don't need it.

OR you buy one of these for days when it may be necessary and use a small case or no case at all on the days you don't need it. I have the Zerolemon. I barely ever need to use it because I get around 4-5 hours screen time on my S6, but it's there just in case I do.

Some of us choose to protect our $800 investment. To each his own if you want to drop your $800 phone and watch it shattered more power to you . As for as the battery pack they come in handy on those days when you'll need that extra juice don'thave to use it every time that's the beauty of it Posted via the Android Central App

It does affect signal strength, ya know? Posted via the Android Central App

I have the ZeroLemon and it came in handy when we had a power outage last week. I paid $20 for the 2800 mah version but now they have the 3500 version for $30 on Amazon.

I was in that exact situation last week, 2800 mah ZeroLemon and all.

Been using the cheapie at the top for a week and haven't actually charged my phone with a cable since. I plug the case in at night when I'm falling asleep (I don't allow it to charge both phone/case at the same time as it gets quite warm and I don't trust this cheap thing) and it got me through a while week no problem. I try to keep the battery percentage between 50-80% as that's the sweet spot for lithium batteries so when I hit 50% I turn it on. When it hits 80%, I turn it off. I usually can do this 4 times before its on its last flashing light

With the quality of batteries in these modern phones, you really don't need to worry about keeping your phone in a "sweet spot" in terms of battery percentage. The batteries are made to be charged and discharged in any way you want, at any rate you want -- lots of smart tech in there.

I recommend Mophie cases to people regularly. I had one on my iPhone 5S, Galaxy S5, and currently I have one on my iPhone 6. They take a beating, they charge very effectively, and they're pretty much the only case I've used that doesn't make the phone feel cheap. Very quality stuff.

I'll second this. I have the Mophie, also and it works fine so far. Lasts all day even under pretty heavy use. Fits well, and has a nice soft, rubbery feel and is easy to grip. I only use it when I know I'll be out for an extended period of time. I also like the LED lights on the back that show the charge level. The main drawback is that you need to remember the adapter to get your headphones plugged in through the case.

The My160 Power Case definitely needs to be reviewed. It's currently new but brings in a 4200mAh battery, high quality brand and unique colors. A My160 case charges the s6 battery another 160%, when I used my My160, I didn't charge for 3 days straight.

The Mophie is a great case, the only problem I have is remembering the adapter jack that you need to get your ear buds plugged in through the case. I use it when I'm going to be in the field all day or at a convention where I'm up from 6 AM to midnight and I know I'll be taking lots of notes, photos, GPS readings, etc..

Has any case maker thought of making an S6 case with front firing speaker grills only (like mophie & incipio but without the battery), just a thought.

Has anyone used the Trianium Atomic S, or the Alpatronix BX410? They are both around $40 and have decent reviews on Amazon.
Android Central Newsletter
Get instant access to breaking news, the hottest reviews, great deals and helpful tips
Thank you for signing up to Android Central. You will receive a verification email shortly.
There was a problem. Please refresh the page and try again.