Samsung Galaxy S4 software improvements headed to the Galaxy S3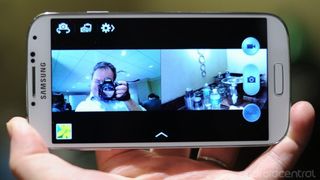 Samsung showed off a whole bunch of new software improvements launching with the Galaxy S4, but apparently they won't remain exclusive to Samsung's latest.
PC Mag managed to catch a word with Nick DiCarlo, Samsung's VP of Portfolio Planning, right after the Unpacked event in New York City. While discussing the new software features on the Galaxy S4, the topic of what might see its way onto the Galaxy S3 cropped up:
This could also include the Galaxy Note 2, though that wasn't specifically mentioned. That opens the door to a whole bunch of the new features such as dual-camera, S-Translator, S Health, and perhaps even the Smart Pause and Scroll features. We've seen a real push on the software front in recent months from Samsung, highlighted by launching the Galaxy S4 on Android 4.2.2 -- the latest and greatest.
It's by no means a concrete confirmation, nor do we have any idea when such updates may appear. But, the Galaxy S3 was a worldwide smash for Samsung, it's not unreasonable to think they'll support it as long as they can.
Source: PC Mag
Crossing my fingers for new stuff on my Note 2. I love new stuff!

Considering the S3 hasn't got the premium suite update here in the U.S.. I'm kind leary about any of these additional features making it's way to the S3. Hopefully I'm wrong.

I have to agree with this... Come on carriers, get with it, prove us wrong..

Agree a million percent. I'm pissed off at the delays in getting software to us that has been released globally for over 6 months.

This will give more reason for people to keep the s3. Kinda like apple still updating their older device with new software features except for the stuff that requires the new hardware. That's definitely a good thin for gs3 owners who aare not in the position to upgrade. Having said that I pretty much rid my device of samsung stuff anyway. Wouldn't see any difference here except for the features that have nothing to do with applications or services.

That may be true but that never stopped the heards of people lining up for their new apple. Plus this gives Samsung the ability to offer premium phones a varied prices. Not every country offer phones on contracts, some persons have to buy them at full cost and then some hanks to taxes. Some won't even want to wait to see how long before these features hit a S3 or other devices. Samsung is creating a market of choice, nothing wrong with that.

Cool! I look forward to the update on my GS3 next year! I wouldn't feel so bad if I actually thought I'd see it soon, but we all know we won't.

The fact that an update has been released for the international version, but not the us versions, is a pretty clear indicator that the fault lies squarely with the carriers. I know the S3 and original Note got the multi Window feature pretty quickly after the Note 2 was released. Don't know if that's only been the international versions, but I thought at least some of the US versions has been updated also.

While the US carriers are known for being a stickler for preventing our versions of the devices from getting the "bleeding edge" updates, my original Note did finally see ICS a few months before I actually traded it for the Note 2... My wife and I just got Sammy's two flagships of 2012 based on the fact that they -should- be practically guaranteed future updates to remain on par with their GS4 offspring. She got the S3 and I the Note 2, and BOTH of our phones are on AT&T which has been pretty decent with updates to both devices (as she has JB 4.1.1 Legit, and I have 4.1.2 legit on mine). So, even knowing I have had Galaxy devices since the original US variants, and knowing how unfortunately slow (or unlikely) updates can be, I still think that there has been end-over-end improvement over time. I feel somewhat optimistic, and that, at the least, our phones will still remain relevant for the foreseeable future.

I hope that Samsung keeps updating their Galaxy line to keep up with the S4. I have a Note 2 on Verizon (I know updates with be slow) and a Note 10.1 that has been fairly good about updates.

Once the next version of the phone hits on Verizon, most updates are done. Vzw does not want you to keep your old phone, they want you to get a shiny new one with a family scam and sign for another 2 years.

The reason why i am exited about s4 is because it is coming with groundbreaking eye motion technology which will control key functions at a distance. Also one can see more features here http://www.squidoo.com/samsung-galaxy-s4-mobile Also Samsung Galaxy S4 is available here http://www.amazon.com/gp/product/B00BK1X21M?ie=UTF8&camp=1789&creativeAS...

It is a great news I own a galaxy s3 currently and I was planning to get Nokia 928 (ref. http://priceindiareview.in/nokia-lumia-928/ ) but now I will keep my s3 with s4 features

Will the galaxy s3 ever get the chance to be able to save to the sd card
Android Central Newsletter
Get the best of Android Central in in your inbox, every day!
Thank you for signing up to Android Central. You will receive a verification email shortly.
There was a problem. Please refresh the page and try again.