Samsung Galaxy S20 vs. Galaxy S10: Should you upgrade?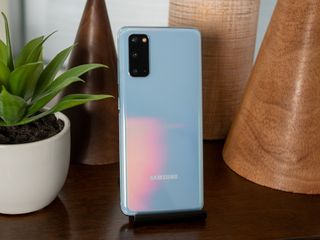 (Image credit: Android Central)
Galaxy S20
Compared to the Galaxy S10, the S20 is better in just about every way. Samsung's AMOLED display technology is as good as ever, and this year you get a 120Hz refresh rate. Samsung's also upgraded the camera system, performance is faster across the board, and there's a big bump in battery capacity. The headphone jack may be gone, but you also get support for growing 5G networks.
Galaxy S20
Buttery smooth 120Hz display
Newer processor and more RAM
Improved cameras
Larger battery
Connects to sub-6 5G networks
In-screen fingerprint sensor is exactly the same
Expensive
No headphone jack
Galaxy S10
Specs-wise, the Galaxy S10 is inferior to the S20. However, for being only a year old, it's impressive just how well the S10 is able to hold its own in 2020. The AMOLED display might only have a 60Hz refresh rate, but the gorgeous colors and super deep blacks continue to look incredible. Performance is also still fast for the majority of users, you can take some great shots with the three cameras, and you don't have to forgo the beloved headphone jack.
Galaxy S10
Still plenty fast for most people
Better storage options
AMOLED display is gorgeous
Triple rear camera system holds its own
Has a 3.5mm headphone jack
Only 60Hz refresh rate
Slower charging speed
The Galaxy S10 continues to be a great smartphone, and if you're happy with it, don't feel like you absolutely must upgrade this very second. That said, if you like living on the bleeding edge, there are meaningful upgrades offered by the Galaxy S20. The 120Hz display is the first of its kind for a Samsung phone, we appreciate the camera upgrades, and there's no arguing with faster performance and a larger battery. If you have the upgrade itch, Samsung's done an excellent job to make sure you get your money's worth.
The Galaxy S20 has a lot of meaningful improvements
A lot of people would like to argue that we've hit a plateau with smartphone advancements, and as such, you might not think the Galaxy S20 is that big of an upgrade over the already-great Galaxy S10. The S10 is still a perfectly fine piece of tech, but if you're itching for an upgrade and have the money to afford it, we actually think the Galaxy S20 may be worth it.
One of the biggest reasons the S20 is worth upgrading to is its display. Just like the S10, you're getting a fantastic AMOLED panel with a crisp Quad HD+ resolution. Where the S20 shows its dominance, however, is with its refresh rate. Where the S10's display refreshes at a traditional 60Hz, the S20 offers double the speed at 120Hz. This means everything on the S20 looks substantially faster and smoother, and even if you're not a specs geek, it's an improvement you'll instantly be able to recognize and appreciate.
Swipe to scroll horizontally
Header Cell - Column 0

Galaxy S20
Galaxy S10
Operating System
Android 10
One UI 2.0
Android 10
One UI 2.0
Display
6.2-inch
Dynamic AMOLED
Quad HD+
120Hz
HDR10+
6.1-inch
AMOLED
Quad HD+
60Hz
HDR10+
Processor
Qualcomm Snapdragon 865
Qualcomm Snapdragon 855
RAM
12GB
8GB
Storage
128GB
128GB
256GB
Expandable
Up to 1TB
Up to 512GB
Rear Camera 1
12MP wide
f/1.8
12MP wide
f/1.5 - f/2.4
Rear Camera 2
64MP telephoto
f/2.0
12MP telephoto
f/2.4
Rear Camera 3
12MP ultra-wide
f/2.2
16MP ultra-wide
f/2.2
Front Camera
10MP
f/2.2
10MP
f/1.9
Battery
4,000 mAh
3,400 mAh
Headphone Jack
❌
✔️
If you take a lot of pictures with your phone, the S20 offers noteworthy upgrades here, too. The primary camera is still a 12MP sensor, but the telephoto camera has been upgraded to 64MP and now provides a 3x Hybrid Optic Zoom and 30x Super Resolution Zoom for even better telephoto shots.
That's not all you get with the Galaxy S20. The Qualcomm Snapdragon 865 processor paired with 12GB of RAM results in faster performance, the 4,000 mAh battery is considerably larger, and you can connect to 5G networks based on sub-6 technology (if you want mmWave, you'll need to get the S20+ or S20 Ultra).
That $1,000 price tag is huge, but when you consider everything Samsung's added, we think a $100 price increase from the S10 is well-justified.
What the S10 still does well
The Galaxy S20 is a better phone than the S10, but that shouldn't surprise you. It's the S10's direct successor, and as such, is supposed to be more technically impressive. All of the upgrades you get with the S20 are worth talking about, but if you're happy with how the S10 is working for you, it isn't absolutely necessary you go out and replace it this very second.
In just about every regard, the S10 still does a lot right. Its display doesn't refresh at 120Hz, but the AMOLED panel and high screen resolution mean it looks great for watching movies, playing games, and more. The Snapdragon 855 processor is no longer the newest chipset on the market, but paired with 8GB of RAM, the S10 continues to handle every task with ease.
The S10 also matches the S20's storage offerings, is now running Android 10 with One UI 2.0, and has the exact same in-screen fingerprint sensor as the S20. Oh, and it has a 3.5mm headphone jack — something that's not on the S20.
It all comes down to you (and your budget)
Upgrading your phone after just one year isn't always the best idea, but in the case of the S10 and S20, we think it could make sense for a lot of people. Between the 120Hz display, upgraded cameras, bigger battery, faster performance, and support for 5G networks, the S20 delivers the goods.
That's not to say the S10 is a bad phone, though. In fact, if it's performing fine for you and you don't have the budget to spend $1,000 right now, you can hold onto it for a while longer and be just fine. For people that do have the budget and the itch to upgrade, though, we don't think you'll be disappointed with what the S20 brings to the table.
Exciting upgrades
An impressive year of improvement
Samsung didn't hold back with the Galaxy S20, and it shows. Even if you have the S10, this is a phone that's absolutely worth checking out. Its 120Hz display is a joy to look at, the larger battery is greatly appreciated, and having support for 5G networks will ensure it doesn't become outdated over the next couple of years.
Workhorse
Still plenty of life left in it
The Galaxy S20 does offer meaningful upgrades over the S10, but if your budget doesn't allow for throwing down $1,000 right now, don't fret too much. The Galaxy S10 is still a perfectly capable smartphone, and while it may not be as technically impressive as the S20, it's a fantastic phone in its own right.
Be an expert in 5 minutes
Get the latest news from Android Central, your trusted companion in the world of Android
Joe Maring was a Senior Editor for Android Central between 2017 and 2021. You can reach him on Twitter at @JoeMaring1.