The Samsung Galaxy S20 Ultra's 120Hz display is a big drain on the battery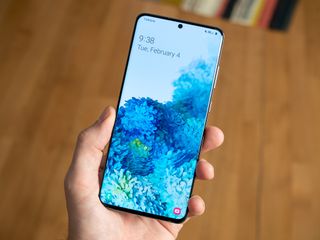 (Image credit: Andrew Martonik / Android Central)
What you need to know
In tests conducted by Tom's Guide, the Samsung Galaxy S20 Ultra lost nearly three hours in battery life by switching from 60Hz to 120Hz.
When running the test at 60Hz, the Galaxy S20 Ultra lasted nearly 12 hours, but when set to 120Hz it only survived for 9 hours and 13 minutes.
By default, the Galaxy S20 Ultra will be set to 60Hz out of the box, meaning battery life shouldn't be a concern unless you manually switch to 120Hz.
Last year was a big year for displays on smartphones. It was the first time we saw high refresh displays enter the mainstream, with OnePlus and Google both releasing phones with 90Hz panels. Unfortunately, the silky-smooth performance from those high refresh rates comes at the cost of battery life. In particular, the Pixel 4 and 4 XL drew criticism over poor battery life in reviews.
Enter Samsung with the Galaxy S20 featuring an even higher refresh rate of 120Hz, leaving many to wonder what effect that would have on the battery life. Fortunately, Samsung incorporated a 5,000mAh battery to help compensate, but just how much does that massive battery help?
Now we're finding out, since the guys at Tom's Guide recently published their results after running some battery tests on the Galaxy S20 Ultra. The test included continuous web surfing over the T-Mobile network with the brightness set to 150 nits. They ran the test two times at the base 60Hz and twice at 120Hz to confirm the results.
In their findings, the Galaxy S20 Ultra performed exceptionally well when running at the standard 60Hz lasting 11 hours and 58 minutes. To put that into perspective, the Galaxy S10 Plus lasted 12 hours and 35 minutes in the same test, and the Galaxy Note 10 Plus only survived 10 hours and 47 minutes. If you're wondering why the Galaxy S10 Plus lasted longer, it's most likely due to the Galaxy S20 Ultra having a larger display and the 5G chipset using more power than 4G.
However, as expected, things took a turn for the worst when Tom's Guide ran the test with the display set to 120Hz. By switching to 120Hz, the Galaxy S20 Ultra lost nearly three hours of battery life, dying after only 9 hours and 13 minutes. That's a significant before and after, meaning you'll have to decide whether battery life or that silky smooth screen is more important to you.
It's also worth noting that the Galaxy S20 Ultra will be set to 60Hz out of the box, so battery life shouldn't be a concern. Not unless you decide to go in and enable the 120Hz refresh rate manually.
High-end flagship
Ultra specs for an ultra price
The Galaxy S20 Ultra has the best of what Samsung has to offer, but it doesn't come cheap. Powered by a Snapdragon 865 and a whopping 16GB of RAM, this phone won't leave you wanting in the specs department. It also features a super-smooth 120Hz display along with the 100x Space Zoom for ultra up-close photos.
Android Central Newsletter
Get instant access to breaking news, the hottest reviews, great deals and helpful tips
Curious what the differences would have been on 4G instead. Not sure 5G is an accurate representation of what the majority of owners will have access to. Phone Arena also recorded different results on their test. They scored 12hrs 23min on 60hz and 10hrs 2min on 120hz. Not quite a 3 hr difference we're seeing here.

All on what I'm guessing isn't completely finished software.
I actually think this is all pretty exciting and pretty good numbers considering what it's doing and the hardware it's powering.
Heck a quick top off at any point during the day is going to make this kinda a non factor anyhow. Can't wait to receive mine.

Proof positive, not all that glitters is gold. Paying such high prices for these supposedly premium devices doesn't always get you your money's worth...

The latest isn't always the greatest.

A huge piece of information is missing from the story, I even went and read the original and it is missing there too. What was the screen resolution set it? We know at 120Hz it was on 1080 since it won't work on anything higher. What was it set on at 60Hz? Was it also 1080? They sell this phone as having all this top notch best in class specs but you can't use them together!

Imo the 120 Hz screen refresh rate factor has been unduly hyped. I leave my phones permanently on 1440p (WQHD) resolution but am aware of the widespread belief that it's not drastically different from 1080p. If they're so similar, why the demand then for 120 Hz at 1440p ?!

I leave my Note 10+ on FHD+ cause I notice ZERO difference between that and QHD (too small of a screen to see a difference imo). But with refresh rate, that is a noticeable difference. As for your question, no idea, betting just peeps that want the absolute highest refresh and resolution they can get regardless of whether or not they can actually tell the difference. I'm more interested in the double refresh rate of touch sensitivity myself.

Hopefully they push an update to provide a 90hz option instead, save a bit of juice and get a bit faster refresh rate. Also hoping 5g can be disabled in Dev settings, no need for it yet except to waste juice.

I would rather have a 90hz display at 1440p? On a smartphone isn't 120hz and 16gb's of ram overkill? I think so? Your paying 15oo.oo bucks for the ultra, 120hz display at 1080p, sounds crazy to me? That's a whole lotta moo-la?

The problem here is the huge high resolution panel and the 120hz screen.
And no dropping the resolution to 1080p wont help that much because its still illuminating the same amount of pixels. To get the best of all worlds you need a 120hz 1080p panel. This will keep battery life from being too big of a concern.
Asus ROG Phone 2 is a great example.

I hope there will be a quick toggle for the refresh rate. I'd like to quick switch when I start some games or a movie. I'd leave it at 60Hz most of the time.

Are we talking screen on time here? Because 9 hours is still really good. Honestly, as long as the phone lasts a full day, who cares. The 120hz refresh rate is just incredible looking. I wasn't sure it was going to be a big deal until I used it. It is so noticeable to my eyes. I honestly can't even see a difference between FHD and QHD. I always have used QHD on previous phones but to me, 120hz is so much more noticeable.
Android Central Newsletter
Get instant access to breaking news, the hottest reviews, great deals and helpful tips
Thank you for signing up to Android Central. You will receive a verification email shortly.
There was a problem. Please refresh the page and try again.