Samsung Galaxy S II goes through the ritual teardown process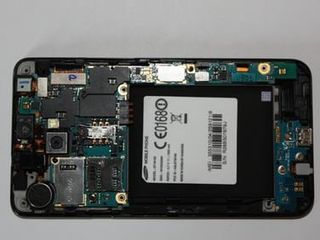 If it can be built, then it must be torn down to see how things work. Samsung started fresh with the Samsung Galaxy S II phone and many folks have been wondering what, exactly makes the device tick. Luckily for us, iFixit has done all the dirty work that we're too weak to do and as such, have taken the device apart -- right down to it's freshly pressed Samsung Exynos 4210 dual-core application processor. Although it's not a full repair guide as of yet, if you're looking to get a closer look at how the Samsung Galaxy S II is put together -- hit the source link below.
Source: iFixit
Lets put it back together with Verizon branding on it.

Let's not. The less samsung products, the better.

Spoke with a Verizon repair technician today and asked if there was a chance if this phone would be on Verizon? He said, " it certainly will be, just a matter of specs at the moment, 3g or 4g and it will have GB!" He also told me Bionic would be out in August, that he has already been practicing on how to make repairs!

The G S2 is one long ass phone. Has a lot of top/bottom bezel for a 4.3" phone. I like how many HTC phones have much less bezel. I guess I have a near-zero bezel fetish.

Samsung GSII - 125.3mm height @ 117 grams HtC Sensation - 126mm height @ 142 grams hTc Evo 4G - 121.92mm height @ 170 grams hTc Evo 3D - 127mm height 2 170 grams Just sayin'. ;)

Too bad the bluetooth with infiniti G37 and most nissan cars with bluetooth still sucks, just like its predecessor. Come people, bluetooth has been around far too long.
Android Central Newsletter
Get the best of Android Central in in your inbox, every day!
Thank you for signing up to Android Central. You will receive a verification email shortly.
There was a problem. Please refresh the page and try again.