Watch the Samsung Galaxy Note 9 launch event: Live at 11:00 a.m. ET!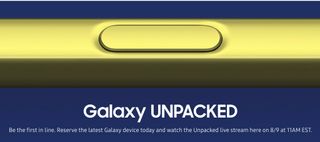 It's the moment we've been waiting for since the Galaxy S9 was announced: the Galaxy Note 9's launch event. The Note fans among us have had August 9 circled on the calendar for weeks now, and it's finally time to see the successor to the phone that's in so many pockets today.
Many of the Note 9's specs and details have leaked, but that doesn't mean we aren't interested in the spectacle that is a Samsung launch event. Part of the experience of getting a new Samsung phone is seeing all of the circumstances surrounding its launch, and they're always a good time.
It all gets going at 11:00 a.m. ET in New York City — that translates to 8:00 a.m. PT, 4:00 p.m. CET and 8:30 p.m. IST for folks elsewhere in the world. No matter where you are, you can watch the show unfold right here at the video player above. As the launch event wraps up, be sure to follow all of Android Central's coverage to get every bit of Note 9 information you desire!
Andrew was an Executive Editor, U.S. at Android Central between 2012 and 2020.
Yes, I plan on getting the 128gb model. The upgraded s-pen & 4000mamp battery is going to be my cup of tea. Very much looking forward to the note9!

Hoping there are still some surprises at the Launch.

Since the Galaxy S6, I've actively tried to avoid all leaks and rumors surrounding new phone launches. It's kind of been a double edge sword. One the 1 hand, I'm mostly surprised when a new device comes out. On the other, because I've removed myself so far from tech updates throughout the year, I'm not as knowledgeable as I once was. That being said, this year, I've abandoned trying to avoid leaks and have embraced them. I feel like I know most of what's going to be on the device but I also feel there will be a few surprises. Either way, I'm excited for the phone.

I like Samsung's take on the notch, there ain't one. This is the best premium feature!

Why watch? It has all been leaked. I was a willing fool to preorder the Note 8 because it was my dream answer to my Note 5. But don't be a fool if you can't afford it.

Captain Obvious over here lol

Don't f*ck this up, Samsung. I'm looking for this to be the phone that replaces my aging Nexus 6P. The software better be lighter, and that 4000 mAh battery better be optimized for that software. Lastly, headphone audio and radios/reception better be good on T-Mo, because the latter is why I had to sell my V30, despite loving the quad DAC.

I've never pre-ordered a phone and felt justified in my habit by the Note 7 saga. I'll wait until November before buying it. Samsung will really want this phone to sell well (low Galaxy S9 sales and booming iPhone X sales )

I can't wait to get mine!

I am curious. I am very happy with my Note 8 as it feels the same way it did when I bought it on the first day of launch. I have no slowdowns that I can notice. Love my S Pen. But my love for the S Pen could be because of my love of drawing ideas and designs on my phone that can later be exported to my laptop. My battery has no noticeable loss but I charge my phone either wirelessly or in the morning for half an hour so I don't need to charge my phone during the day ever. My biggest curiosities are with storage options, and connectivity because at this point phones have been overkill when it comes to power for the last three years. Cameras in phones have been great across the board for the last 4 years with principal results that very few take advantage of. People nitpick over minute details that disappear when images are uploaded to social media or printed. I have not seen any tangible improvements in any released phone. The funniest false improvements and false positives are from phones like Google with the pixel that has a claim to fame of updates which at best keep the phone operating as it did when you bought it and relatively safe from hacking. The irony of this is that an average consumer would expect this as a base offering not as a premium "feature". Even the worst fans are updated for at least one year 2 years is great and most people buying flagship phones don't keep them for more than 2 years anyway. Phone updates past 2 years are something lost on everyone but the people buying phones second-hand. Perhaps the note 9 will be interesting and the pixel 4 will offer something more than updates.

Oops.. worst phones = worst fans.

This presentation was more than I expected, the watch looks better than I thought and because I suck at selfies I am looking forward to trying them with the pen, my Note 8 has been great but I am looking forward to the Note 9 and I wish my Mom was still alive because she really wanted to get a smart phone

Pretty good launch. Note 9 looks pretty impressive. Using the S-Pen to take remote pictures is pretty awesome. 128GB and battery...woohoo!! Dex..awesom!!
Bixby and Home Speakers --- Good luck...do not see that getting too far. Google is way ahead and it is easier for them to execute the AI stuff.
Android Central Newsletter
Get the best of Android Central in in your inbox, every day!
Thank you for signing up to Android Central. You will receive a verification email shortly.
There was a problem. Please refresh the page and try again.