Samsung Galaxy Note 7: Everything you need to know!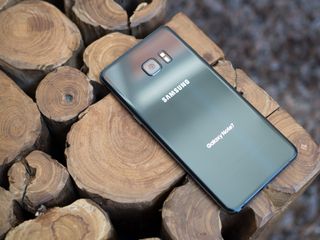 (Image credit: Andrew Martonik / Android Central)
"Controversy" is a word that gets thrown around a lot these days. In the smartphone space, it could be used to reference companies cheating on benchmark scores, the iPhone 6's Bendgate, or one of OnePlus's hilariously bad invite campaigns from back in the day.
However, there's one controversy that stands out above all of these — the Samsung Galaxy Note 7.
The Note 7 was supposed to be one of the very best phones of 2016, but instead, it ended up being a complete and utter failure.
This isn't a device we talk about that much anymore, but if you're curious as to where the Galaxy Note 7 stands in 2020, you're in the right place. Here's everything you need to know about the phone.
What do I need to know about the Galaxy Note 7?
Samsung launched the Galaxy Note 7 in August 2016, and at the time, there was a lot riding on the phone. The Note 5 before it was a controversial device for longtime Note fans, as it was the first in the series to ditch a removable battery and expandable storage — two longtime staples of the Note series. The Note 7 continued the trend of no removable battery, but it brought back expandable storage and further refined the Note formula to create for one damn impressive device.
Unfortunately, excitement and praise for the Galaxy Note 7 were short-lived.
Following worldwide reports of battery failures and fires with the Galaxy Note 7 in early September 2016 — including nearly 100 cases in the U.S. alone — Samsung and the U.S. Consumer Product Safety Commission (CPSC) announced a complete official recall of all Galaxy Note 7s in the United States. Similar movements were made in Canada, as well as throughout Europe and Asia. Regions in which the Note 7 had yet to launch simply postponed shipments of phones.
Weeks later, with the recall in full swing and old Note 7s being replaced by hundreds of thousands of new "safe" models, reports started to arise of the same exact failures happening with these replacement phones. With consumers quickly losing faith in the Note 7, carriers in early October voluntarily offered free returns and exchanges for all Note 7s, and eventually stopped selling the phone altogether.
On October 10, 2016, Samsung issued a statement that it was halting sales of the Galaxy Note 7 globally and encouraged consumers to return their Galaxy Note 7 to where they bought it from. Shortly after, Samsung officially canceled the phone. In the U.S., authorities issued a second recall, that banned sales of the Note 7, and forbid passengers from bringing it on board airplanes. Major airlines banned the use of the phone while on planes, shortly followed by the FAA officially banning it on all flights. If you flew anytime in 2016 or 2017, you probably heard the attendant remind you that the Note 7 wasn't allowed on your flight.
On December 9, 2016, Samsung pushed an update to Note 7s in the U.S. that all but bricked the phones — limiting battery capacity and functionality when not plugged in. At that time, some 125,000 phones still remained in the wild.
Samsung kinda sorta brought the Note 7 back in July 2017, taking the form of the Galaxy Note Fan Edition (also referred to as the Note FE). The phone shared many of the same specs as the Note 7, with the biggest difference being the smaller battery (3,200 mAh vs. 3,500 mAh). The Note FE launched in South Korea, but it never made its way to the United States or any other region.
During this time, things looked pretty bleak for Samsung. Putting customers' lives in danger not once, but twice, made it hard to see a future where we'd be able to completely move on and forget. However, that's exactly what happened.
The Galaxy S8 was released just a few months after the Note 7 debacle in March 2017, and it went on to be one of the best phones of the year. The same goes for the Galaxy Note 8, which despite a small battery (for obvious reasons), offered every other spec and feature you could ask for in an Android flagship.
There are probably some people out there that still hold a grudge against Samsung for everything that happened, but by and large, the Note 7 ended up being nothing more than a bump in the road.
From the Editor's Desk: Remember the Galaxy Note 7?
What kind of reviews did the Note 7 get?
Prior to the phone exploding on folks, the Note 7 received high praise from the tech community. We didn't have a rating system in place at AC in 2016, but we called the Note 7 the "biggest and best" Android phone of the time while hailing its excellent hardware, display, and camera.
Battery issues aside, Samsung got a lot right with the Galaxy Note 7. It was an evolution of the radical redesign introduced by the Note 5 in 2015, bringing back the microSD slot and offering the best specs the market had to offer at the time.
It was big, expensive, and Samsung bloatware was a very real thing, but in an alternate timeline, the Note 7 was one of the best phones Samsung ever released.
Samsung Galaxy Note 7 review: Biggest and best
What's the newest Note that I can buy?
Should you find yourself shopping for a Galaxy Note device in 2020, the latest options available to you are the Galaxy Note 10 and Note 10+.
The Note 10 family was launched in August 2019, meaning they're still perfectly relevant and capable devices. You'll find powerful performance, gorgeous displays, and reliable cameras.
As for which one you should choose, it depends on what kind of phone you're looking for. The regular Note 10 ditches microSD card support (something the Note 10+ has), but it's one of the most manageable sizes we've ever seen for a Note device. Note phones tend to be some of the biggest on the market, so it's refreshing to have something that gives you the full Note experience but without the massive size for folks that don't like it.
The Note 10+ is the typical Note we've come to expect year after year, touting a large 6.8-inch display and longer battery life and faster-wired charging compared to the smaller Note 10.
Samsung Galaxy Note 10: Everything you need to know!
Should I wait for the Note 20 instead?
You can't go wrong buying the Note 10 or Note 10+, but unless you absolutely need a new phone this very minute, it might be worth it to wait and see what Samsung does with the upcoming Galaxy Note 20.
Rumor has it that Samsung will once again launch two models, including the Note 20 and Note 20+. We're expecting big upgrades for the display and cameras, but as always, nothing is official until the phones are actually announced by Samsung. Availability remains uncertain given the current pandemic that's sweeping the planet, but we're anticipating a release at some point in Q3 or Q4 2020.
For the latest news and rumors regarding the Note 20, check out the article linked below.
Samsung Galaxy Note 20: News, Leaks, Release Date, Specs, and Rumors!
Take note
(opens in new tab)
It's just so darn good
The price tag of the Galaxy Note 10+ certainly isn't for everyone, but if you can afford it, you're getting one of the most powerful and capable Android phones money can buy. The Note 10+ has a gorgeous display, fast performance, great cameras, and all of the utility that comes with the S Pen.
Get the Android Central Newsletter
Instant access to breaking news, the hottest reviews, great deals and helpful tips.
Joe Maring was a Senior Editor for Android Central between 2017 and 2021. You can reach him on Twitter at @JoeMaring1.
Don't scratch the floor while you're digging at the bottom of the barrel.

Next week:
"Saygus V2: Everything you need to know!"

Amused to see this here, but it did bring a few chuckles. People still bring it up now and then, but relevance today is like refusing to buy a Mustang because the Pinto used to explode. I still remember Android Central defending Samsung in the beginning though. "Just because you're hearing about Samsung phones exploding, doesn't mean it's actually happening more often" was one subtitle that comes to mind. Also amusing is that, before AC will tell people not to buy a Samsung, it takes people being physically injured and sent to hospitals. For other brands, all it takes in not liking the buttons 😉

I want a review of the Edison phonograph please.

The tinfoil cylinder was tinny, and it had no headphone jack 😉

I have owned every Note there ever has been. When it first came I thought the Note 7 was by far and away their best effort to date. Other than the blowing up thingy. I had one, then went to the Verizon store to swap mine out for a replacement, only to have to take it back again a little while later. I think I wound up with a Galaxy S7 edge that I really didn't care for nearly as much as that Note. The good thing was Samsung gave early adopters a nice sized SD card (memory says it was 256 gb which was really big at the time), which we got to keep for our troubles. I bought the Note 8 when it came out and the 9 and now the 10+. I like these little trips down memory lane you guys post here from time to time. Reminds us where we've been.

We've gone almost nowhere in the Note lineup from 2016 to 2020. Tiny differences. There is no need to update flagship phones often these days. I'll see what 2022 brings.... I might consider upgrading my phone after 5 years use.

So thankful branded bezels are no more!! Android phones sold by carriers were the worst back then.

I still have my Note7. It was a fantastic device.

I got a BOGO from Verizon on the Note 7. My wife and I loved the phones. Never had any battery problems. Exchanged them for the"safe" version. Then replaced them with S7s. Boy did we get goodies. Two 32 in. Samsung TVs, Samsung fit wrist device,256 gb micro SD card, two $100 line credits, etc. Too bad about the battery, l really liked the Note 7.

Ah the good old days, where men were men and phones were phones ( or possibly spontaneously combustible) i went from a loaner S7 to a amazon bought note 5 after the new replacement was recalled as well, to to a huge discount on the note 8....but I'm not proud of how I acted giving the note 7 up....