The Samsung Galaxy Note 5 and Android Auto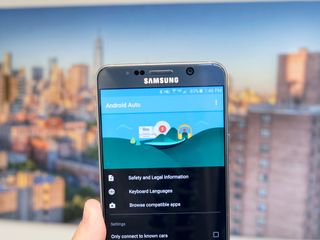 It's a hard fact of early adopter life that not every new toy will work with every other new toy out of the box. Such is the case with Android Auto, which on occasion refuses to connect to some new phone that should happen to find its way into our car.
So it's understandable that folks have been asking me about whether the Samsung Galaxy Note 5 plays nice with Android Auto.
Here's what I've found.
First things first: I'm using a Verizon Galaxy Note 5. And as we all know, there often are small but important differences between models of phones, particularly when Verizon gets involved. Your mileage may vary.
There have been a number of times when I connect my phone to my car in which Android Auto simply doesn't see the device. That has to do with the handshake that occurs (or in this case, doesn't occur) when you plug in. Verizon has this annoying feature of becoming an installer when it detects a USB connection. (You know, so you can install the included Verizon software that you probably will never need.) So to get Android Auto to recognize your Note 5, you may need to change that connection to MTP — or Media Transfer Protocol. Here's how to do it:
Plug in your phone via the microUSB cable.
Wake the phone, and pull down from the top to see your notifications.
Find the one that says "Connected as an Installer." Tap it.
Choose "Media device (MTP)" instead.
Your car should now see your phone.
Alternatively — and this is something that's been hit and miss on a lot of devices — I've found that enabling USB debugging in the developer settings causes the phone to connect just about every time.
To turn on USB debugging, do the following:
Go to the phone settings menu.
Scroll down to "About phone" and choose it.
Tap "Build number" until it says "Congratulations, you're now a developer."
Recognize the fact that you're not actually a developer — you're just enabling a few features that are otherwise hidden.
Go back to the main settings menu, and scroll down to "Developer settings." Tap your way in there.
Turn on USB debugging.
If that's going a bit too deep into the wasteland for you, the simple MTP switch should take care of things.
Get the Android Central Newsletter
Instant access to breaking news, the hottest reviews, great deals and helpful tips.
Super useful little tip, nice video too Posted via the Android Central App

"Recognize the fact that you're not actually a developer — you're just enabling a few features that are otherwise hidden" Hahaha. Classic. Posted via the Android Central App

Pretty sure Samsung wants you to use Tizen Auto. Please don't let this be a thing, but nobody would be shocked if it was. Posted via the Android Central App

I have a T-Mobile Note 5 and a pioneer Avic Android Auto head unit. It paired up just fine for me. Posted via the Android Central App

Keep up the good work on android auto. I'll check back in a couple of years. Posted via the Android Central App

Thanks for these life-hacks! I'm not developer! Hah :-) We at http://www.trustmypaper.com/write-my-paper-for-me laughed on this post, I like Samsung. I won't have any other phone.

Hey Phil! Really appreciate all the AA work you've been doing here at AC. You're pretty much the only Android news outlet even mentioning it exists right now. For the few of us who do have AA headunits or cars, this type of coverage is awesome! I can't imagine it gets tons of hits compared to other stories, but this is the type of stuff I love coming to AC for (along with everyone else, of course). Thanks so much!

Hi to all this very useful tip Posted via the Android Central App

HI MY NAME IS CRYSTAL TARVIN, I'M FROM OHIO, I JUST FOUND OUT ABOUT THE CONTEST. I KNOW U RECEIVE THOUSANDS OF ENTRIES, BUT MINE IS A VERY SPECIAL REQUEST, I'M ON DISABILITY AND ON DIALYSIS THREE DAYS A WEEK, I HAVE THE SAMSUNG GALAXY NOTE TWO. THIS HAS BEEN THE BEST PHONE I EVER OWNED, I RECENTLY DROPPED MY PHONE AND CRACKED THE SCREEN, AND UNFORTUNATLY I DO NOT HAVE THE FINANCIAL MEANS TO REPLACE AN EXPENSIVE PHONE. THIS IS THE ONLY PHONE I HAVE FOR DRS AND TREATMENT THIS WOULD TRULEY BE AN AMAZING DREAM COME TRUE. I WAS GOING TO TRY AND GET MINE FIXED I JUST DON'T KNOW IF ITS WORTH IT OR IF I SHOULD TRY TO SAVE AND PURCHASE A NEW PHONE. MY PHONE IS ONE OF THE FEW THINGS THAT I HOLD DEAR, IT HAS BEEN MY LIFELINE FOR MY MEDICAL ISSUES THAT ARE VERY SERIOUS, AND ESPECIALLY WHEN FACING A KIDNEY AND POSSIBLY A LUNG TRANSPLANT. UNFORTUNATELY AT THIS TIME THERE IS NO CURE FOR MY MEDICAL CONDITIONS AND ITS SCAIRY SOMETIMES CONSIDERING I'M ONLY THIRTY SEVEN. THANK YOU FOR YOUR TIME AND CONSIDERATION. IF U HAVE QUESTIONS FEEL FREE TO CONTACT ME AT 513-600-2279