Samsung Galaxy Note 4 specs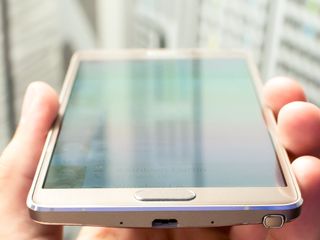 The Samsung Galaxy Note 4 is now official, and we're bringing you every little tidbit of information, as only Android Central can. Be sure to check out our Here, now, are the complete and official Samsung Galaxy Note 4 specs:
Category
Features
Network
2.5G (GSM/ GPRS/ EDGE) : 850/900/1800/1900 MHz
3G (HSPA+ 42Mbps): 850/900/1900/2100 MHz
4G (LTE Cat 4 150/50Mbps) or 4G (LTE Cat 6 300/50Mbps)
Processor
2.7 GHz Quad-Core Processor
1.9 GHz Octa-Core (1.9GHz Quad + 1.3GHz Quad-Core) Processor
Display
5.7 inch (143.9mm) Quad HD Super AMOLED (2560 x 1440)
Operating system
Android 4.4.4 KitKat
Cameras
Rear Facing: 16 megapixel autofocus camera with smart OIS
Front Facing: 3.7 megapixel camera with f/1.9 aperture
Rear Facing Camera : HDR (Rich tone), Selective Focus, Rear-cam Selfie, Beauty face, Virtual Tour Shot, Shot & More, Dual Camera
Front Facing Camera: Selfie, Wide Selfie
Video
Codec: H.264, MPEG-4, H.263, VC-1, WMV7, WMV8, Sorenson Spark, MP43, VP8
Recording & Playback: up to UHD
Audio
Codec: MP3, AAC/AAC+/eAAC+, WMA, AMR-NB/WB, Vorbis, FLAC Ultra High Quality Audio (~192KHz, 24 bit) support
S Pen features
Air Command (Action Memo, Smart Select, Image Clip, Screen Write), S Note, Snap Note, Direct Pen Input
Additional features
Multi Window, Ultra Power Saving Mode, Voice Recorder (Normal Mode, Interview Mode, Meeting Mode, Voice Memo)
Download booster, S Health 3.5, Dynamic Lock Screen, Briefing
Google Mobile Services
Chrome, Drive, Photos, Gmail, Google, Google+, Google Settings, Hangouts, Maps, Play Books, Play Games, Play Newsstand, Play Movie & TV, Play Music, Play Store, Voice Search, YouTube
Connectivity
WiFi 802.11 a/b/g/n/ac (HT80) MIMO PCIe
GPS / GLONASS / Baidu
NFC, Bluetooth® v 4.1 (BLE, ANT+)
IR LED (Remote Control), USB2.0, MHL 3.0
Sensor
Gesture, Accelerometer, Geo-magnetic, Gyroscope, RGB,IR-LED
Proximity, Barometer, Hall Sensor, Finger Scanner, UV, Heart Rate Monitoring, SpO2 (Dependent on market)
Memory
32 GB Internal memory + micro SD slot (up to 64GB)
3GB RAM
Dimensions
153.5 x 78.6 x 8.5mm, 176g
Battery
Standard battery, Li-ion 3,220mAh, Fast Charging (Adaptive Fast Charging & QC2.0)
Note: Processor and network will vary by region.
You can't read ?or you didn't watch the video ? Very per region Posted via the Android Central App

I am not watching the video and got that remark after commenting. lol. Will get Exnos in Asia. :(

You can't spell? It is vary not very smart ass. Posted via the Android Central App

sorry,It keep s in secret.

Yeah big upgrade from my G2. Plus I miss the S Pen. Just need a price. Wish they had it in "Sony" Purple. Posted via Android Central App

So it's an 805 in the USA?

So not waterproof? Posted via Android Central App

That is my question as well

Wouldn't happen because of the S-Pen. Too hard to make a device waterproof if it already has an accessory that's meant to be easily detachable. :(

Not true - s-pen pocket could be made seamless.

From the moment there's a pocket, the only way to keep it waterproof (or keep it from harboring water, even if it's isolated from the rest of the phone) would be to have a flap or cover of some sort, which detracts from the 'easily detachable' concept. Although I wouldn't mind a quick-release latch cover, even if it takes me an extra second to get to the S-Pen.

Not necessarily true. Sure to make it waterproof you need a flap or seal of some sort but a lot phones and other devices rated for water resistance have headphone jacks ("pocket") that don't need a flap to get a relatively high rating. Granted they're not quite as deep as the s-pen silo but as I said it's definitely possible depending on how it's built. Even the iPhone, which is not rated for water resistance will not (usually) get any water damage from the headphone jack in light rain because of the way it is sealed.

You're also dealing with S Pen sensor built into the silo. So there's more 'hardware' to consider and seal. It's not just detection, but proximity sensing with electromagnetic fields. You are dealing with more 'complicated' hardware in a Note than other 'basic' smartphones.

What about:
Water resistant?
Qi charging built in?

wouldn't doubt it we saw Qi crippled in the states like most other devices.

wow, ditched the USB 3?!?

I find that strange as well. Love the fast charging of 3.0 on my Note 3 but sounds like they made a way for that to happen with normal USB 2 instead.

The only thing usb 3.0 sped up was charging from a computer. The rest of the speed had nothing to do with that and was about the Qualcomm quick charge. Posted via Android Central App

Was not aware of that but considering I pretty much always charge my phone with my computer this makes sense. I do use the USB 3.0 fast data transfer speeds as well when moving images off my phone. It just doesn't really make sense they would go back to using USB 2.0 on the Note line.

You may want to check the speeds that it transfers. I am pretty sure that the internal flash isn't fast enough to really take advantage of the USB3.0 interface as well. Or atleast that is what I heard about from other tests. Basically it should be moving the files at a rate greater then like 30-40MB per second. If not it is still fine on USB2.0

Well I cant say I have ever tried moving files on USB 2.0 with this device so I wouldn't know the difference--but moving images off of my phone vs my usb 2.0 tablet is considerably quicker. It's ultimately not a big deal and most likely the faster transfer speeds are just the placebo affect anyway--but that doesn't take from the fact that Sammie is going back to USB 2.0 when the S5 and Note 3 were both 3.0. Just odd.

Is it possible it's a mistake?
The new reversible type C USB3.1 looks a bit like USB2 :
http://www.extremetech.com/computing/187882-reversible-usb-type-c-connec...

The picture shows a USB 3 connector on the bottom but the specs list USB 2. Typo? My problem is with the hump in the back. Looks like a curved back and I really don't like that. I like to lay my phone flat on my desk and with the curved back it will be wobbling all over the place. Its purely a personal preference but I definitely don't like it. And before everyone flames me, just remember, "to each his own". In any even, this is definitely my next phone.

Well, I take it back. That little hump on the bottom by the charging port is only an illusion i guess. Other photos shows a flat back so nothing for me to complain about.

Rear facing speaker....holy crap...Just bleeping stupid.

No water resistance? Only supports 64gb SD card? SD card has to be wrong.

Yeah my thoughts exactly. My One M8 goes to 128gb so idk how the note 4 couldn't Posted via Android Central App

No IP67? Posted via Android Central App

So the difference I really see mainly is the upgrade processor and display and camera right....sorry note 4 to me isnt insteresting at all. Personally the Note Edge looks a lot interesting...I find the curved edge a gimmick to a degree but it will be very interesting to see how they use the curved edge for games like first person shooter selecting different guns or so on and for certain apps to make it unique to the note edge. Let's see if devs will use it to their advantage.

"So the difference I really see is mainly everything that anyone ever expects to be upgraded? Meh....not interesting enough to me."

Nerds getting harder and harder to please. Posted via Android Central App

LOL I personally don't own any Samsung products for android I just use Chinese brands for me android is android personally regardless of the device that's just my opinion. However I think the Note Edge is the only device today that Samsung unveiled that is interesting. Whoever has a note 3 I don't see why the note 4 would be a necessary upgrade however I can see a note 2 user making this jump....

I also thought that "an android is an android" and bought a couple of chinese knock offs of Samsung. Problem with chinese brands is their buggy firmware and a tendency to substitute components in production. Not that many devs are creating custom ROMs for them a year later either. So, at the end you get the experience you paid for.

I personally do not like the edge at all.

What the hell do those LTE specs mean? Does it have the Sprint 800mhz band? These seem to be the GSM bands so these must not be the "complete" specs. Also, more RAM than the (rumored) new Nexus tablet, ROFLMAO.

1. Cat. 4 LTE has a max of 150mbps and Cat. 6 has a max of 300mbps. 2. In the Sprint model it will. Posted via the Android Central App

Well, rumors are rumors, we don't know anything concretely about that device. 3GBS looks good on paper, and that in itself is a big part of Samsung's strategy (beefing specs up wherever possible, because higher numbers are perceived as "better"). But Samsung have also always put extra RAM in their devices to accommodate all the background software running all the time. All those little features with the cute names you see listed above mean a tremendous amount of active processes running all the time (and the Note line has all the S-pen software running too). I'd bet money that you won't get ANY more usable memory from this phone than that new Nexus tablet.

Free Ram is wasted ram. Posted via the Android Central App

I going to keep rocking my note 3. I think I'll wait on the 5. Posted via Android Central App

Yah I can see why there is not major change. However I tell people all the time it makes better sense to wait for 2 years for an upgrade a user will appreciate more jumping from the note 2 to note 4 than a user from the note 3 to note 4....

I'm thinking about jumping from the S3 and agree 100%...every two years is a good thing...now I need to decide between this and the S5.

Get the Note 4 instead...Samsung S5 while nice....Samsung best products and only ones I respect is their Note Series.....

LG G3. The size is just perfect.... for me.

I have to say I played with LG G3 and man oh man its an amazing phone and It had zero zero lag.....Samsung products are overrated I think LG and HTC make much better phones...

Exactly what I did and was very happy with the jump from my Note 1 to the Note 3. I never felt like the Note 2 was a good enough improvement. Although I will say the Edge has me interested. I have wanted that curved display device since they showed it at CES in 2013.

The camera could be a big reason for a N3 person to go to the Note 4.

13mp vs 16mp with OIS....for someone to resign a contract or spend $700 bucks almost for that change alone is not only silly but such a waste.....if you take the same picture with same lighting you think their is going to be a dramatic difference in the way picture looks between the note 3 and note 4?? Come on man.....if people will upgrade for that reason alone for that price...we live in a sad sad sad world....

But ... that is your opinion is it not? Someone may REALLY like taking pictures so changing to a more stable camera could not be a waste but rather be a huge plus... And yes I do think there will be a difference in stabilization. My Note 3 has a horrible time taking pictures of anything moving .. it is so easy to blur it isn't funny .. So if the OIS makes it stable and work .. that is a win. I don't care about MP .. I am talking an actual picture that isn't blur.

Also isn't the N4 coming with 8X zoom

But what I saying is it really worth it to spend the extra 700 bucks for that one feature or resign a contrat and pay extra upgrade fees...me personally its not worth it but again my opinion...I think software updates could have solved that problem

It could have fixed it.. Maybe.. Who knows? It's cool if you don't think it's worth it.. For some it is. I for one will be getting it for the display and the camera.. And selling my Note 3. It's cool if you don't agree.. I for one think smart watches are one of the most pointless things out there but.. Some people like them right? :).

Oh if you sell your note 3 and use that money makes perfect sense :). I have to say smart watches are extremely pointless as well LOL :). You see we have a sensible debate and we our common sense and we are civil about it. But man if it was BGR or Mobile Syrup or some other site the words like fanboy or LadDroid or iZombie would be used all over the places and calling people retarded LOL. We cant people be more civilized like us?? LOL

$700.00 would by you a nice high speed camera on Craigslist or Ebay.

Amen, my Note3 takes terrible pics when anything is in motion too! PS. I sure hipe the sound/speaker is better on the 4. Posted via my Galaxy Note3 on the Android Central App

The camera difference between N3 and S5 alone is HUGE! And now with OIS the difference will be amazing. N3 and S5 have EXCELENT 4k andand 60fps recording modes - but they are useless because no digital image stabilization in that modes. But with OIS - both modes will get finaly useful! So - camera wise: HUGE step up from N3. Posted via Android Central App BTW - 13MP vs 16MP is DOUBLE the resolution! Why? Because the N3 has a 4:3 Sensor. And if you take pictures in 16:9 like most people do - they are cropped to 8MP. The N4 has a 16:9 sensor (like the S5) - meaning a 16:9 pic has the full 16MP resolution.

Oh ok didnt know OIS would make such a huge difference thanks MasterElwood .....the force is strong in you :)

[in reply to Almeuit's comment above]: OIS will stabilize the camera/lens/sensor to reduce or eliminate blur caused by your hand movement of the phone when taking photos with slow shutter speeds, but OIS will NOT eliminate blur caused by your subject moving when you shoot with a slow shutter speed.

Oh ok man im learning LOL. Hey Brentj what would help eliminate blur than would be more on the software side or hardware side....?

To eliminate blur of a person who is moving, you need a faster shutter speed, maybe 1/60 or faster. That can be obtained either through a faster lens (the front camera of the Note4 apparently has an f/1.9 lens, which is reasonably fast) or higher ISO (sensor sensitivity setting). As sensors improve, they become capable of higher ISO settings, but generally higher ISO leads to more "noise" in the image. The reality is that non-flash photos in a dark bar of people moving around will likely not be very good quality, given the current state of technology.

Thanks a lot appreciate the response :).

Oh that is fine ... I am not talking about in a dark bar .. I am talking just regular light photos :).

We will have to see. I will test it out once it is out and see how it goes :).

True true remember to come back here and let me know even though that wont be for a while lol

Android Authority reported 4 GBs of RAM. Are you sure it's only 3? Posted via Android Central App

No waterproofing and 3gb RAM? Sammy, why you do dis??

The lack of waterproofing is a bummer but the ram makes sense kind. Think of it like this, most likely a bump in ram would of been a problem without a 64 bit cpu and OS to go with it. If they added ram up to 4GB the device, there is a good change a portion of the memory would of been unusable anyway. Every component in the phone has little bits of storage and address space they require without a 64 bit CPU all of those little addressable space would be taking out of the 4GB limit. In the end the phone would of been unable to see the whole amount of ram because of the various peripheral components in the phone. So why add memory when it will be completely unusable.

But it does have a 64-bit chip in the Snapdragon 805, and since they are being sold in different regions, what's the problem with making it 4gb? They are promoting multiwindow as a major feature, but you can really feel the lag with multi-window on the Tab S and that has 3gb with the a high-end processor.

Everything I have found says that it isn't 64 bit. Not sure where you got that information but that doesn't make sense. We should also consider that Android 4.4.4 isn't a 64 bit OS it is still 32 bit. Android L is the first Android release that is suppose to have a 64 bit branch. So I call BS on it being 64 Bit

805 is not 64-bit. Posted via Android Central App

Why would any portion of the memory be unusable? 32-bit Cortex A15, like this one, supports up to 1 TB of RAM. The page table entries are just like on 64-bit ARM. Recent 32-bit and 64-bit ARM CPUs support 40-bit physical addresses. It works just like on 32-bit x86 since Pentium Pro in 1995, which supported 64 GB RAM. ARM is no different. All 64 GB perfectly usable (minus any memory mapped PCI IO devices that don't support >4GB position).

Both, the Snapdragon 805 model is 32-bit and the Exynos 5433 one is 64. Posted via the Android Central App

BGR just reported that "the phone includes a 64-bit quad-core Snapdragon 805 processor, 3GB of RAM, " Why can't Samsung just post the damn specs? they should have at least talked about them! Apple would have been all over their processor, video chip for gaming, etc.

Everything I am finding is saying the Snapdrogon 805 isn't 64 bit

I don't any of these websites have the correct information - I'm waiting until Samsung posts an actual product page. LOL

I saw one of the Samsung guys in a video after the presentation say 2.7ghz, quad core, but they are clearly avoiding discussing how makes the CPU/GPU. It seems reasonable to assume 2.7 ghz points to the Snapdragon 805, but 64bit is a stretch

Makes as much sense as only supporting 64GB MicroSD. I'm sure there's issues with stories going up in various places on the Web today. Posted via Android Central App

32-bit HTC has announced the only upcoming 64-bit Android phone and it won't come out for a while yet.

Under memory, that can't be right, memory card support oughta be up to 128GB's, not 64GB's. Posted via the Android Central App

No reason it wouldn't. The Note 3 and S5 support up to 128.

Yeah, but not fully supporting SDXC. The only benefit is the capacity of the card and nothing else. You don't get the added benefit of higher bus speeds of SDXC.

I got rid of my Note 3 for the M8 which i love..... but i miss the screen on the note, dont care for the SPen but loved everything else...... might have to use Jump again...

The Note 4 is the most powerful, feature filled hand held device made. The S-Pen is far & away the best tool on any Device. Love this phone. Great Job Samsung.

I hate when ppl who have the generation b4 device try to down the new one..idiot its for every 2 year buyers Posted via Android Central App

Why cant it be every 3 years? Just because contracts got that every 2 year stuck in peoples heads doesnt mean people cant get a new phone when they want.
As a note 3 user i am no rush to get a note 4 or edge, gonna wait to see how development goes. Its all ambout the community to me and i'll wait to see what phones come out when they release android L. Not waiting for a update that takes months. Thats my 2 cents.

Richard ? Posted via the Android Central App

So you currently own the Note 4? Interesting...considering it ISN'T EVEN OUT YET!!! You fanboys really are something else. But in the worst way.

They changed the USB port back to USB 2.0!! Why would you do that.............

USB 3.0 was never fully utilized. The EMMC memory is not fast enough to take advantage of it, and the Flash Card reader couldn't provide the faster speeds either. it really gave an advantage with charging from a computer. So it was never really usefull

Err... EMMC 5.0 supports up to 3.2 Gbit/s for reads. That's 400 MB/s. A bit less in real world scenarios, but reasonably close. Pretty close to saturating USB3.

Why not up to 128Gb sd card sammy? Posted via Android Central App

Because they were lazy. Of course it'll support 128GB sdxc cards and up.

It'll probably support the capacity, but not the higher bus speeds. Therefore not utilizing the full potential of SDXC.

Because they love to piss folks off Posted via the Android Central App

No IP certification, thats a huge huge huge bummer. I didn't plan on swimming with it or go into the tub BUT I wanted to use it without being scared of destroying it in heavy rain.

No waterproofing is a bummer :(

The only new feature I'm interested in is the Optical Image stabilization for the camera, but it's not enough to get me to upgrade from my Note3.

If Sammy would have found a way to make the note 4 ip67 certified, this phone would have been PERFECT! Not sure if I want to "upgrade" from my current device. I love everything else about the note 4 though. Oh and I'm glad they went back to USB 2.0, because it is hell trying to put my phone on the charger at night when it's dark using the USB 3.0! Posted via My (unlimited everything) T-Mobile Galaxy S5...

That's funny, I hate USB 3.0 for that exact reason. It's a nightmare to plug in.

The fingerprint scanner didn't make it over from the S5?

It did. It's listed under "Sensor" as "Finger Scanner".

I think the reason for the 2.0 usb charger is that it has an anti thief lock and there is no anti thief lock for a 3.0 charger. Only for use at show displays and showrooms etc. Posted via Android Central App

I was wrong....they have changed to a 2.0 usb port. Posted via Android Central App

Decent specs, but not blown away. I'd take the G3 over the Note 4.

USB3 became USB2.0 and no IP rating.. wow.. thank god i dint wait for Note4.. + no snapdragon? lol

I think the no water proofing is due to the s-pen removal. and 3.0 to 2.0 isn't really a big thing at all

think i will wait till the note 5 comes out and see its specs. I'm disappointed with the note 4's specs.

I have to admit I am a bit disappointed with the note 4 specs. I had hoped that it would have been a bigger leap from the note 3 than it is. But looking at their track record with the s4 to s5 update I'm not surprised. They seem to be just refining the phones between upgrades these days. If the specs had looked more impressive I would have been more temped to sell my note 3 and get one but as is I'll have to try a note 4 out first to see if the extra cost is worth the upgrade. Posted via Android Central App

http://www.sammobile.com/2014/09/03/samsung-announces-galaxy-note-4-qhd-...

Usb 2.0?.. why go backwards? I love the fast charge aka usb3.0 :/ Posted via the Android Central App

Usb 3 actually doesn't charge faster, unless charging from the computer. Regardless, the note 4 does have a fast charging capabilities about 30% faster from what I read

Great specs Posted via Android Central App

S Pen feature function is so attractive and hope it can do a good job.

64bit? Dust and water resistant? ppi?

did it inherit S5's weather proofness?

What will it released here in saudi arabia? Snapdragon or exynos? And what date? Thanks.

I just talked to a high up rep from Samsung and he said that the NOTE 4 IS WATER RESISTANT!!!! He said don't believe what you see. He has seen it underwater himself and it had no problems.

Hi guys so I understand that everyone was extremely disappointed to hear that the Samsung Galaxy Note 4 device was not IP67 certified. However I was quickly checking my Quick Start Guide and I came across something interesting. So in the safety information, there is a subheading called "maintaining water and dust resistance." Under that subheading in the last paragraph on page 22 it does state that "Your device has been tested in a controlled environment and shown to be water and dust resistant in certain circumstances (meets requirements of classification IP67 as described by the international standard IEC 60529..." So as of now I am a bit confused. No it does not state that the device is IP67 certified, however it does meet its requirements. Therefore is it not technically IP67 certified? I've been looking online for videos on people submerging their note 4 however I can't find anything. If anyone has more information on this please let me know!

I just love my note 4. It's a fantastic phone. Since I purchased the phone back in October I haven't had any problems with it. I suggest that everyone should have the note 4.

According to samsung it is upto 128gb on the micro SD card
Android Central Newsletter
Get the best of Android Central in in your inbox, every day!
Thank you for signing up to Android Central. You will receive a verification email shortly.
There was a problem. Please refresh the page and try again.