Samsung Galaxy Camera and Galaxy Note 2 to be released in India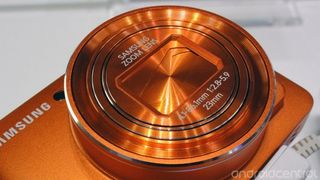 The star of the recent IFA 2012 show in Berlin, the Samsung Galaxy Camera, has just been outed for release in India. At a recent press event -- where the Galaxy Note 2 was also confirmed for release in the country -- Samsung promised to deliver the Galaxy Camera for release prior to Diwali. While sounding pretty vague, Diwali is to take place this year on November 13, so eager Indian early adopters shouldn't be waiting too long to get their hands on the device. No pricing has been confirmed at this time.
The Galaxy Note 2 however, is set for release next week at a price of INR 39,990 (£468, $756) which puts it in the realms of pricing for the European market, perhaps slightly cheaper. Initially the Note 2 will be available from Samsung Smartphone Cafes and Samsung Plazas, with other retailers and carriers offering it at a later date.
Damn that's a nice looking camera. Silver, gold or bronze, doesn't matter. Great job Samsung.

Why is the US market never 1st to get the great devices??? I sure would like a camera and the note 2, they would go great with my recent bought SGS3. Great job Samsung.

It looks good but that is all. And unfortunatly, that may be enough to sell a few million and con Samsung into thinking it was a good product.

India has been always one of the main markets for Samsung. A mini poll in my class revealed 18 of 63 students were having Samsung Android smartphones. ( 3 Windows phones were also there :P)
So, unlike Apple, Smasung always launches its stuff pretty fastly in India, no surprises.
Android Central Newsletter
Thank you for signing up to Android Central. You will receive a verification email shortly.
There was a problem. Please refresh the page and try again.