Samsung comes in a distant third place for true wireless headphone sales in 2019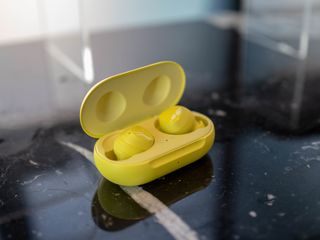 (Image credit: Android Central)
What you need to know
Apple dominates the true wireless headphone market with over 50% of sales.
Xiaomi comes in second with 8.5% of the market.
Samsung is a distant third after shipping 7.4 million units in 2019 for 6.9% of the market.
When Apple introduced the AirPods, it pretty much created an entirely new category of headphones. One where Bluetooth earbuds cut the cord and were no longer connected by a wire. Instead, the buds now featured a truly wireless design along with a charging case, and thanks to the removal of the headphone jack in many of today's flagship phones, the market is booming.
Not only is Apple responsible for this trend, but it also currently dominates the market with a whopping 54.4% share after shipping 58.7 million AirPods in 2019, according to data from Strategy Analytics (via Yonhap). While it's not unexpected to see Apple with the lion share of the TWS headset market, the runner-up may come as a surprise to many of you.
After shipping 9.1 million TWS headsets in 2019, China's Xiaomi comes in second with only 8.5% of the overall market. Xiaomi climbed its way into second place in 2019 by offering a variety of headsets to choose from, along with often undercutting the competition on price.
Rounding out the top three is Samsung, which shipped 7.4 million TWS headsets in 2019 for a 6.9% share of the market. While Samsung may only have a paltry share of the overall market, the Galaxy Buds are still some of our favorite true wireless headphones around Android Central. Our own Andrew Martonik called them "exceptional everyday buds" in his review.
Next month, Samsung is set to unveil the Galaxy Buds+ on February 11 along with the Galaxy S20. Unfortunately, according to the latest leaks, the Galaxy Buds+ will lack active noise cancelation in favor of a larger battery. While longer battery life is always welcomed, that probably won't help Samsung catch up with Apple which introduced its AirPod Pros with ANC last year.
However, with true wireless headphones being one of the fastest-growing products in the tech sector, it probably won't be long before we see Samsung introduce a pair of TWS headphones with ANC. Strategy Analytics says it expects the TWS headset market to grow even more in the next few years, growing to 1.2 billion units in 2024 compared to 170 million that shipped in 2019.
Cut the wires
(opens in new tab)
Break free from cables
Samsung's Galaxy Buds are some of the best true wireless headphones you can buy. They feature solid battery life, an excellent fit, a slim charging case, and good sound.
Well, duh. There are a ton of TW earbuds out there that aren't married to iOS or Android to choose from and most Android/Samsung users don't feel this overwhelming urge of loyalty to a brand. If you can get TW earbuds that do AptX for the same cost or cheaper then why wouldn't you? I have a pair of Samsung buds and on the Note 9 they used Samsungs codec .. on the new Pixel 4 I switched to they use AAC. Why would I recommend them to non-Samsung users? I wouldn't.

No surprise Apple's AirPods dominate. I have them with my Pixel 2 XL and they are awesome! Many of my work colleagues have Android phones and use AirPods with them as well.

It is a little surprising that Samsung is behind Xiaomi simply because the Galaxy Buds were given away with the S10 launch and the new ones will probably be given away with the S11/S20/SWhatever. I enjoyed my Galaxy Buds when I used them with my Note 10+. Zero lag while watching videos, Samsung's scalable codec seemed to do a fine job, and they are one of the few earbuds to not fall out of my ears. Had Samsung released an iOS app for controlling the Buds, I would have kept them for my personal use. I don't like AirPods but Apple did bring a lot to the market. They weren't the first, multiple companies beat them. But Apple did their thing; wait to see what everyone else is doing then make it their own. The AirPods packed tech that wasn't seen at the time in a package far sleeker than others while lasting twice as long as the competition per charge. My Sol-Republic Amps Air would only get about 2 hours of listening per charge, AirPods were twice that when they came out. I prefer my MAster & Dynamic MW07 Plus earbuds but Apple helped push that competition. It's no surprise that they're becoming a staple for iPhone owners (and some Android). They're becoming as common as the standard white earbuds were during the iPod days.

I couldn't care less what Apple's sales figures are. The Galaxy Buds are far superior for fit and wearability.

Apple pretty much created true wireless bluetooth earphones? In 2016 I loved my Gear IconX until I lost one. The Apple love on AC is on another level now. Is there another place I can get my Android news that isn't an Apple Love site on the dl? Looking for recommendations.

You can try to find a website that ignores Apple's influence on the smartphone market in general, and Android specifically, but it will have almost no content. But if your self-esteem issues demand that you pretend your choice of smartphone platforms is the only thing that exists, go for it.

I don't agree with the slight on AC loyalty, but Apple didn't create the category, they popularised it since it was already there.
That a key difference.
Thier already huge brand power brings noteriety to any category they enter, its the midas touch.
Android Central Newsletter
Get the best of Android Central in in your inbox, every day!
Thank you for signing up to Android Central. You will receive a verification email shortly.
There was a problem. Please refresh the page and try again.