Samsung announces Galaxy Unpacked event for August 13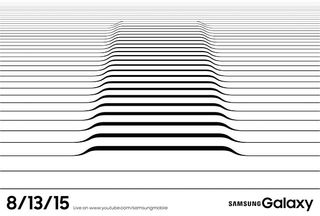 Samsung has officially announced its next Galaxy Unpacked event for August 13 at 11am ET in New York City. When August 13 rolls around, we'll presumably be treated to our first official look at the Galaxy Note 5 and Galaxy S6 Edge Plus.
We've already seen a number of supposed leaks of both devices over the past several weeks, indicating that an official launch would be coming soon. Just today, we were treated to two separate leaks of the Galaxy Note 5, while the Galaxy S6 Edge Plus reared its head just a few days ago.
In any case, it looks like Samsung is finally gearing up to unleash its latest and greatest on the world soon enough. Samsung will be streaming the event on its YouTube channel, and we'll also be on hand. So keep it locked on Android Central on August 13 for the latest.
Sorry Samsung - I will probably have committed to the OnePlus 2 by then.

Android uk...I'm sure samsung is not worried at all. Subpar doesn't equate to premium Posted via the "None-Ya" app

Over 300,000 have registered for an invite to purchase the OnePlus 2 even before it's been unveiled. Any sale of a device to a competitor is always a concern as it is a loss of revenue. As for stating "Subpar" - you must know something nobody else knows.

Lots of people see the One Plus for what it is, also wow, 300k. Posted via the Android Central App

Cool, you should get it by the time the Note 6 hits. I mean, they said it's a 2016 flagship killer which I'm sure wasn't just empty hype. Posted via the Android Central App

All other phones are not in the same category as the Note line from Samsung, actually no other manufacturer has anything that resembles the Note line, what is wrong with some people. Posted via the Android Central App

Trying to justify his future purchase Posted via someone's Note 4

Ready to see what they've cooked up with the S6+. Hopefully they've toned down TW even more.

Bigger screen then the S6 edge, 4GB ram, same 7420 proc. Sooooo, not much. Posted via the Android Central App

Hmmm I might have to sell my edge for the note 5 if it has a 4100 battery Posted via the Android Central App

Definitely s6 edge+ Interestingly no discernable reference to a note. Maybe that will be the usual time after all. Posted via the Android Central App

ITS HAPPENING!!! Albeit One Plus 2 announcement is tonight And all of Motorola's announcements tomorrow is going to bring some tough competition to Samsung's August 13th extravaganza... Posted via the Android Central App

Not unless Moto ups their camera game. Also oppo...i mean, One Plus aren't even on Samsung's radar. Posted via the Android Central App

Hands down the best Android device of 2015. The Note5. Posted via the Android Central App

What a ridiculous thing to say about a phone whose details are only partly rumoured at the present time with plenty more new phones coming before the end of 2015 include Motorola, Nexus, Apple, OnePlus and LG to name but five that might well take the crown.

Just a couple of comments above, you're raving about how amazing the vapourware phone from One Plus is all you want... Sheesh..

Isn't it hilarious. Posted via the Android Central App

I don't remember 'raving' about any phone. I was a Samsung fan until Samsung started restricting multi - regional use even on their unlocked sim-free phones, failed to ship the promised 64GB or 128GB versions of the Note 3 and S5 in Europe and introduced Knox which caused warranties to be voided if you rooted by setting a non-reversible flag. No phone is perfect but one of the major attractions of most Samsung phones was the micro-sd card and removable battery - now likely to be a thing of the past. They have thus lost two of their main attractions as far as I am concerned. I always thought that Apple 'fan boys' were blind but it seems that there are also Samsung 'fan boys' who are similarly blinkered.

Yet another who doesn't understand the storage card issue Posted via the Android Central App

You did Posted via the Android Central App

Moto and Nexus... Ok if they have a camera. Oppo? No not close.. LG maybe Sent from a phone, an awesome phone, my phone.

Not if you can't add a memory card to it!

Phones come out too often for a change to e impressive. "Oh the screen is bigger...oh it looks more like the iphone..." big woop. I'm happy with my edge, if i wanted a bigger phone i would have gotten one. Posted via the Android Central App

Yeah I wish the refresh cycle wasn't yearly Posted via the Android Central App

Let's make something clear here, there is no other phone from any phone manufacturer that resembles the Samsung Note "hence the word NOTE" line of phablets, they all might resemble the Note line in size, but that's where it ends. Posted via the Android Central App

That's not why it's called a note and stop saying phablet, that's not a thing. Posted via the Android Central App

I like my G3 and the G4 looks nice but I'm seriously considering taking a stab at Samsung when it is time to upgrade. I've never owned one but people all around me seem to really enjoy theirs. I also think I'd enjoy the stylus (he says while typing this post with one hand/thumb using flow in SwiftKey - I have man hands). Posted via Android Central App with my LG G3

I use the stylus on the Note all the time, especially when browsing the Web or using any app, and it's great for swipe when typing. Nothing can compare to the Note and it's stylus, that's why they call it the Note, and did I mention taking notes, and it also helps keep my screen clear of fingerprints. The only knock I have with Samsung is TW, it still needs work. Posted via the Android Central App

Yay on my birthday =D Posted via the Android Central App

Guess I'll be trading my note 4 edge and gs6 edge for one of these bad boys. There better be a gold one on release day Posted via the Android Central App

Galaxy series devices are excellent but the price tag is too hefty. I think they will be received much like the current lineup. Sell a lot on launch and then scratch their heads trying to figure out why they missed their sales projections. Posted via the Android Central App

Samsung marketing costs and dealer/network profit markups are a significant cost for Samsung phones.

True, and I even have a Note 4. It's solid. But its hard to stomach $750+ dollar phones. Kind of hard to get a new one every year when the new flagship comes out. That, and if you pay for them outright, they drop a solid 40% resale value in less than a year. Regardless, there is a market for them. I just think they are making it more narrow. I think they realize that though. Their new "low end" phones are pretty darn good for the price. Posted via the Android Central App

Most people are doing the accelerated trade in deals with the carriers anyway Posted via the Android Central App

You don't have to get a shiny new phone every year... I've had my Note 2 for nearly 3 years now. And most people subsidize their phones and don't pay full price. If you can't or don't want to do subsizied and need or want a new phone every year... then you have to re-think your options and possibly select a less expensive model.

Its now official should be called the Samsung 'white flag' event! where they surrender to Apple Posted via the Android Central App

What you just said makes no sense. Have you been following the smartphone trend the last two years almost all smartphone are getting rid of removable media card and battery not just samsung Posted via the Android Central App

That's not my only arguments though, they are moving to a glass back? like the iPhone 4! talk about taking a step backwards? Plus the sole fact they have moved and brought this unveiling forward is simply to try and get too the market before the next iphone! they have no faith in going head to head with the 6s. Posted via the Android Central App

That's your beef cause they moved the release date and because they use glass phones actually others have used glass including sony and nexus . Samsung just wants to get there product out first. To get a jump on sales . I have know problem with that not sure why you do every oem is competing with apple which isn't easy cause like a lot of the so called android faithful on here that go back and forth the apple folks buy apple no matter what Posted via the Android Central App

See this is where our views differ Samsung used to compete with Apple and try to be different/better now though they've just given up, or at least that's how I see it. If your buying the note 5 or Edge Plus (original name there) then I hope you enjoy your purchase, you have your opinion and I respect that but this note 4 I own will be my last Samsung phone. Posted via the Android Central App

Oh samsung is very much in the fight with apple and always will be .that's why I love my samsung products so much with them I know I'll always get quality stuff cause the two companies are at war and that's good for me and you . Think if you really like your note 4 you will come around to the note 5 once you get your paws on it . I felt the same way about the s4 before I actually got to play with the gs6 edge. ..well long story short I have a gs6 edge now and love it . But like you said it's your money Posted via the Android Central App

Nothing wrong with the Note 4, should do the job just fine for years to come, whats this craziness with having to buy the latest version, does the previous version just stop working when the new one hits the streets, I guess people just like burning money. Posted via the Android Central App

I'm more than happy to hold onto my note 4 but it will eventually slow down with updates etc I'd never ever buy a new Samsung phone on release ever anyway as they drop too quickly. Posted via the Android Central App

I root and apply custom roms to all of my phones. When the new devices come out, mfg support for the device starts to slow exponentially and the custom rom developers start to bail. As soon as root is established on the new device, I bail too.

Debate all you want. Note series is the best android line out. Moto nexus and lg make some quality devices too but are all hailing to the king note 4 and soon to be 5. Oneplus2 has alot to prove other than nice specs. I'm waiting on edge 6+ and hopefully they announce a gear s 2 or the round face Sammy smarteatch.. let's go Posted via the Android Central App
Android Central Newsletter
Get the best of Android Central in in your inbox, every day!
Thank you for signing up to Android Central. You will receive a verification email shortly.
There was a problem. Please refresh the page and try again.