Samsung announces colorful new accessories to personalize your Gear S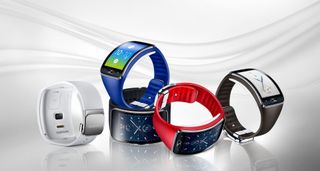 After announcing that the Gear S would be available in the UK from later this week, Samsung is showcasing the accessories that it will carry for the device. The vendor is offering two versions: a wrist strap available in five color variants, as well as a bangle accessory sold in black and white.
The wrist strap will be available in Cobalt Blue, Blue Black, White, Mocha Grey and also Supreme Red. The accessory allows you to easily interchange colors by simply popping the central housing out and placing it in another band. The bangle accessory is wider and features a thicker band than the watch strap. If you're looking for something more exclusive, Samsung also has Swarovski and Diesel editions.
Pricing and availability have not been revealed at this stage, although Samsung will likely announce both once the SIM-enabled smartwatch goes on sale in various territories later this month. Follow our topic page to know when it'll be available in your country. On the fence about buying one? Check out our hands-on video for all the features:
Source: Samsung (opens in new tab); Via: SamMobile
Harish Jonnalagadda is a Senior Editor overseeing Asia at Android Central. He leads the site's coverage of Chinese phone brands, contributing to reviews, features, and buying guides. He also writes about storage servers, audio products, and the semiconductor industry. Contact him on Twitter at @chunkynerd.
I'm glad because the watch strap looks a lot more discreet and narrower than she full width bangle type in most of the pictures and videos sent from my Galaxy s5

What about spare straps for the gear live????

The gear live was really a reference device for Android wear Samsung probably knew they were going to go tizen even before they released the gear live I wouldn't expect anything besides updates for the gear live Posted via Nexus 7 2013 or verizon Galaxy S5 or maybe one day through my moto 360

I probably would have gotten the blue one, IF it was Android Wear and didn't require a separate mobile plan. Those 2 things (Tizen...NO) make this DOA for me.

It doesn't require a data plan. Posted via the Android Central App

Not data. I thought I read that it requires a separate mobile plan for calling capabilities.

Well anything that you want to work standalone will require a sim. Can't just pull it out the air. But this will work bluetooth to the phone alone. Posted via the Android Central App

No one said anything about pulling anything out the air. The comment was made about having to PAY for a SEPARATE plan.

if you want it to have its own number to work when you dont have your phone, otherwise when paired to you phone you can answer you calls on the watch. one a plan needed if you want it to make calls independently. you can buy the watch outright with no contract, then if you want a number is only 5-10 months add on with no contract cause you bought it outright.

So you want Cell companies to give you a new phone number for the watch and allow you to make calls for free? I'm sure they are working on that. Otherwise if you don't put a SIM card in the watch, it is an extension of your phone. If you put in a SIM (with its own number and data) and your phone is around, then it is an extension of your phone. If you put in a SIM (with its own number and data) and your phone is NOT around, then it operates with its own number and data from its own SIM card and access to the network.
I believe what you are asking is that it use the same number and data that your phone uses, which would require SIM Cloning, which is not really legal in the US, is it?

I believe I am not asking anything, and I believe I was VERY CLEAR in my original STATEMENT: I probably would have gotten the blue one, IF it was Android Wear and didn't require a separate mobile plan. Those 2 things (Tizen...NO) make this DOA for me. That is not a question, and it is not in need of you providing a sermon on SIM cloning, is it?

Tizen beats the F*** out of Android, Pebble, Wear and whatever other wearable device OS there is out there. First and foremost because it runs a native Open Source application layer based on HTML 5 Widget .... .wgt App framework/API's/web runtimes. Meaning it's already a completely cross platform framework well before HTML 5 is even finalized. What gets me about you fools thinking Tizen is somehow inferior to a Google product, which is just now launching and so full of bugs and crap itself, is that you don't seem to understand that Tizen has already been twice as fast as Wear before it even came out. Even Android is faster than Wear at this point. It also uses far less energy/battery power too as witnessed by Gear's being upgraded to run Tizen OS. Wear is NOT EVEN...... CLOSE..... to being optimized yet.... buddy!!! Yet Tizen was actually better optimized when it was called Bada OS! lol..... Which had greater market share than WP8 and would have totally dug them under, if it had been released here in USA and Europe, instead of limited markets. So get your FAT F******* head out of your arrogant A** and understand this major point; that if you want to be a standup Android kind of guy, you wouldn't be treating 'winpeguy' as if he was insulting your lack of intelligence. You'd have appreciated his finer qualities of being a fellow Google Android fan instead of hating on him. With you are the one acting more like an arrogant C*** like every iCrAppleholic loser than they do themselves! ;-P Get real and grow up!!! ......cuz Wear ain't all that...... just like Apple Watch is still missing in action and still a no show piece of Applewellian iVaporware!

Aitt..android wear isn't all that, I have a gear 2 and a gear live, the 2 is on my wrist every day and the live is in my desk. Yes battery life is a point here my 2 can run for over 2 days my live dies after a full work day. And you can make calls on the 2 and gear S when its connected via blue tooth I carry my phone with me at all times so the extra data plan is moot...
Everyone has an opinion mine is android wear has a long way to go...

You are correct, but I believe android wear has way more of a future. As of now, it is more limited to what Samsung offers but give it 6 months and I strongly believe android wear will be better.

It has more future but not this gen of AW watches, look for the second gen or third, for AW to blow everyone away. Right now the Samsung wear seems like a better watch at least for this year. Posted via the Android Central App

Correction my reply is to thenexusman....my apologies aitt..

All good. Was confused at first. Posted via the Android Central App

this watch looks great. the thin strap is better. those purists of android will hate but then you need a samsung phone for this to work whic i love my note 3 and getting the ntoe 4. i owned a moto 360 which i returned after 3 days. nice watch but laggy and limited options. i thought i would love it but maybe after android wear comes along which we all know it will but just not on those watched like g watch r and moto 360 for no speakers no never an option for calls or recieving calls so that will be on the next model. so i wil buy the next gen 360 when it has more tech but for now the gear s has the best option by far for a watch and i will be buying one tomorrow.

If only they could bring a wider color variety to their phones. Specifically in the US markets. Tired of just the black n white now Posted from my caseless Note4, because I believe in myself.

Gear S would be awesome if it ran full Android.

The straps are definitely better than the original bands shown.

I can't wait to get mine. Once I get my EBT food stamp card
Android Central Newsletter
Get the best of Android Central in in your inbox, every day!
Thank you for signing up to Android Central. You will receive a verification email shortly.
There was a problem. Please refresh the page and try again.