Samsung announces Galaxy Tab 4 in 7-, 8-, and 10.1-inch flavors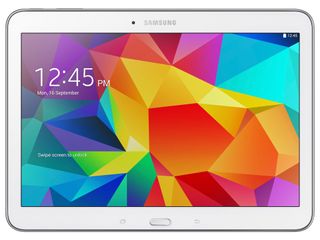 Previously outed by Samsung no less, the Galaxy Tab 4 range is today official. Coming as with its predecessors in 7-, 8- and 10.1-inch form factors, the Galaxy Tab 4 is the latest lineup of mid-range tablets from Samsung.
Spec wise each has a 1280x800 resolution display, a 1.2 GHz quad-core CPU, Android 4.4 Kitkat, 1.5GB of RAM and 16GB of on-board storage with an option for an 8GB version of the 7-inch. Cameras on each are 3MP and 1.3MP and there will be options for Wifi-only and LTE capable tablets.
The Galaxy Tab 4 range will also come with the usual array of Samsung's own apps and services, including Group Play, Samsung Link and WatchON, multi window and more. All will be available in black or white beginning in Q2 2014. There isn't any indication of price at this time.
For more, drop by the source link below.
Source: Samsung
I know thats probably sarcasm or wishful thinking but its more like Snapdragon 400, there is no way an entry level tablet is getting an 800 or even 600 yet.

The Galaxy Tab Pro 8.4 comes with a Snapdragon 800

It's also £400. This POS with its 720p screen would be overpriced at £200 Posted via Android Central App

Hopefully the price is low on these. Like...really low. That'd make them actually fit into a category. Otherwise...pretty stupid.

I really hope this is an April fools joke. Those seem like tab 2 and tab 3 specs.... Posted via Android Central App

Hardly... Tab 2/3 had terrible dual core processor (though we dunno the maker of the chips in the tab 4's), terrible screens, and a gig of ram. Sad to see the worse camera though (at least in the 8 inch variant). Sooo glad it's not that ugly gold brown color too

I would disagreed of your use of the word terrible for both the processor and screen...especially seeing as how I'm replying on my Galaxy Tab 2. By no means are they cutting edge, but they definitely aren't terrible. The color reproduction, gamut, and viewing angles are all good..just not high resolution; but a solely high resolution screen doesn't make it great. Posted via Android Central App

That would be the typical 'spec sheet enthusiasts' comment, not anyone that has one, I have both, and both work great for what I ask them to do Posted via my outdated Droid RAZR Maxx HD using the Android Central App

The Tab 2 and the Tab 3 had very different processors. The GT3 10.1 ran an Intel Atom processor. I've deployed a few hundred in enterprise environments and they're more than adequate.

I wonder if there will be a lte version with better specs like the tab 3. On another site I read the 7 will only have 1gb of ram but if it gets 1.5 I will seriously consider it. The tab 3 7.0 is constantly slowed down by lack of memory. At least mine is anyways. Posted via Android Central App

Specs sheet at the source link shows 1.5GB.

Thanks.. I just checked it out now. Posted via Android Central App

Price for 8-inch would need to be Nexus 7 priced. That resolution? Yuck. The Tab Pro is a much better buy, even at a slightly higher price.

8GB option? I thought Touchwiz was 9.6GB ??!?

According to evleaks they're Snapdragon 400s

I'll wait for the Z2 Tablet LTE thank you. Posted via Android Central App

These tablets seemed early on that they would be equivalent to the Galaxy S phone series while the tablet Notes and phone Notes are the same. I'm sure people think that too and some may be suprised with how crappy a tablet the tab series is. Sure it is OK, but when you can get a galaxy s phone with much higher res than a 10.1" tablet I would say the tablet is low end.

Samsung has so many tablets, I doubt even their marketing dept can name them all!

If they are priced really well maybe I'll get one for myself next semester Posted from VZW G2

I'll wait for the HTC Nexus Tablet

Just seems to be a minor update, I guess it is cheaper for them to design and build new tablets rather than sell the old ones at a cheaper price. I've got a Tab 3 10.1 with the Atom, I doubt this one will be much of a step up but I bet that means my one's gonna get forgotten shortly!

I recently bought the tab 3 8" for £110. I thought it was going to be pretty bad but it's actually great! Does exactly what I need it to do. So have been interested in their new range. These specs seem like a very minor bump, not much justification to upgrade. Posted via Android Central App

Have the standard Galaxy Tabs always NOT been 1080p resolution? That has to look pretty low res on the 10" tablets Posted via Android Central App

Eck. I would hate it if this is true! Posted via Samsung Note 3

Anyone know if these come with a stylus? Posted via Samsung Note 3

Did you mean S-pen?
No, it won't as they have another line up, galaxy note series, which has that feature.
Samsung Galaxy Note 1,2,3, 8.0, 10.1, 10.1 (2014), and note pro 12.2

Damn people I would rather have the pro series with higher res screens myself but a 1200x800 amoled screen looks surprisingly good even on a 10.1 inch. On an 8" or 7" they look very good have you all even looked at them in person. I do not see what anybody is Bitching about you either get the light the standard or the pro just depends on how broke your whining ass is. If you have the cash get the Pro and do not worry about anything else. Unless you have the brains to get the Kindle Fire Hd 8.9 root it add a second bootloader to install Cyanogenmod. If you want a high resolution tablet for cheap that is your best bet.
Android Central Newsletter
Get the best of Android Central in in your inbox, every day!
Thank you for signing up to Android Central. You will receive a verification email shortly.
There was a problem. Please refresh the page and try again.