The sad state of Android updates in India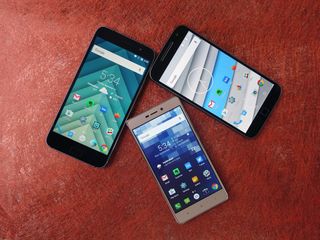 Android has a 97% market share in the smartphone segment in India. There are over 1,000 models that run the operating system in the country, with prices ranging from $30 all the way to $1,000 (opens in new tab). Over 50 new handsets are introduced into the market every month, and it is not uncommon to see phones debuting with Android 4.4 KitKat out of the box.
The sheer breadth of models in the market makes it a tough ask for companies to roll out updates to their portfolio of devices, made doubly hard for local vendors. The likes of Micromax, Intex, and Lava roll out nearly 50 new phones a year across their distribution channels, and lack of adequate engineering resources means that most of these devices never see a single update. That not only leads to fragmentation, but also renders phones open to potential software exploits.
Barring companies with huge engineering division like Samsung and the former Google-owned Motorola, manufacturers have done a terrible job of keeping their phones up-to-date in India. With Nougat on the horizon, let's see the state of Marshmallow in India.
Samsung
Samsung occupies the top spot in the Indian handset market, and the South Korean vendor has done a remarkable job of ensuring that a vast majority of its phones are updated to Marshmallow. That extends to the company's budget and mid-range phones as well, with the likes of the Galaxy On5 Pro, Galaxy J5 and J7, as well as the Galaxy A3, A5, and A7 making the move to Marshmallow.
In addition to last year's Galaxy S6, S6 edge, and S6 edge+, the Marshmallow update has rolled out to the Galaxy S5 and Note 4. For all of its hardware inadequacies, the Galaxy J2 2016 comes with Android 6.0.1 Marshmallow out of the box.
Micromax, Intex, and Lava
The stance taken up by India's three largest handset manufacturers when it comes to rolling out updates can be summed up in a single word: indifference. These companies are content with launching phones based on Android 4.4 KitKat, and are reticent to roll out platform updates to a vast majority of their current handsets.
Micromax, for instance, has launched over 50 phones over the last 12 months. To combat declining sales, the company unveiled a new logo at an event earlier this year, where it also introduced a total of 15 phones. Of all the Micromax phones available in the market today, a mere six handsets run Marshmallow:
Canvas Spark 2 Plus
Bolt Supreme 4
Canvas Selfie 4
Unite 4 Plus
Canvas Unite 4
Canvas Fire 5
When it launched the Canvas 5 in November, Micromax promised the Marshmallow update for the phone. Ten months later, that is yet to materialize. In fact, we're yet to find a Micromax phone launched in 2015 that has officially made the switch to Marshmallow.
In comparison, Lava is doing slightly better. Out of 40 handsets launched by the company over the last ten months, 12 devices — P7, P7+, X10, X11, X38, X46, X50, X81, V2, V5, A68, and A71 — are currently running Marshmallow.
Intex has steadily gained ground over the course of the last year, but the company hasn't fared any better when it comes to rolling out updates. Of the 55 Intex handsets currently on sale, only nine run Marshmallow:
Aqua S7
Aqua Costa
Aqua Music
Aqua Pride
Aqua Power 4G
Aqua Strong 5.1
Aqua Ring
Cloud Glory 4G
Cloud Fame 4G
The Chinese contingent
Xiaomi is quickly gaining ground in India, but the company's best-selling phone this year, the Redmi Note 3, is on Android 5.1.1 Lollipop. The phone picked up MIUI 8 last month, but the base Android version remains unchanged. To Xiaomi's credit, the manufacturer has done a stellar job of rolling out monthly security patches to all of its phones, including the budget Redmi 3S.
Lenovo's ZUK Z1 turned out to be a standout phone in the budget category, mixing great hardware with Cyanogen OS, but the phone is still on Android 5.1. There is a community CyanogenMod build based on Android 6.0.1 for those interested in flashing the ROM, but there's little in the way of an official Marshmallow release from Cyanogen. Lenovo has stated that it will offer its own software in lieu of Cyanogen OS in the upcoming ZUK Z2 (which will be sold as the Lenovo Z2 Plus), which should see faster updates.
As for Lenovo's other handsets, the K3 Note, K4 Note, and Vibe S1 got Marshmallow earlier this year, but the Vibe K5 Plus — which made its debut a few months ago — runs Android 5.0 out of the box. Lenovo-owned Motorola was the first to roll out Marshmallow to its entire portfolio of devices last year, but it has faltered when it comes to making security patches available to the Moto G4 Plus and Moto G4 of late.
OPPO and vivo are expanding heavily in India, and while they don't inundate the market with phones like local vendors, their phones come with a different set of shortcomings. Both vendors use heavily skinned versions of Android, making it difficult to roll out updates on time. Therefore, OPPO's latest ColorOS-based F1s still runs Android 5.1. Vivo's v3 and v3 max, which run Funtouch OS 2.5, also come with Android 5.1 out of the box.
What can you do?
With outdated software comes the threat of malware and exploits that can take over your phone. Thankfully, Google has checks in place to prevent exploits from harming your phone, even if you're one to sideload apps.
The best way to ensure that your phone gets updates is to vote with your money. If a company doesn't have a great track record when it comes to updates, switch to another manufacturer. There certainly isn't a lack of choice when it comes to Android phones in India.
Android Central Newsletter
Get instant access to breaking news, the hottest reviews, great deals and helpful tips
Harish Jonnalagadda is a Senior Editor overseeing Asia at Android Central. He leads the site's coverage of Chinese phone brands, contributing to reviews, features, and buying guides. He also writes about storage servers, audio products, and the semiconductor industry. Contact him on Twitter at @chunkynerd.
"I blame Verizon"
-people on the internet who hate Verizon way more than anyone should hate anything

Can't tell if sarcasm or troll....
But the big 2 over there is Airtel
Vodafone Nether are own by verizon from what I can tell... But hey I guess we can blame "BIG VERIZON" for all cellphone problems

Why not? My wife blames me for most things so why not blame Verizon for the rest? Lol

I dunno... I think Verizon deserves it. They've done plenty to stagnate Android, up to and including even stagnating the beloved Nexus line for anyone not purchasing on Verizon. There's a slew of reasons the Nexus 4 was such a success, at least one of which was exclusivity for months on the Galaxy Nexus. But even Android aside, the fact that I had to help someone find a replacement flip phone in the last 2 years because Verizon put them on contract (with a $300 ETF remaining) for a CHEAP CHEAP FLIPPHONE... was enough to make me hate them for life. They use their coverage and exclusivity to hurt people. And that's not cool by any means.

It's bad in the UK too, still waiting for the OTA update to nougat for my unlocked Nexus 5X.

the harsh reality, but the thing is does an average buyer in india actually cares about OTA updates? my view is no they dont,

Your probably correct, the ones that do care about it are probably in the minority. I looked at one of my friend's cell phone showing me a picture, and after I saw the pic as I was giving his phone back and I noticed phone was still on lollipop. I said wow this thing still on lollipop why don't you have marshmallow yet...... And he gave me a deer-in-headlights look. And he said it's an Android phone it runs Android... And I'm guessing the majority of the people think like he does. Majority of people care about does it get on YouTube, can I get on a social media app that I'm using at the time, can I receive a text and reply... Will this phone take good pictures of the food I eat.... and how easy is it to place on Facebook And at the bottom of the list is will it make a phone call. Seems how it is over in the US

Yep. Apple gets away with it because they actually market their upgrades. Even if it's not even much of an update people will think it's the best thing since sliced bread

Well, I'm using my "old" iPhone 6s at the moment waiting for the "residual" update known as the iPhone 7 256GB in black to arrive on Friday. Why? Cause my Samsung s7e died. No rhyme or reason either. So while I'm waiting for it to be repaired and sent back....I'm picking out a spot to bury it in my filing cabinet.

Well... It's better than a poke in the eye. Which is basically what you get with android...well that or a blown off hand :O

No one cares in India..may be some people like us those who want to explore things..my self having YU yuphoria..I'm done with cyanogen12.1 so I shifted to CYANOGENMOD13.. almost all local vendors use stock ROMs.still I didn't get the logic behind not updating their phones at least security updates ...!

Harish anna..R u from HYD :)

So...the Android One initiative isn't gaining any traction in India? If I recall, India was the first (and only?) place it launched.

Are you surprise it's not gaining any traction there. Those vendors only make money on the transaction and that's it. They do not have a relationship with the users once said transactions are done. Android one only stands to benefits Google in the long run. They are the one with the PlayStore, they are the one who will continue to get money after a phone is sold. I will ask you again, what's in it for those vendors? Answer that question honestly and you shall understand why it's not working.

Last I read, carriers get 25% of sales in the Play Store (relevant article: http://www.androidauthority.com/google-share-play-store-android-app-reve...). Is that not the case in India? If it is, then it is not only Google that stands to benefit from the Play Store. *25% of the revenue from each app sale, to be more specific

repeat business comes to mind.

Not really, those guys don't have any loyalty to any brand. Their loyalty is to the cheapest device, that's how they buy.

I thought the whole point of Android One was that Google would take care of the updates. Apparently most of the phones sold weren't Android One phones Posted via the Android Central App

Android One isn't limited to India. The initiative has branched out to SE Asia and the Middle East. I used several that were launched in India, and while the phones weren't bad, Google did not advertise them at all. And by making them online-only, it delineated the customers it was trying to target. Most first-time buyers go to a retail store to pick up a phone. After that, it just fizzled out. There have been rumors that the program would be renewed with a better distribution model, but we're yet to see that.

How about "That Sad State of Android in The Untied States"? Huuuuge number of peeps still running KitKat.

i thought that it melted still in the wrapper long ago.....lol

It occurs to me that no one has written this comprehensive an article about OS and security updates on US models. Generally, I don't think the situation is any better. Even Nexus phones and devices get dropped after three years.

For one thing, almost every phone sold by a non-multinational India-only OEM uses a Mediatek processor, and Mediatek has a notorious reputation for not sharing the necessary source code to their OEM and ODM partners so they can work on fixing bugs, optimising features like the camera, and most importantly, updates. Also, they just shove the "newest" chipset that runs the "latest" Android version, instead of updating the older ones. It's the same scenario in my country, a lot of the old phones just aren't updated, but the new ones with newer Android versions have Mediatek's newer chipsets. Mediatek demands a significant sum of cash for that source code which is in direct contempt to Google's policy, and if an OEM steps up, they can be legally sued for this. It's pretty well documented, actually.
http://www.gizchina.com/2014/03/24/mediatek-dont-share-source-code/
http://www.xda-developers.com/have-you-paid-your-linux-kernel-source-lic... That's one. Another is that the smaller OEM's don't nearly have enough cash to invest in R&D of new software. Which is a shame. But hey, "Choice," whatever...

You're absolutely right. That is why I'll never buy a device with a Mediator chipset.

Samsung is offering the J series as a loaner for the $900 Note 7. It's a junk phone built for India. Ok.

Well ya the J series phone I built for people who don't have money aka poor people

Well nah it shouldn't be the loaner for a $900 device...guess my point was in-line with the sad state of Android phones in India. Windows Phone is killing it there from what I can tell.

The sub-$100 Lumias sold very well, but with Microsoft shifting focus away from that segment, most of those users have gravitated to Android over the course of the last year. And yeah, the Galaxy J series is terrible. They should've handed out the A3 or A5 as loaner units, but I guess it came down to cost.

I know i did, and i couldn't be happier

The one to blame for this is actually Google itself by releasing a MAJOR update as a new version each time all year. They should actually ditch their Versioning as it is right now and provide a common core that has a majority of core functions that arent to be modified by manufactures (without taking the possibility to do so of course). Now Google pushes Core updates and Security Fixes trought all manufacturers on a central Repository as a Library for all Manufacuteres that can be accessed and updated independentily from the Phone Manufacturer as this Library is precompiled by Google. And if Manufacturers want to push changes to their UI it should be residing in another Library that actually can be updates but isnt a must. Win win - but Google wants to sell Nexus er Pixel -Devices instead with High Priority Update so we will probably never see this ..

I agree Google is a major part of the problem. They continue an all-or-none method to Android is a major problem. For example, for Nougat the hardware and drivers must be capable of providing the Vulkan API. While there are some aspects to Nougat that may improve upon Marshmallow that are unrelated to Vulkan, those aspects are only provided with *ALL* of Nougat. The Android firmware has become too bloated to properly do quality assurance. Every little functionality is being rolled into the base firmware including phone dialer, messenger, web browser, maps, music player, video player, etc. The "factory image" for both the Nexus 5X and 6P currently come in the form of a huge 1.2 gigabyte zip file. There is so much code that is burned into the firmware that it is impossible for something not to have a critical remote exploit already included. Instead, Google should be promoting a light weight firmware design. The phone should be close to unusable when you first turn it on because it should start with a boot strap image that is less than 300 MB. The firmware should only be capable of the welcome setup to get onto the network and settings. Every other aspect, including the phone dialer, messenger, etc. should just be individual apps which each get downloaded as part of the welcome setup. A small bootstrap image would be easier to QA and problems with individual updates would be easier to update.

Manufacturers* updated* ... Edit doesn't work for me here.

I'm pretty sure no one in India is reading this. And it's a Third World Country.

They're all over at Windows Central... Wen in India and so forth.

Obviously lots of Indians are reading this, why else u think there are so many articles in AC targeted at us.
And 97℅ market share for Android, it is written in article, windows is nowhere.

I wouldn't be writing it if no one out of India wasn't going to read it.

The average Indian customer doesn't care about updates. Some do ask the question whether it'll receive updates, but once they get their hands on the device they forget that. Few people like me are actually observing the life cycle of a device. Been using CyanogenMod since my HTC Pico days. However seeing my current device, I.e. oneplus one, I guess OnePlus has done a stellar job of keeping all their devices updated with an impartial global rollout of updates and community builds.

Yes my OPO is still upto date and still a boss.
No need to upgrade.

Someof my friends have not updated their Moto (2nd gen and 1st gen).
Because they found issues with latest updates.
BTW I care about updates. But average user doesn't. I even used Android N beta with my Nexus 5X

Condition is worse in India be it any manufacturer. Even samsung takes too much time to update their phone. Samsung launched many budget smartphones last year with updated android but failed to give OTA to their old flagships like s5. That's why majority of mass go for phones which have good developer support like redmi note 3 which already has CM 14 with Android nougat.

You spelled "Everywhere" wrong

Redmi note 3 does have the marshmallow update, in beta at least on both the chinese roms and global ones.

Great compilation. Reading this makes me sad. Hoping Moto releases Nougat for the X Style this year.
Android Central Newsletter
Get instant access to breaking news, the hottest reviews, great deals and helpful tips
Thank you for signing up to Android Central. You will receive a verification email shortly.
There was a problem. Please refresh the page and try again.