Riptide GP2 changelog all but confirms Android TV hardware is ready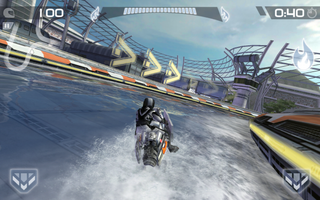 That Android TV — as in whatever software is will make up Google's next-generation living room play — is imminent was hardly in question as we watch the hours tick by before Google I/O begins. It's coming. What we weren't sure about was whether hardware would be ready for this year's developer conference. (We'd heard whispers to the contrary.) But when Riptide GP prematurely updated its app description this evening to say it's ready for Android TV, well, that just about seals it. (The app description has since been reverted to something a little less revealing.)
So, yeah. Android TV is coming.
Be sure to tune in to our liveblog at 9 a.m. PDT (that's noon EDT), and bookmark our Google I/O page while you're at it.
Source: Riptide G2 on Google Play
Get the Android Central Newsletter
Instant access to breaking news, the hottest reviews, great deals and helpful tips.
Nice. Looking forward to seeing it. Posted via Android Central App

So I want to say as someone who picked up a FireTV at launch, and have actually been using it nicely as a network streaming box with Plex, and internet streaming with HuluPlus/Netflix/Amazon.
I will be looking at this announcement with great anticipation, and if it goes on sale will likely pick it up. I like the hardware of the FireTV, so if this is comparable, I much prefer the non-skinned straight Google experience to the overlay that Amazon seems to opted with for all their Fire products.

Crossing my fingers for HDMI pass through in Android TV.

That's the one thing from Google TV that would be a nice carryover. It's integration with my cable box and the ability to voice search shows and channels was really nice.

Ideally I would like for HDMI pass through to not be needed. If Google TV could be your ONLY set top box you wouldn't need HDMI pass through. Connect it to the internet and add the option for 4-6 CableCard tuners and this would be the only box you need. Only changing the HDMI input when gaming or maybe watching a DVD. Google should buy Ceton!

I am so far loving my fire tv with xbmc and hoping all android tv apps work great on it now that I have installed the google play store

Not surprised. Let's see how Google decided to go about it. Posted via Android Central App

Ironically, the one feature I will miss most on this android tv is... Amazon Prime VOD. -Suntan

I don't know, Android TV is the ultimate next step for slammin' ads in your face. They can't wait to get on your TV since they know most people sit in front of their TVs for approximately 6 hours a day. They can brainwash you with ads and make you pay for the box on which they're doing it. Sure they're delivering content, but I just don't like ads.

Maybe comes in with another Marvell SoC? Google has a good history of putting Marvell's great performing TV SoCs in their TV products.

Crossing my fingers for a minimum 16GB on board storage, but preferably 32GB or a swappable 2.5" SSD. All of these terrific boxes that are so horribly limited in storage (I'm looking at you Ouya and FireTV) are frustrating. 8GB of storage is a joke for a box that will have XBMC and all of my games on it.