Reminder: Moto X penny down test drive begins tomorrow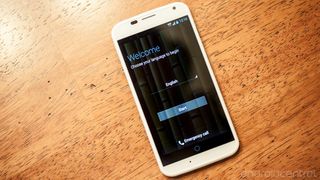 Motorola's campaign to get the Moto X into the hands of more users begins tomorrow. Starting Monday, June 9, Motorola will allow users to build a custom Moto X through the Moto Maker Design Studio and try it for just $0.01. The in-home trial will last for two weeks, offering customers a relatively easy and risk free way to trial the Moto X and many of its unique features, including Active Display Notifications.
Motorola had taken to Twitter to remind us of the promotion. "Your chance to take #MotoX for a test drive is almost here," the tweet reads. "Only a penny for 2 weeks."
The deal is good "while quantities last" and interested users should visit Motorola's website (opens in new tab) starting tomorrow for more details.
Is this something that you're interested in trying out? Would in-home trials like Motorola's latest promo be a good way to help you if a smartphone would be the right fit for your needs and lifestyle?
Source: Twitter
Get the Android Central Newsletter
Instant access to breaking news, the hottest reviews, great deals and helpful tips.
Well tonight at 9 PM for people on the west coast. Also known as the best coast.

Ummmmmm I'm the kind of guy who stops a microwave at one second to feel like a bomb defuser.

Sure whatever floats your boat man.

Only by people who haven't been to other coasts. :P

Hahaha hey Jerry. My wife's family is from New York and Chicago. I've visited the east coast before. I guess I'm just biased. I just want people here to know to get online at 9 so they don't miss out.

Nj is best state on the East.. We literally have everything from gardens, mountains, beaches, parks, lakes, etc.. Everything.
And we're the richest state in the union. NJ ftw suckas Nexus 4 - CM10.1.3

I chatted with motorola, it is 9 AM CST tomorrow. You have option of paying with motorola credit account after 2 weeks up.

I just got my code right now. I applied at 9 PM PST.

Well I looked on ebay and found I could get 32gb on att for around $300. So I will probably just buy it from ebay if I decide I want it. Really want to get oneplus one but they are taking forever to hand out invites. Also saw sony xperia z2 on ebay for $520... Choices Choices. ..

As someone who lives on the Southeast coast, not being constantly threatened be earthquakes, mudslides, and forest fires is actually pretty cool.

Has anyone found any catches or tricky tricks? I'm a little skeptical. Posted via Android Central App

Nope I called them a few times and even spoke to someone in corporate. There are no tricks or catches. It's simple. They charge you a penny to verify who you are and to make sure the card is valid. If you do not start the returns process via their website within the 14 day trial period, after the 14th day they will charge your card because they assume you are keeping it. If your card doesn't authorize for the full amount, they will send you notification and give you a bit more time to give them a new card. If you still ignore that, then they remotely disable the phone and send you off to collections. So if you wanted to sell the phone, you'd have a bad esn and you won't be able to buy a house in 7 years.... it's really not that complicated.

Do you have the option of paying using motorola credit plan and split price over 12 month period? Or do you have to pay all at once?

It says on their website that you cannot use financing.

I just chatted with motorola and they said you can use a motorola credit account to pay for it.

From the website:
Can I finance the phone if I decide to keep it? Motorola credit will not be available for Try Then Buy phones.

Any idea if this is for contract only phones? Or are non contract phones included?

What are you talking about? You pay a penny for off contract moto x from whatever carrier you want and get to try it for 2 weeks. If you don't like it send it back.

Yeah and most of the phones then carry a restocking fee usually 35 dollars....

If you keep it you still be paying $500 for the phone Posted via Android Central App

The Moto X starts at $350. Nice try, though

Moto has out out if ya dint return it they will remotely turn it off second they will try to charge the credit card ya use then report it to credit bureaus then your screwed so there's no way ya can get away with it cause they will just remotely trim phone off plus they will run the credit card ya use and using a gift card can't happen ...so ppl can't get away with scamming moto

I'm guessing he's saying you can't use a prepaid card with only $0.01 on it to try and get over on Moto. Posted via Android Central App

My head is going to explode! Posted via Android Central App

Yikes... Posted via Android Central App

Does anyone know what they're going to do with all the returns?? I wanna keep my X as a backup phone, but I don't have $400 right now. If there was a way I could make payments without applying for credit that would be awesome. Posted via Android Central App

Motorola does have financing Posted via Android Central App

I didn't get approved last time I applied. Even my wife didn't get approved and I know she has good credit. Posted via Android Central App

I got approved for almost 4k when I apoed back in December, I would try applying again

4k?? How is that possible?? I don't have perfect credit, but my wife was approved for a little over 2k on a Best Buy card about a year ago. We applied for the Moto card in December and didn't get approved.

I am wondering the same thing. Where are they going to sell all of the returned phones? EBay perhaps? Or do they have a refurbished store? Posted via Android Central App

I'm hoping they will either offer a discount when you request the shipping label to return the phone, or have a secret contest to allow 5 users to keep their phones free, or something like that. However, I think it's unlikely. I've been considering the Moto X, but I'm worried about battery life and not being able to remove/swap it, so 2 weeks should give me time to put it through it's paces. I have my code, but I'm unable to get it to work in the promo code box. Looks like I'll be calling them for help tomorrow morning.

Love the idea. I think I'll definitely give it a try. Posted via Android Central App

What is the price after 2 weeks? $350?

Whatever it says in your cart usually 479

I wonder if you can use the .edu email discount too

Does anyone know the process for returns? Do we personally have to pay the shipping cost?

No. Go to their website, there is a whole FAQ page

Will this work in Canada too, or just the US? Posted via Android Central App

Uhh why not go to the website and read where it says US only...

I just got one and...... My card was charged 1.01

My card was exactly 1.00 pending. I guess it depends on the bank.

Mines $0.01. Bank of America. The worst bank ever. Posted via Android Central App

I got my code but still debating on using it since i'm not sure i'll be able to even keep the phone.

But i'll be so tempted to haha

Yea not sure about this...got a promo code but kinda afraid I could get screwed over by this promo...

I'm trying to put in my promo code, but it isn't working. It is saying, " enter a valid promo code." Posted via Android Central App

Just worked for me. Got my promo code, entered at checkout and they only charged me the .01. In fine print it says they have the right to authorize the full amount if they suspect fraud, so just be aware. But it did in fact work the way they said in my case.

Did you just copy and paste your code? Including the testdrive part? Posted via Android Central App

Exactly. Copied the entire code from my email and it worked like a charm. In the FAQ there is a number to call in case your code doesn't work and they can look you up in their system. But I had zero issues other than the website being a little slow right now. I can imagine they are getting quite a bit of traffic right now.

Got my code. I know I can't afford to keep it though. I might apply for Moto credit again. But I'm sure I'm not gonna get approved. I'll probably just send it back and if I like it I'll probably wait until the next Moto X is released and buy that one.

Still waiting on my e-mail with the promo code.

wow custom phone not in stock untill the 17th of June..doesnt even indicate ship times and I have to have to return it by june 28th. What ever happened to 4 day ship times? I think im gonna pass..

In the FAQ is says the 14 days start when you receive the phone. I would assume they can tell when the phone is activated and the clock starts then.

I didn't see the FAQ's...moto's site has been running slowly tonight

On the page where you sign up for the promo code, scroll down. I just checked again and it does say that the 14 days starts when the phone is in your hands. The date they show is probably an estimate. Posted via Android Central App

Those of you that already ordered, are you by chance on the East Coast? Because it's not quite 12 o'clock where I live. Posted via Android Central App

Mountain standard time here
Ordering opened up at 10pm, which would be midnight on the east coast.
Posted via Android Central App

Yes, I'm on the East. Just ordered. Bamboo back! Don't plan on keeping it (can't afford that right now), but will be fun. Won't ship until the 17th though, but it's due back the 28th...kinda worried there.

The 14 days starts when you get the phone. Posted via Android Central App

Let's hope so! :) It did say something like that, but I'm hoping they don't use this to screw us.

From Moto website: "When does my two-week trial start? Your 14 days to play begins the day you receive your phone."

It's not due back on the 28th... that would be the date you are charged the full amount if you didn't tell them you are returning it. If you actually had read the terms, everything is an estimate. As long as you tell them before your 14 days is up that you are sending it back, you are fine. Like others have said, their website states in their legal terms that your 14 days start when you take delivery of the phone. Life and this offer aren't that difficult.

It only needs to be 12:00 AM on the EST.

I'm in Chicago so I assumed the promo would open to the Midwest at 11pm but I was able to start the process at 10:56. Posted via Android Central App

When did the 64gb version come out? Posted via Android Central App

I was finally able to order mine!!!! Posted via Android Central App

It started everywhere at midnight tonight I got mine ordered. So order yours. Posted via Android Central App

All out. Sucks for those people who thought Monday indicated some time during the day.

I hear ya. I'm in Utah and I checked at 1204 and it was gone Posted via Android Central App

It's been 20min and still no email

How long did it take you guys to get your email

Already sold? Their site says all the Moto X's that were allotted have been sold...wtf

12:42am on west coast they are all gone
Why does it still say a Google company?

Got mine ordered....looking forward to trying it out!
Posted via Android Central App from my Nexus 5

Swiched to the X recently from my HTC M7 - absolutely love it. Cant fault it. OK, i miss my boom sound speakers a tiny bit but go for it folks you wont be disappointed.

Sounds like a good deal but I have a Nexus. Also, this seems a bit late. If this was offered a few months back I'd have a Moto X. AC App via Nexus 5

Dear Mr Moto, Can we have some offers in the UK please! It seems like every week there is another offer or sale on MotoX's in the US. I want one in the UK, but I'm not going to pay full price when you keep giving them away in the US and the new one is only a few (?) months away.

Cannot agree more. We need some more moto offers here in the UK! Posted via Android Central App

I need a code if someone doesn't want it. Michael.Ugarte@gmail.com By the time I got online at 2am the codes were gone :( LG Optimus G Pro

Same here I could use a code too. Was to late when I got home this morning. Private message me via the forums. Thanks guys! :-) Sent From My Nexus 7

I can't get it to work for me so you're more than welcome to my code if still needed!

I'll take it! Michael.Ugarte@gmail.com

If people were signing up for this promotion just to hoard codes, that's pretty crappy.

This deal sounds like a great way to test drive a prepaid service provider in your area for a couple weeks

Oh well..no code here either. Looks like the Galaxy S5 will have to suffice Posted via Android Central App

Was it gone instantly or did it not start yet?? When I click it says all codes gone.

It's been running for 7 hours and they are already at the alloted number of phones for this program. LAME!!!! What did they limit it to like 30 phones? Surely not THAT many people were interested. Nice fake PR hype Motorola. No wonder revenue is in the crapper!

I missed the first few minutes of Game of Thrones to order mine right at 9 pm. Just in case they sold out quick. Posted via Android Central App

Any extra codes that no body wants to use? If, so please send my way!!! I ended up missing the offer!!! email: jeanbiele@yahoo.com

I know the FAQ says 14 days from when you get it, but it is weird that it said full amount will be charged before that. So we basically have to request the return info 7 days in really.

Don't know about you, but I got confirmation of my order at 12:03 am today and I got a ship notification 10 mins ago... and it's being delivered on Wednesday

Nice I got notification of order at 12:10 am and today got notification it's being built. Posted via Android Central App

I have a code if someone want it! Posted via Android Central App