Google I/O would have started today — here's why it's such a wonderful event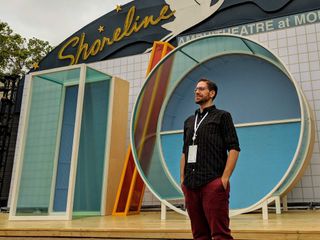 Today would have been the Google I/O 2020 keynote. I know this because, despite being deleted from Android Central's shared calendar weeks ago, a phantom notification appeared on my laptop last night reminding me of that fact.
Google's done a good job erasing this year's Google I/O from the internet. If you go to the dedicated website for the event, it succinctly sums up why it and basically every other live event scheduled since mid-March has been cancelled:
I don't begrudge Google its decision at all. Obviously we can't convene an event where thousands of people are crammed together waiting in lines for food boxes and shared snacks, for coffee dispensed into small cups, and for office hours with Google's developer advocate teams. We can't be sitting next to one another in tents, listening to presentations from Google engineers on raised stages as they work over new code and updated APIs.
I love Google I/O. I loved it when it was crammed into the cavernous halls of the Moscone Center and I loved it over the four years it was expanded to the Shoreline Amphitheater, an enormous sun-soaked Mountain View vista most commonly used for concerts. There's something truly gratifying about being in the same place as many of the developers, executives and media that make Google's software ecosystem so vibrant.
The keynote typically follows an arc: Google's CEO, Sundar Pichai, usually comes out and lays out the day, talking about the company's recent advancements in AI, reiterating the company's mission statement of, "organiz[ing] the world's information and mak[ing] it accessible and useful."
Google's keynote always reminds us that the company is working on a huge number of things outside the Android ecosystem: Assistant and Lens, the mobile web and Duplex, Maps and accessibility, Nest and Photos, among others. The tone is always optimistic, the shots always to the moon. And some of the announcements, which we've rounded up here, have changed the world.
Google doesn't always follow through with its promises, though. Duplex hasn't turned out to be the de facto way to make restaurant reservations (if that were a thing anymore), and last year's demo of the new Google Assistant, as impressive as it was, is a little less reliable in the real world. When Google's on-stage demos work, they appear like magic. When they — if they — roll out to the public, they're usually a bit hamstrung.
I/O is more than the keynote, though. There are breakout sessions and shady trees (though not enough), there are informal fireside chats and one-on-ones, podcasts, and a fantastic community that's there to support one another. I've been to nearly every Google I/O since 2012 and while the environment has changed and the focus shifted, the fundamentals of building experiences on top of Google's platforms hasn't.
Even in years where the events are disrupted by protestors — and there have been a few, as recently as last year — it generally feels like everyone comes together for the same reasons. And even though Google's influence over the shape of the internet has grown with its market cap in recent years, it's relatively easy to forget that — for better or worse — as you're strolling around the Shoreline grounds looking for your next conversation or cup of coffee.
So here's hoping that next year Google I/O returns in some form or another. In the meantime, I'm going to raise a glass to the 2020 event that wasn't, and look forward to the Android 11 beta reveal on June 3.
Be an expert in 5 minutes
Get the latest news from Android Central, your trusted companion in the world of Android
Daniel Bader was a former Android Central Editor-in-Chief and Executive Editor for iMore and Windows Central.