Relay by Republic is a better smartphone for kids: What you need to know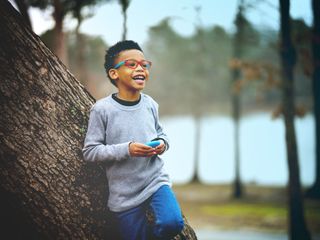 If you want to be connected to your child when they leave the house but don't want them to have a regular phone with unlimited access to the untempered schism that is the internet, your options are somewhat limited. Locking down a normal phone takes know-how and isn't 100% effective. The giant kid smartwatches sold by several carriers aren't great at making phone calls, which makes them less like a phone and more like a security bracelet for parents to track their kids.
The folks at Republic Wireless (opens in new tab) have a new solution for parents with younger kids in need of a connected device of some sort. It's called Relay, and instead of taking up the standard smartphone shape and size it looks and acts more like a cellular speaker for quick communication.
Here's everything we know about this new entry into the kid phone world!
What is Relay?
On a high level, Relay is a phone designed for what kids under age 12 and parents need to stay connected. Instead of a display, a secure version of Android, or a camera with safety features built in, Relay is a pocketable speaker with a single button on the top. From the kid's perspective, it doesn't get much easier than Relay. Keep it in your pocket or in your bag until you need it, and press the big button to ring Mom and Dad.
If you have multiple kids, you can give out multiple Relays and have them all work together. This means one kid with a Relay can call another kid with a Relay, as long as it was set up to do so by the parent. Kids can chat with one another walkie-talkie style just as easily as they can talk with parents, which is cool.
Republic Wireless claims Relay is "durable, water-resistant, and boasts all-day battery" on the website. With no screen to break, the all-plastic body can certainly take a drop or two without issue. Water resistant means it can be rained on a little or handle the occasional splash, but you can't drop it in a puddle or a pool. The battery life will surely change with usage, though because recharging requires a special magnetic connector made by Republic Wireless you'll have to be careful not to misplace it.
The default way to talk through Relay is the speaker which occupies the top of the device, but it is not the only way. A headphone jack on the side of the device lets you connect headphones, so if you need to scold your kid you don't have to worry about embarrassing them in front of their friends.
Relay is available in five bright colors, so your kid can choose the best one for them and if you need more than one you can easily tell them apart. Those colors are:
Blueberry
Charcoal
Mint
Slate
Brick
This "phone" uses Republic Wireless for 4G LTE service, but none of the phones connected to it need to be for this to work. And because this is Republic Wireless we're talking about, when Relay is near a decent WiFi connection it will automatically connect to use that for calls instead of the cellular connection.
How is Relay better for parents?
The Relay app, which is available for Android and iPhone, is the central hub for communicating with Relay. Parents can use it for calling the Relays on your account when needed, but it also gives parents feedback about the status of each Relay. If your kid has walked into an area will low cellular service, parents will know about it. If the battery on a Relay is running low, parents will know about it.
Perhaps most important, Relay offers location services inside the app as well. You get access to a map in the app with the last known location of the Relay, and can use that to easily locate your kids when necessary.
What else can Relay do?
Since this system was designed entirely in-house by Republic, the company has started taking a lot of feedback from customers to build in new features as these new phones are used. While not available right now, in the not-too-distant future Relay will be able to:
Access Google Assistant
Play music on Relay
Send and receive voice messages
Communicate with friendly Relays not attached to your account
Play audio-only games
All of these things are expected to be enabled with parental permission and set up, so Relay grows to feel more like a personal device for its owner.
How much does this cost?
A single Relay from Republic Wireless is currently $100 for the hardware and $7 per month for the cellular service. If you want more than one Relay, Republic Wireless offers a two-pack for $150 and a three-pack for $200.
Compared to the price of a single phone, even a used phone you currently have sitting in a drawer somewhere, Relay isn't asking much here. You're never going to find a cell plan that cheap for a regular phone, and a used phone is unlikely to hold up anywhere near as long as a phone with no display and a fresh battery like Relay.
Russell is a Contributing Editor at Android Central. He's a former server admin who has been using Android since the HTC G1, and quite literally wrote the book on Android tablets. You can usually find him chasing the next tech trend, much to the pain of his wallet. Find him on Facebook and Twitter
So obviously, mom or dad's old smartphone is the "best" smartphone for kids.... but you'll likely pay $20+ / month per line to add on to your family plan I do like this concept though. It's original and not way overpriced like most of the kid ware.. but let's not call this "smart" as it doesn't even have a screen. But still its interesting. There's no reason this shouldn't be waterproof though. It's basically skinny version of the waterproof Anker Soundcore. So fix that for sure.

Meh, if I am giving my under 12 kid a phone (I'm not planning on it) I would rather they have something like the Nokia 3310. At least that phone can dial 911. I grew up in an unconnected world and I want my daughter to be in the same boat.

I like these kind of articles. It'd be nice if there was a decent Mobile Nations site dedicated to tech just for parents. Modern dad could fill that void, with an actual site with content like this.

One potential flaw I see: It uses Sprint's CDMA towers which may get shuttered in the next few years.

I'll just give my kid an old Windows phone, won't be able to do anything besides make calls and take pics anyway, lol
Android Central Newsletter
Get the best of Android Central in in your inbox, every day!
Thank you for signing up to Android Central. You will receive a verification email shortly.
There was a problem. Please refresh the page and try again.