Galaxy Note 8 region locking, explained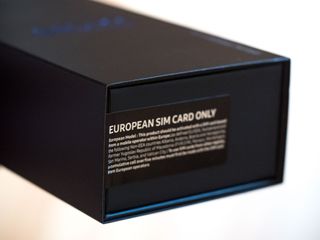 If you're picking up a shiny new, unlocked Samsung Galaxy Note 8 in Europe today, you'll notice a sticker sealing the box. We've been here before with countless other Samsung flagships, and once again, the Note 8, as sold unlocked in Europe, is region-locked out of the box.
But it's only a temporary situation — and it's not as huge a deal as you might think.
The sticker on the Euro Galaxy Note 8 box spells out exactly which countries' SIM cards can be used to activate the phone — essentially any EU and EEA countries, and a handful of other territories: Switzerland, Macedonia, Monaco, Montenegro, San Marino, Serbia and Vatican City.
To activate your unlocked Galaxy Note 8 for use with SIMs outside these countries, you'll need to accumulate five minutes worth of phone calls on the phone with a "European" SIM — any SIM from the countries above. It doesn't have to be a single phone call, just five minutes total. And once you've "activated" the phone, it stays that way even after a factory reset.
The sticker on the dual-SIM Note 8 doesn't specify which SIM slot the calls need to be made on, sugesting the five minute total apples across both slots for dual-SIM folks. (By the same token, the SIM lock should also apply to both slots.)
So in the grand scheme of things, it's not a massive inconvenience for regular Note 8 buyers, who'll almost certainly hit the five minute mark before they're inclined to travel anywhere outside Europe. The real intention here is to scupper gray importers looking to sell European Note 8s further afield. Samsung, like any large multinational electronics manufacturer, wants phones to be sold where they're covered by warranties, and where it can easily offer localized customer support.
Sure, individual importers can always open and activate region-locked Note 8s, but it's an additional barrier to entry which prevents mass distribution of Samsung phones outside of their intended area.
And for anyone picking up a Note 8 and then immediately hopping on a plane, just be sure to hit that five-minute mark before you go.
Android Central Newsletter
Get instant access to breaking news, the hottest reviews, great deals and helpful tips
Alex was with Android Central for over a decade, producing written and video content for the site, and served as global Executive Editor from 2016 to 2022.
Meh,.. I wish I had this "Problem". Instead my pre-ordered Note 8 (Pre-Ordered on August 23rd) got delayed by 2 weeks. It's like Samsung had 10 of them in stock... First and last time I buy anything directly from them. Such a disappointment.

I cancelled my order due to that issue. It was an impulse buy with the Note 7 loyalty trade in and their delaying it gave me time to reconsider.

I received my Note8 on Thursday, eight hours before receiving the email saying it was on its way.

And I know two people who got theirs on Friday as intended. I hate when companies order small stock just so they could brag to the press "Oh look it's selling so well, the pre-orders are out of stock". Stupid beyond belief. Re-Sellers aren't out of stock.

I don't think this is new, dates back to the Note 3 at least.

It is purely for Samsung's benefit that this is done. Samsung use "magic" or a random number generator to decide how much each region is prepared to pay. They don't want other regions to benefit from the low prices elsewhere. No one grey imports to sell at a higher price.

What's the point of the restriction?

To stop sale of these on the grey market or something

Had no problem with UAE Note 5 imported to UK because of Samsung's idiotic policy of not selling Note 5 in Europe.

Greedy Samsung, this is a new low tbh, there should never be any price difference between countries in the first place. Let alone adding region restrictions. Doubt it will effect most of Asia though as a bet it will be unlocked in a few minutes.

If Samsung was being greedy, the price would be the same worldwide. Because Samsung understands economics and purchasing power, they price the phone to the market. Granted, the difference is probably not significant but it is there. Samsung is trying to remove price arbitrage by third-party sellers. The five-minute call requirement is a barrier to entry that requires 1) each phone to be activated before resell in another market (now used) and 2) requires resources to complete (increasing cost to the reseller).

As someone who can count the amount of phone calls they've made in the past 3 months on one hand, this would be really annoying lol.

They do this with all their phone's, at least there's a warning on the European version, if you bought a unlocked US version Galaxy S+ at Best Buy, it's sim unlocked, but region locked to the America's. From what I also understand but have no verification, if you request a region unlock, they will give it to you.

Does anyone know if I'll be able to use a note 8, that is bought from someone in the US, in the UK?
Android Central Newsletter
Get instant access to breaking news, the hottest reviews, great deals and helpful tips
Thank you for signing up to Android Central. You will receive a verification email shortly.
There was a problem. Please refresh the page and try again.