Razer confirms another Razer Phone is coming [Update]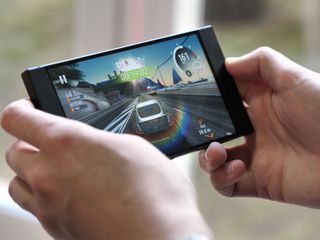 Gaming gear go-to Razer makes top-notch gaming gear for desktop and PC, including the hot, hot, hot Razer Blade laptop line and cross-platform controllers, but their initial foray into mobile hardware was a bit rocky. The Razer Phone sported great specs for gaming and a butter-smooth 120hz screen, but the camera fell flat and that super-smooth display was a creature of the night, unable to stand up to the shine of the sun. Well, it seems that Razer is looking to try again, as they've confirmed to stockholders that another Razer Phone is in development in this week's earnings report.
Updated September 14, 2018: Razer sends out press invites for Razer Phone 2 event
Here it is, folks!
A little over a week since Razer confirmed that a second-gen Razer Phone was in the works, the company has now begun sending out save-the-dates to an event it's holding on October 10.
The event appears to be titled "Flagship // Gaming", and following a keynote with CEO Min-Liang Tan, Razer will be focusing on its "Mobility Showcase."
So, while the Razer Phone 2 isn't explicitly called out, it's pretty apparent that it's going to be the star of the show.
The Razer Phone came out last winter, and while it may not have been a total success, the phone hasn't been a dud, either. Sporting a battery that won't quit and a high-refresh touchscreen that was made to play, the Razer Phone was a great phone for gaming and for theming, as it was the first phone to officially ship with Nova Launcher as the system launcher.
Razer said their next-generation products saw over 400% year-on-year growth spurred by Razer Phone sales, with this little nugget at the bottom of the Others section:
There's no release window or date given for the next Razer Phone, nor many hints as to what the new model may be sporting in its next incarnation, but one can only hope they improve the camera and the brightness issues so that you can game with a Razer Phone in brightest day or blackest night. With the Razer Phone's battery and high-refresh screen, a successor with a good camera could be the ultimate Pokemon Go and AR gaming phone.
What would you like to see in the next Razer Phone?
Android Central Newsletter
Get instant access to breaking news, the hottest reviews, great deals and helpful tips
Ara Wagoner was a staff writer at Android Central. She themes phones and pokes YouTube Music with a stick. When she's not writing about cases, Chromebooks, or customization, she's wandering around Walt Disney World. If you see her without headphones, RUN. You can follow her on Twitter at @arawagco.
Give it a good camera and a brighter display. That's it really. P.S. If Razer really wants to anger the internet, put a notch on it.

Got a good laugh at that PS. Thanks for that!

Agree with Chaosphere1983: Good camera and brighter display for outdoor use. Gaming is something I like to do at the beach between rounds of volleyball, and struggling to see is not a good thing for gaming! Maybe fix the optimization a little as well to help speed.

Don't say the N word! The smartphone purists will come out of the walls.

Did someone say notch? REEEEEEEEEEEEEEEEEEEE

Maybe they should name their phones after slightly obscure songbirds... This one should be called the Razer whippoorwill. Oh nice and chubby baby!

They make a great USB C audio adapter

Yes they do, and I think it's about the only one that is actually Hi-Res Audio certified besides HTC's.

Keep a similar form factor (maybe 5.9" or a 6" 16:9 device), add a headphone jack, use the 90hz OLED panel for a brighter display, advanced cooling, microSD card slot, improve the camera and I'd buy it.

So just make a completely different phone and you'll buy it. Sounds good to me.

It already has a sd card slot. They will keep a 120Hz screen, I would imagine the choice in these is limited so we will get what we will get.

Can't wait for this phone to not fly off the shelves.

and a listed price tag of $800+

They improved both the camera and the screen brightness with updates. The camera is fine and you can use the Pixel app for even better results. I love the design of the device and I hope that we get Project Linda and it is compatible with both devices.

I still think it needs dust and water protection, IP67 or IP68 at least, before I would buy it. I'm pretty careful with my device, but on 2 occasions a toddler has caused my phones to get wet in one way or another and I was very glad they were IP68 devices.

Plenty of comments trashing their phone and not a single owner of the phone all of you saying the brightness sucks, at least its bright enough for outdoors, unlike the PIXEL 2. And did one of you say better performance? Seriously, use the phone for a day and say that again. I've seen comment sections on this forum be pretty inaccurate but you all have somehow just triggered me lol.

Better performance? Oh yeah, that was me!
If you have a phone MADE for gaming that brags about performance, why is it slower for games than a non-gaming phone? The Note 8, Oneplus 6, HTC U11 all out performed the Razer phone. I'll post the Youtube links if you want everyone to see it. Now, about that screen brightness. Brightness is measured in nits (cd/m2), and is fairly basic. The maximum brightness measurements are below for some common phones, in order from brightest to dimmest.
Galaxy Note 8 = 647 nits
iPhone 8 Plus = 621 nits
LG V30 = 616 nits
HTC U11 = 583 nits
Huawei P10 Plus = 547 nits
Pixel 2 XL = 496 nits
Oneplus 5 = 435 nits
Razer Phone = 300 nits So, I don't think the comments are entirely inaccurate. That being said, I like the Razer Phone and would buy it before I buy a lot of other flagships, but I'm aware of the realities.

Of course a oneplus 6 is quicker. It has a newer chipset sir. And feel free to give out whatever link you want, none of these can beet the razer on games such as world of tanks, battle bay, shadowgun deadzone, etc. I chose those games because theyre actually optimized for the razer phone. Its the same deal with honors new game boost, its only kicking in with certain games. Which i find annoying. As for brightness, nits is not everything, come on. Contrast is another. It was the same with the nexus 6 (not 6p). Its max nits was horrible (270), but its contrast left it plenty visible outdoors. The pixel 2 may measure 400, but its contrast is nearly non existent.
This isnt based on a benchmark test from gsmarena, this is real life use. Anyway, i shouldnt have said triggered. But im trying to say that the razer is a phone has ended up being pretty good. There is something wrong with my units NFC but its not the worst, especially when i dont use the camera.

I have the phone. Its awesome. It's my go to device for gaming and visual media. That 120hz screen is a dream. Use it indoors or a not too bright day and your good to go. I also have a Note 8 and can say I prefer gaming on the Razer. The dual speakers really enhance the experience, more so than other phones with similar audio set ups. Plus you can actually hold it without touching the screen thanks to speakers. Great device, great design

Although unlikely, I'd like Razer to stick with an aluminum design. No fragile glass, at least.

What? No mention or comments at all about the speakers?

Yeah, those speakers are pretty awesome 😁

Headphone jack daydream compatible (they could work Google on this I've rooted lcd phones and have ran daydream no problem) also steal lenovos theatermax video out usbc case I want to dock it to big screen miracast chrome casts still not good enough.

Playing games on a phone? Why would anyone want to? I mean, if you're trying to kill time at the doctor's office, then fine. But to do it on a regular basis is kinna nutty to me. Such a tiny screen! A specialty phone like this is for a very minute portion of the market. I hope Razor is at least recovering their cost for the device.

Keep the form factor but give it a brighter display, a headphone jack, high end audio DAC, and at least 128gb internal storage with memory card expansion and I'll be happy.

Make it available for Verizon.

Add Chroma, brighter screen and fix the vibration motor!!! I can't believe nobody has mentioned it yet. It's embarrassing when you're in a meeting and it goes off. Sounds like the phone is broke.

Battery life on my S9 sucks and my Note 8 too. Both would come off charger at 6am and today my S9 was at 53% at 12:30 which is pretty typical and SOT was only 90 minutes. The S9 is going back next week and being replaced with a Mate 10 Pro that arrives tomorrow. I sold my first one and have missed it since. I saw over 10 hours SOT on a few occasions on my M10P and I never worried about running out of juice. Samsung could have easily put a 4000 mAh battery in the S9 adding maybe 2 or 3mm of thickness and the S9+ should have 4500 and the Note 9 should have had 5000. Samsung phones are extremely inefficient compared to Huawei and they have lost a loyal customer because of it.

Make it smaller. It's too big and pointy. And much better camera with wide-angle lens.

The whole month of October is booked! And I love it.

I would have been interested in the first if it had a headphone jack. It would be nice if this new one had one.
Android Central Newsletter
Get instant access to breaking news, the hottest reviews, great deals and helpful tips
Thank you for signing up to Android Central. You will receive a verification email shortly.
There was a problem. Please refresh the page and try again.