Quick comparison: Amazon Fire TV vs Apple TV vs Nvidia Shield TV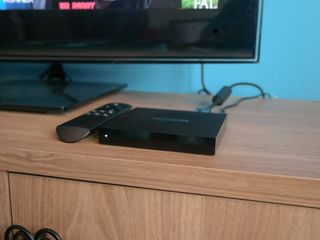 Perhaps more importantly, these three all represent different content ecosystems. Amazon and Apple both have their own app stores and content delivery services that they'd love you to give them money for, while the Shield TV relies on Google's Android TV and its own first-party gaming service.
First, here's how the hardware breaks down.
Category
Shield Android TV
Amazon Fire TV (2015)
Apple TV (2015)
Processor
Tegra X1 quad-core
Quad-core Mediatek
A8 chip with 64-bit architecture
GPU
256-core Maxwell architecture
Power VR GX6250
n/a
RAM
3GB
2GB
2GB
Storage
16GB / 500GB
microSD card
8GB
microSD
32/64GB
Remote/controller
Controller included
$49 remote
$59 controllers
Voice remote included
$49 controller
Siri Remote included
Third party game controllers available
Max video output
4K (UHD)
4K (UHD)
1080p
Connectivity
802.11ac 2x2 (MIMO)
Gigabit ethernet
Bluetooth 4.1
Infrared port
Dual-band, dual-antenna Wi-Fi 802.11a/b/g/n/ac, Bluetooth 4.1, Ethernet
802.11ac Wi‑Fi with MIMO
10/100BASE-T Ethernet
Bluetooth 4.0 wireless technology,
USB ports
2x USB 3.0
Micro USB 2.0
1 x USB 2.0
1 x USB-C
Surround sound
Dolby 7.1
Dolby 5.1
Dolby 7.1
Gaming
Android titles
Grid game streaming
GameStream remote play
Android titles through Amazon Appstore
tvOS compatible games
Dimensions
130mm x 210mm x 25mm
115 mm x 115 mm x 17.8 mm
98mm x 98mm x 33mm
Weight
654g
235g
425g
Pricing
$199 / $299
$99
$149 / $199
Immediately one thing that stands out in Amazon's favor is price. The Fire TV has made some compromises, perhaps, to reach that price point, but undercutting the cheapest Apple TV by $50 is still a plus. Even throw in the price of a microSD card to get to the same or higher internal storage and you'll be saving a few bucks. And also consider that you can get 4K content with that as well, as you can on the Shield TV.
All three have gaming aspirations, but if you're looking for something on that front then the Shield TV will come out on top. Just how good the gaming experience is going to be on the Apple TV is still up for debate but the Shield already has serious credentials. Besides the horsepower inside and access to Android games, the GeForce Now game streaming service puts PC and console quality games onto your set-top box.
We should also look at what else you get, or can get, with these. Amazon includes the voice remote, Nvidia does not but you get a game controller and Apple includes its new Siri remote. Optional extras from Amazon include a $49 game controller, Nvidia will sell you a voice remote and Apple will sell you another remote along with a strap to keep it tied to your wrist. Only Nvidia includes a HDMI cable in the box which is more a convenience than a selling factor. But when the boxes connect via HDMI is it really too much to ask to put one in the package?
Then there's the content. All three of these will cover off some of the big third-party services, Netflix being a top example, but they all have access to some more closed off ecosystems. On the Fire TV you get Prime Video, on the Shield you get Google Play and on the Apple TV you get iTunes. Good luck (right now, anyway) getting any of those three competing services on the other devices. So if you're already invested in one of those, there's not much to say in comparing. Go with the content.
But what about if you just want a capable streaming device with some bonus features, maybe a little light gaming. There's a lot to be said for the Amazon Fire TV. Great hardware, low price, optional game controller and the power of Amazon's content ecosystem. For the more casual buyer, it's probably the one to go for. If you're already in Google or Apple's ecosystems though, forget about it. That's probably the bigger picture. Be it Fire TV, Android TV or Apple TV, they're all just another branch on the ecosystem tree that all three continue to build.
Have you listened to this week's Android Central Podcast?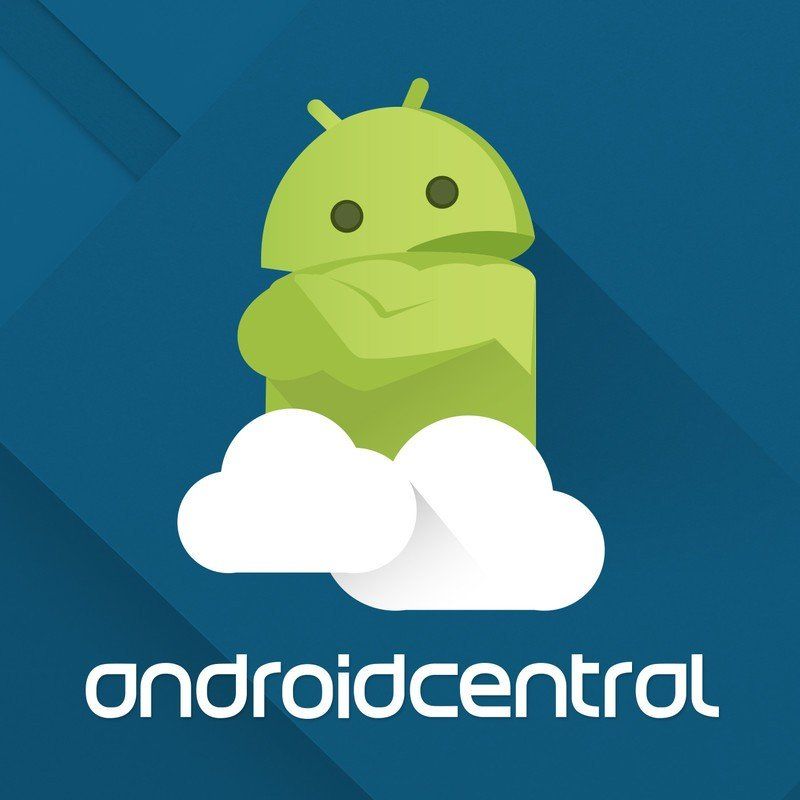 Every week, the Android Central Podcast brings you the latest tech news, analysis and hot takes, with familiar co-hosts and special guests.
Nvidia seems the most capable, although it's the most expensive as well. But if you have game console these aren't really needed either. When we die, we go bye-bye. - Sal Vulcano

I really wish the shield tv had amazon instant video.
It has the gigabit ethernet port I'd really like for my Plex streaming.
Sometimes the roku chokes on high bitrate streams, I think because it's only a 100mbps. I don't watch much amazon instant video, we tend to gravitate to Netflix more.
But it's included free with my amazon prime and occasionally we do watch it. the Amazon instant video availability issues ,really knocks out a bunch of great devices from my selection.
gaming would be a great add on, but streaming is top priority, so we're on Roku

I don't understand. Amazon is the one causing this bullshit so why support their cause. But the best device and fuck Amazon Prime.

Becuase I use free prime shipping all the damn time, I'm not going to cancel it.
Prime instant video is free with the prime membership, so if I buy a box without it I lose free content I'm entitled to Posted via the Android Central App

But that is Amazon's doing. Amazon could easily add casting support to Prime instant video, or an app that would function on Android TV - they are choosing not to do it because they want to force you to buy their crappy hardware.

You could probably download the Amazon Prime app from Aptoide and then sideload it onto the ShiedlTV it's an easy process.

No Roku 4 in the comparison?

Nope. Limited to some of the top offerings covered by our sites. Posted via the Android Central App

I understand that there is no Roku Central site, but it seemed like a no brainer to include it since Roku is probably the top seller (or one of the top sellers) of streaming devices.

Roku's also the only device that supports both Prime Video and Google Play Movies.

Yah, a big plus in my book. Posted via the Android Central App

No - Wrong - Roku is the only device that AMAZON supports, its not that Roku supports Amazon- its that Amazon supports Roku - Amazon could easily add Chromecast casting capability to Prime video, or a functioning prime video app that runs on Android TV - they are choosing not to do it.

Or StreamingCentral, where everything that streams all covered under one site, for all the cord cutters. Explain how to replace basic cable with all the online media content and services using all the available products like fire, android TV, apple, roku, using kodi and file share/streaming. Haven't really seen a site that does all that. Except searching through reddit or xda. And I hate searching through xda, where a single topic in a forum can be a hundred pages to sift through.

Yeah, no offense, but it seems silly to ignore arguably the best box out there from a comparison. It's an elephant in the room.

Exactly. The only one to break through the lock echosystem issues.

Yea, Roku 4 does 4k at 60hz doesn't it? I don't think those 3 do that. (oh, i guess the shield one does)

The Shield TV is far better to use for comparison. I have a Nexus Player but it doesn't come even close to the Shield TV. Still it's Android TV :)

And that's why it should be there hehe. To compare two things with the same 'system'. That'd be interesting. Wish Roku was here too, but they already explained (ish) why they didn't include it.

The Nvidia shield controller can also do voice search as well!!! Posted via the Android Central App

Just what I was going to say. I like too that the included gaming controller has headphone jack to pipe all sound to headphones. Not sure about the other 2.

Which if any of them will work with an external harddrive full of TV/movies? Posted via the Android Central App

I use the Shield at home and I can plug a harddrive on any of the two USB3.0 to play all it's video files, pictures and music! It's blazing fast !

do you use Kodi to access your media? Used to use Mizuu on my Shield Tablet and looking for something similar for the Shield TV if i get it.

yes I use Kodi. But it also works from the andoid app on the main screen.

Amazon Fire TV and Nvidia Shield TV both should be able to. There are even third-party apps that'd make it easier. Posted via the Android Central App

The FireTV does not supports VP9, no gigabit ethernet, no USB 3.0, its HDMI output is not fully 2.0 compliant as it only supports 4K at 30Hz so you can't even use it for decent gaming on a 4K TV !
I have the Sheild and it can decode 4K at much more than 60 fps, I can do smooth 4x and 8x Fast FW on 4K clips! Watching your high res pictures from a USB drive is incredibly fast, faster than you can do on a PC. The Shield joystick remote does support audio voice controls, the article is incorrect! After using the Shield you don't want to use anything else... Definitely worth the extra 50 bucks over the FireTV!
The new Apple TV is already obsolete, as it does not even support 4K, you can't plug a harddrive to it, and can't even install Kodi...

True. But as all good iFans will tell you that no one needs 4K as there is no content. Just as they said that a 3.5" screen on a phone was the optimum size when everyone else was going bigger.. The Apple TV 5 will have 4K and they'll all be saying the most innovative thing since Bell invented the telephone.

And the truth is no one needs 4K right now so they are right. Posted via the Android Central App on my Nexus 6 with Marshmallow

Tell that to the people who have gone and bought a 4K TV..

I see the explanation why the Roku 4 wasn't included, but frankly it's not a proper streamer box comparison unless it is included. Roku still owns this market essentially.

I agree about Roku 4 being omitted. I own Roku3 and really like it unlike some other vendors.

A shame you can't get amazon prime on the shield. Unfortunately I'm a prime member so my only real option is the fire TV, I have the first generation one and it's great it's just a shame side loaded apps are difficult to access, So whilst I've been able to install crunchyroll, Kodi onto the device, there are alot of hoops to jump ,in order to really get it working. Of course it's all understandable given that amazon are investing in their own eco system but it's still annoying. Roku is the only device which is just a platform for the actual content providers, so if somehow you could get voice or unified searching on the roku or a better interface then surely that's the one to go for? Posted via the Android Central App

Both the Roku 3 and Roku 4 have native voice search... 4 also does 4k video Posted via the Android Central App

O wow didn't know that. Any good? Across all providers? Posted via the Android Central App

Roku does voice search across all providers and it shows the list with prices starting with free to watch.

Not all, as Roku has a ton of providers, but most of the popular ones like Netflix and Amazon, etc... Posted via the Android Central App

I have Amazon prime running on my shield. Pretty simple to install. Just do a quick search. There's always a workaround. Posted via the Android Central App

It's silly to not buy a device you want because the bullshit amazon is pulling

Do custom rom full Android OS from the xda forums.. Unlocked the nvidia shield is a beast Posted via the Android Central App

Actually there is a good features comparison chart here, that includes Roku4, new FireTV and new Apple TV !
http://shield.nvidia.com/android-tv/shield-androidtv-vs-appletv-vs-roku-... Outch, Roku 4 CPU is super slow !

Roku is slow but the one that offers more content and is more easy to use, there are private/hidden channels for kodi content or iptv but requires some research from the users... The new apple TV is interesting watch the demo video on the verge latest review, unfortunately not too much content.
http://www.theverge.com/2015/10/28/9630952/new-apple-tv-4-review

You don't need a Super CPU when you probably aren't going to be gaming on a Roku. Sure they support games like Angry Birds, but it's really a low priority feature. If all you're doing is watching Video, listening to music, or looking at pictures, you don't need a very powerful CPU as long as the hardware decoding is up to snuff. Posted via the Android Central App

Well I've been using popcornhour before and it's hell slow just to browse a list of movies. In general that makes the unit feel unresponsive most of the time. I don't know if it's CPU or memory limitation but that's quite annoying to use when you just want to watch movies. After trying that with the shield, you don't want to use a slower mediaplayer anymore...

If you want to side load it, you can install Amazon instant video on the Nvidia shield Posted via the Android Central App

Amazon blocked that work around a while ago Posted via the Android Central App

Does it require the Amazon app store to be installed too? Thinking about doing this to my Nexus Player. Shield hands down though. Love the 500GB option but it's a bit of overkill though. I would rather pay $50 cheaper for a 250GB option but hard drive space is cheap I guess. If you don't have a NAS drive like I do then I guess the extra storage space is nice. It's just a lot nicer to have all your media on a 4TB NAS drive instead so that you could just stream your media instead. Posted via the Android Central App

You can add a 128GB microSD to the 16GB Shield for extra storage. You may need if if you install lot of games.
But all your content should be on a NAS, or USB drive :-)

Can't u just sideload Amazon Instant Video on the Shield if u have the apk? Posted via the Android Central App

Apple TV doesn't do 4K...? I'm a little shocked by that.

Lol why? When we die, we go bye-bye. - Sal Vulcano

They're still "polishing" it. Posted via the Android Central App

Don't forget people, you can cast your Amazon Videos to the Shield TV. Works damn good! Posted via the Android Central App

Doesn't anybody care whether these units include a browser and can be operated with keyboards/mice? Posted via the Android Central App

Shield does not have a good browser but you can play games with keyboard and mouse (wired or wireless).

Nvidia shield on full Android OS rocks, I have amazon video on it and all the other goodies.. And pick up this remote with it Libertview Multifunction 2.4 G Mini Wireless Keyboard & Infrared Remote Control & 3-Gyro + 3-Gsensor W USB Wireless Receiver For Android Smart,Mini PC https://www.amazon.com/dp/B00SWCJYI2/ref=cm_sw_r_other_awd_gvHnwbTB7FZ51... Posted via the Android Central App

This Article gives the reader the impression that the ShieldTV doesn't come with the voice commands. The Joystick also supports the voice commands and it also acts has a touchpad an albeit tiny one.

Could you add the frame rate to the video output section. 30P vs 60p actually makes a difference to me.

I'd pick the Apple TV over all of these. Posted via the Android Central App on my Nexus 6 with Marshmallow
Android Central Newsletter
Get the best of Android Central in in your inbox, every day!
Thank you for signing up to Android Central. You will receive a verification email shortly.
There was a problem. Please refresh the page and try again.