Qi or Powermat? What's the difference and which should you choose?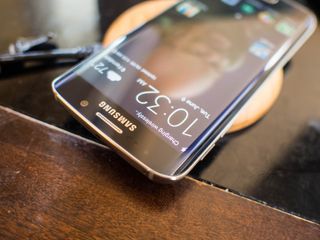 Wireless charging has been around for some time now, though for a myriad of reasons has never really picked up steam. Now that we're seeing more devices support the tech by baking it right into the device instead of making you purchase some ill-fitting or less-than-ideal accessory, there are plenty of folks out there ready to make the switch and abandon their microUSB cables entirely.
The only catch is there are two different kinds of wireless charging — Qi and Powermat — and you probably need to choose one and stick with it. Here's what you need to know.
Check out our primer on how wireless charging works, in plain English.
Choosing between Qi and Powermat is simple if your current device only works with one or the other, but recently we've seen Android phones made by different manufacturers that support both. Though Samsung has baked both technologies into the Galaxy S6 line, for now all of the other devices make you choose one or the other. Neither standard plays well with one another, which means a Qi charger won't charge a Powermat device and vice versa. If you've got the S6 or S6 edge you can just pick whatever strikes your fancy and be done with it, but the rest of us have a decision to make.
The case for Qi
If you've seen a wireless charger in the wild, maybe because your friend owns one or you were in a store recently and noticed them for sale, chances are what you saw was a Qi charger. The Qi standard has been around for a long time, and the group responsible for maintaining the standard have worked hard to make sure there are plenty of accessories for you to buy. If you're planning to outfit your home with Qi chargers, you'll find yourself spoiled for choice.
On a technical level, most Qi devices are capable of outputting 1 amp at 5 volts, which likely isn't as much power as the charging brick that came with your device can output. Some claim to be capable of delivering more power, but like any charger it's all about what your device is capable of receiving. If you're looking for the fastest way to charge, this isn't it. The real benefit to Qi charging is the ability to set your phone down on a pad, pillow, bedside table, and even car docks and know your device is getting power.
Thinking about Powermat
If you're looking at two phones that offer different kinds of wireless charging, you're unlikely to be able to tell one from the other. The basic concepts are the same, as is the charge rate when you set your phone down on a platter to start charging. The biggest thing that sets Powermat apart is what happens on top of the wireless charging. The Powermat standard includes the ability to log things like how much time a user spends charging. As a result, Powermat is significantly more popular among businesses.
Starbucks, Delta Airlines, and GM are part of a steadily growing list of companies that support Powermat by baking the chargers into tables and trays for people to set their phones in. Along with an AT&T partnership that makes carrier stores the primary retail front for Powermat cases, chargers, and ring accessories for devices that lack proper support for the technology, Powermat as a standard has seen steady growth in public places.
Choosing between the two
Unless you're at a Starbucks for over an hour every day, or you're and AT&T customer being offered a nice bundle deal on accessories, chances are Qi charging is what you want. This decision ultimately comes down to the options available to the consumer, and how many devices already offer some form of support for the technology. The steady growth of Powermat in public places and commercial establishments might one day mean it makes more sense to go with that standard over Qi, or it might start pushing more companies toward supporting both standards, which is a win for consumers. Qi devices and accessories are everywhere, even in portable batteries you can take with you everywhere. Choice, particularly when it comes to accessories for your phone or tablet, is the clear winner here.
Sign up for Black Friday email alerts!
Get the hottest deals available in your inbox plus news, reviews, opinion, analysis and more from the Android Central team.