Project Fi's latest offer gives you a free Google Home if you buy a Pixel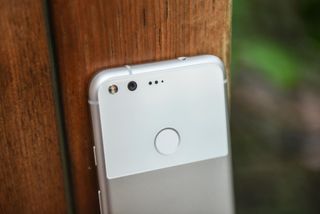 Who doesn't like free stuff? And who doesn't like smart little virtual assistants you can talk to? Google Home is both, and you can get one in your own home if you purchase a brand new Pixel or Pixel XL smartphone through Project Fi.
You can read up on the terms for the free Google Home promotion here. The Pixel starts at $649 at Project Fi's online storefront. You can buy one outright or pay for it over the course of 24 months.
Project Fi is a phone carrier offering from Google. It offers mobile data service on three mobile networks, and it uses Wi-Fi to make calls and send texts. It's also a prepaid carrier, and you pay ahead for the month of use rather than after — as is common with a standard mobile operator.
If you're wondering if Project Fi is something worth subscribing to yourself, be sure to take the Fi Fit Quiz.
Get the Android Central Newsletter
Instant access to breaking news, the hottest reviews, great deals and helpful tips.
Florence Ion was formerly an editor and columnist at Android Central. She writes about Android-powered devices of all types and explores their usefulness in her everyday life. You can follow her on Twitter or watch her Tuesday nights on All About Android.
The list of companies not giving away Google home is probably shorter at this point.

thats a good thing.if they have done this a while back i would have got both device for a deal.
ohh well i paid $650 + $100 for home

Good if you want one more device spying on you.

I miss the gifts for the the people from day one. Need more Legos. Lol. Or an unlimited plan might be due now.

I second the need for an unlimited plan

I think Google should start thinking of reducing the price of data . $10 per GB is high at this point.

They could do $5 per gb, and still give money back for unused data.

$15 for talk text and $5 for data. i will jump ship right away
$10 for additional line would be nice as well.

I don't think it is that bad. If you buy bigger buckets other places, it is cheaper per GB, but if your needs are minimal Fi stands out. AT&T for instance has a 1GB plan for $22 + the line charge for the phone (~$20). Cricket has a 1GB plan for $30 for everything. Neither of those give any money back. I actually get by with much less than a GB each month, because I am around WiFi most of the time, so Fi is actually cheaper. In reality I have a Family plan with AT&T with a bunch of folks on it and a big bucket. If I were on my own though, Fi would be cheaper. I do have a Pixel on Fi as well and use less than a GB on that phone too. I'm pretty impressed with the service, even get good data some places AT&T doesn't work (and friends with Verizon don't work either). Friends that have taken Fi overseas rave about it as well.

No thanks, even with Home.

I just wish they'd partner with one of the big 2. I still get quite a few drop outs in western Ohio. Took a trip to central FL and had over an hour of driving with 0 data. Kind of a bummer when you're using your phone as your gps.

Forget the Home give me $100 off a Pixel.